The month of February is filled with pink and red heart everything, candy, flowers, and lots of celebrated love which is perfect because February is also American Heart Month. Make sure you celebrate your health this month and show your heart some love.
Cardiovascular disease (CV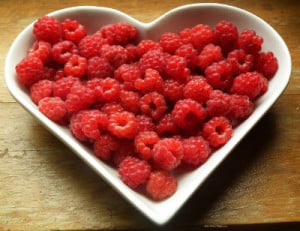 D), which includes heart disease, stroke, and high blood pressure, is the number 1 killer of both men and women in the United States.¹ Cardiovascular disease impairs many Americans from being able to work, spend valuable time with loved ones, as well as costs billions of dollars each year in health care.¹
With that said, there are simple, yet essential things each and everyone of us can do to reduce our risk of developing CVD.
First of all it is important to know your risk for developing CVD, check out the CDC and Go Red for Women and assess your current lifestyle and identify risk factors.
Second, live a heart-healthy lifestyle as this is the best way to prevent CVD.
Eat a healthy diet and exercise regularly, these two things together will do wonders for your heart, health, and happiness. Healthy eating and regular exercise will also help you achieve or maintain a healthy weight which also helps reduce CVD.
Keep a food and activity log for at least 3 days. You can write it all down on paper or use an online tracker like My Fitness Pal or Super Tracker by My Plate. I recommend choosing which ever option is easiest for you.
Look at where your calories are coming from. Make sure your diet is full of fruit, vegetables, whole grains, and healthy fats: monounsaturated and polyunsaturated fats. Limit processed foods, sodium, sugar, and unhealthy fats: saturated and trans fats. There are tons of online resources and food blogs available with heart healthy information and recipes. If you want specific, individualized nutrition guidance consult a registered dietitian!
Next, look at how much physical activity you are getting and how much time you spend sitting. Aim to be physically active most days of the week. A measurable goal: exercise for at least 30 minutes per day, 5 days per week. For motivation and fun, consider recruiting a friend to workout with or joining a group club such hiking, running, cycling, or kayaking. Sitting has been deemed 'the new smoking' when it comes to American's health. If you have a sedentary job make an effort to stand up every hour, even if it is only for a minute or two. If able, take a short walk break, grab some water or fresh air, do a few stretches, or walk up and down nearby stairs.
Eating healthy and being active are life-style behaviors you want to develop and maintain for, well you know, life. 🙂 Your appetite, cravings (healthy and unhealthy), workout preferences, and fitness goals will be ever-changing. That is expected, that is life, and in my opinion that is half of the fun.
Small changes can make a huge difference so don't waste another beat, start today.
xoxo
Go AS, Mozaffarian D, Roger VL, Benjamin EJ, Berry JD, Blaha MJ, et al. Heart disease and stroke statistics—2014 update: a report from the American Heart Association. Circulation. 2013 [Epub ahead of print].
CDC. February is American Heart Month.  http://www.cdc.gov/features/heartmonth/