In two weeks I take my statistics final and I will finally have my life back!  Okay I might be exaggerating just a bit, but seriously this class really tested my patience and sanity. Between the weekly homework assignments, tests, and readings of two separate books it required a ridiculous amount of time for a 3 credit hour class. The sad thing is, I was really looking forward to this class and now as it's coming to an end I don't feel I learned very much. The important concepts got lost (or were never really understood) in the race against time trying to complete the homework by 7pm each Wednesday. Oh well, at least it's almost over. I am probably most excited to get back to my workout regimen. My fitness routine really took a backseat this semester as I tried to spend what little free time I had with my friends. I have already started looking ahead at 2016 races and so far I have a 10K (it'll be my first one) and a triathlon on the books.
In other news, did you know there are only 18 days left till Christmas?! I can't get enough of Christmas music right now. I spent about 10 hours yesterday at Starbucks trying to study and I listened to Christmas music almost the entire time! Currently: listening to Christmas music. Tomorrow: will be listening to Christmas music. Sorry, not sorry.
Today I spent most of my morning/early afternoon prepping food for the week. I roasted a ton of veggies and squash for a soup that is currently cooking in the crock pot. I bought an immersion blender about a month ago and haven't used it yet so I am really excited to break that baby out today.  I will post the recipe if it turns out good.
I love multitasking, so while I was waiting for all my veggies to roast I made pancakes from scratch which turned out great!
These are vegan and healthier than the boxed stuff.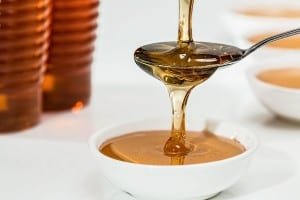 INGREDIENTS:
1 1⁄

4

cup whole wheat flour  (I used Bob's Red Mill)
1/4 cup oats
1 Tablespoon baking powder
1⁄

4 

teaspoon salt
1 cup almond milk (I used almond milk sweetened with honey)
1⁄2 cup water

 

1 tablespoon coconut oil, melted
PREPARATION:
Combine the 4 dry ingredients: flour, oats, baking powder, and salt into a large bowl. Add the water, almond milk, and melted coconut oil to your mixture. Stir just until blended; mixture will be lumpy.
Heat a lightly oiled frying pan or griddle over medium-high heat. Drop batter by large spoonfuls onto the pan, and cook until bubbles form and the edges are dry. Flip, and cook until browned on the other side. Repeat with remaining batter.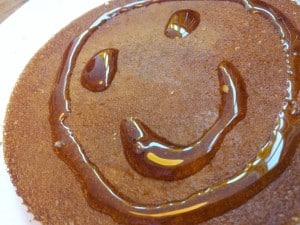 Now time for a run and then since I cant put it off anymore, studying.