Do you love a warm breakfast cereal? If so, this vegan coconut milk breakfast quinoa is for you! Oatmeal is not the only cereal option that can be enjoyed for breakfast. There are other whole-grains or seeds, like quinoa, that can be cooked with a milk of your choice and topped with a variety of toppings such as fruits, nuts, seeds, and spices to create endless options of breakfast deliciousness.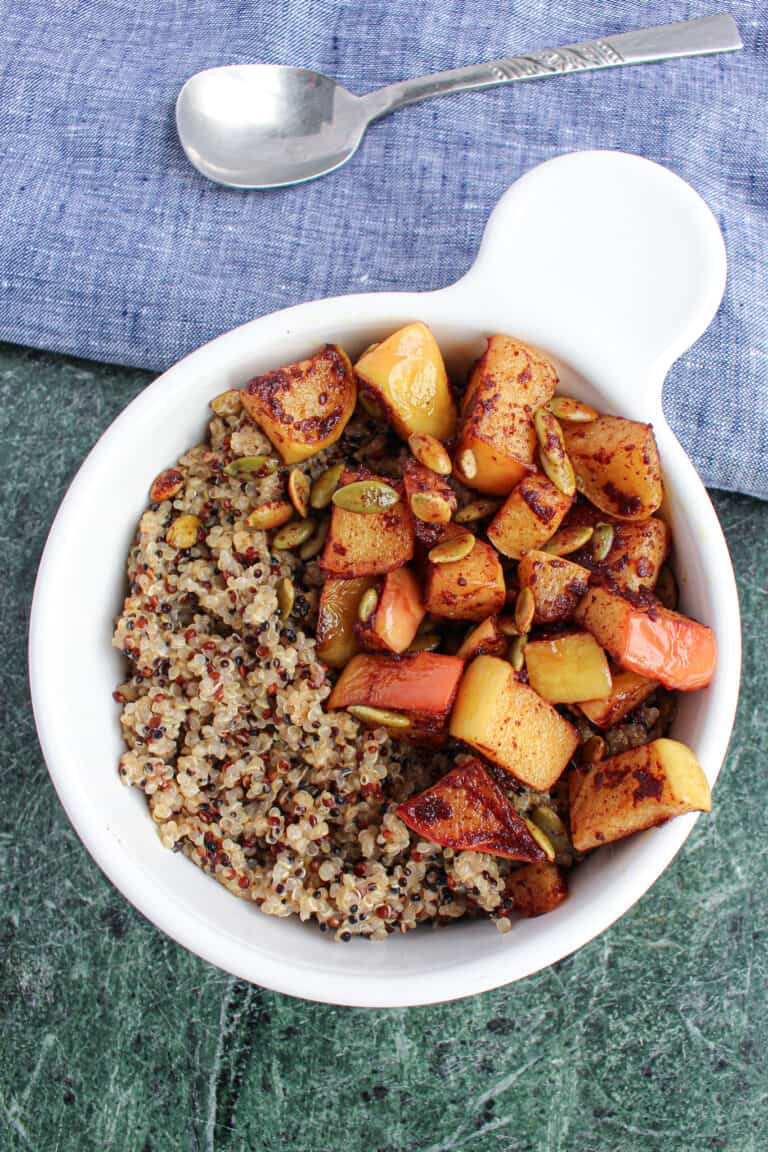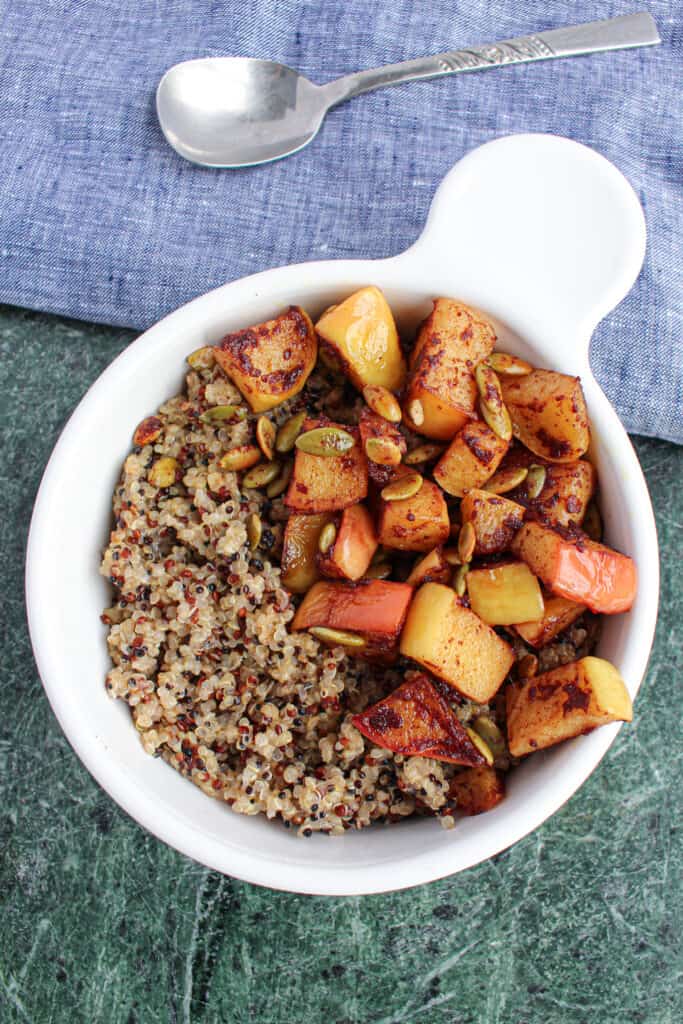 Quinoa, pronounced KEEN-wah, is a nutrient-dense high-fiber, high-protein pseudo-cereal. Quinoa is technically a seed, but is prepared and eaten similarly to a grain and counts as a whole-grain food. Quinoa provides all 9 essential amino acids making it a complete protein food which is a great option for plant-based eaters. One cup of quinoa provides ~8 grams of protein and ~5 grams of fiber.
The creaminess in this breakfast bowl comes from using a can of coconut milk although any plant-milk such as almond, soy, or cashew milk will do. For the creamiest bowl of breakfast quinoa, choose a can of coconut cream! Promise you will not be disappointed.
This recipe is fall-inspired with fresh apples, pumpkin pie spice, and toasted pepitas (a.k.a. pumpkin seeds) but is enjoyable anytime of the year.
Pepitas 'pack a nutritional punch' as they are rich in fiber, protein, minerals (phosphorus, magnesium and zinc), plant-omega-3s (alpha-linolenic acid), and antioxidants like Vitamin E.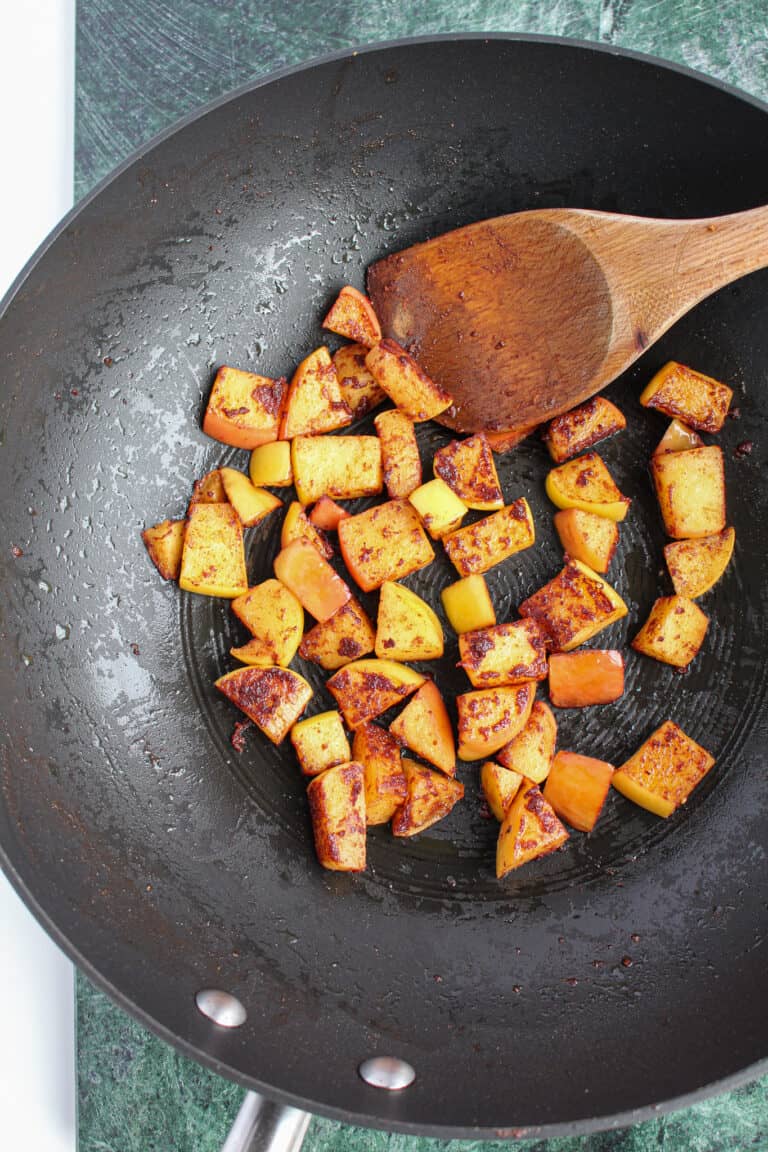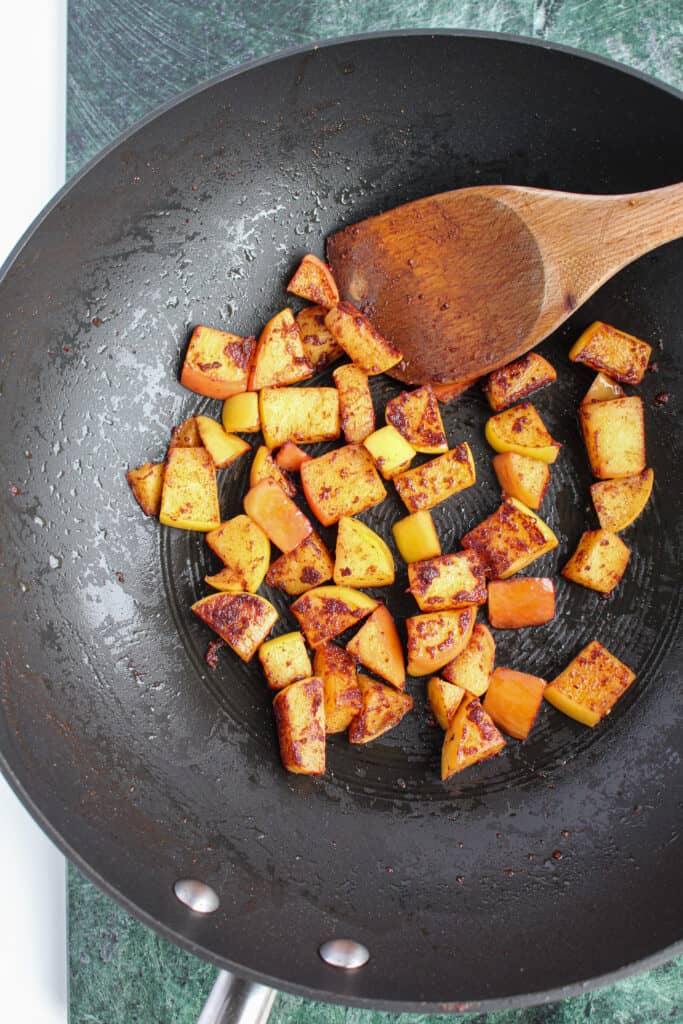 This coconut milk breakfast quinoa recipe is dairy-free, gluten-free, soy-free, egg-free, and nut-free. However, it is FULL of flavor and good-for-you nutrition.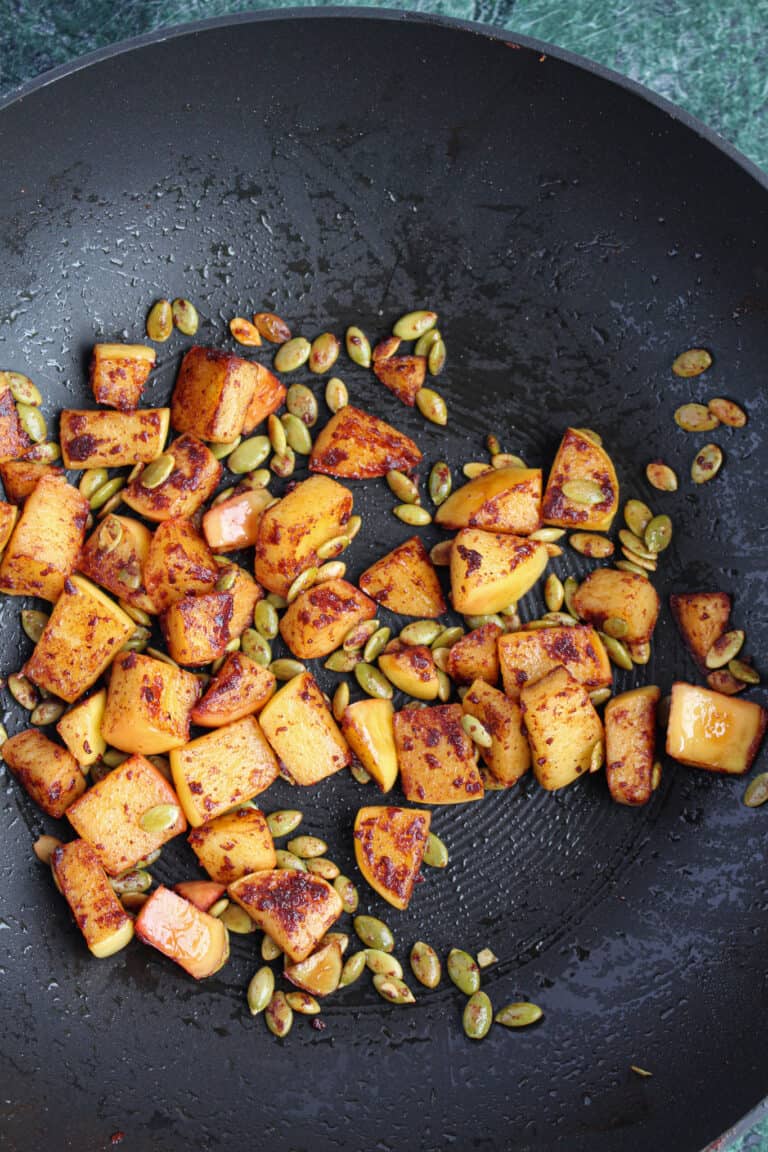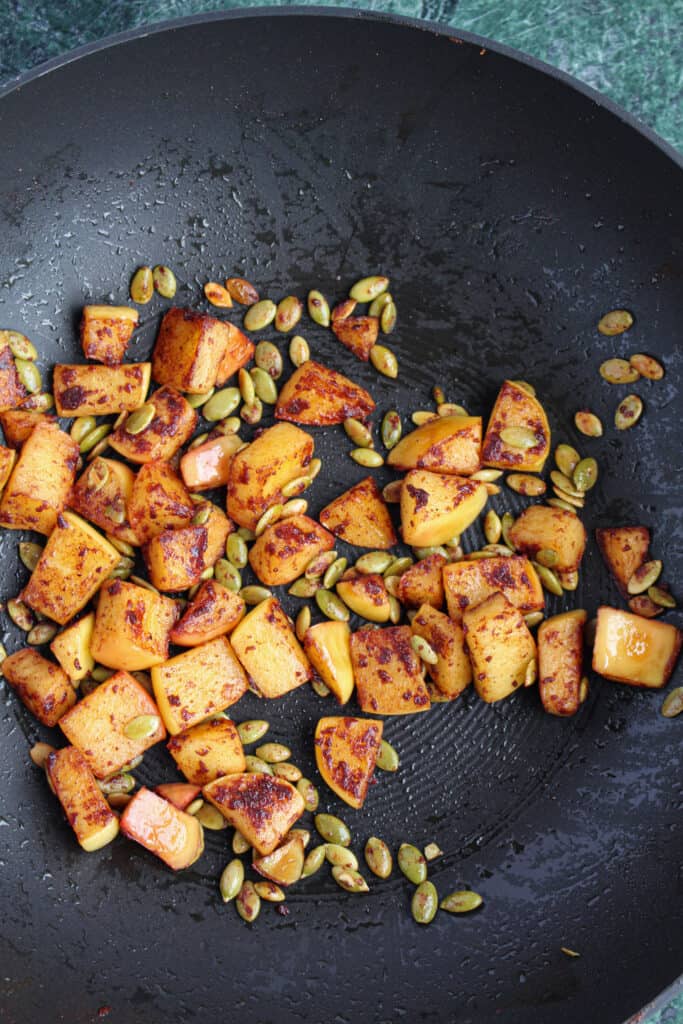 Ingredients
1 cup quinoa, rinsed
1-14 ounce can coconut milk or coconut cream
2 tablespoons water
1 medium/large apple or 2 small apples, chopped
1 tablespoon coconut oil
1 teaspoon vanilla extract
1 teaspoon pumpkin pie spice seasoning
1/2 teaspoon cinnamon
1/4-1/3 cup pepitas (pumpkin seeds)
Optional, additional toppings: nut or seed butter, jam, extra cinnamon
Directions
Add coconut milk, water, and quinoa to a pot and bring to a boil. Reduce heat, add cinnamon, and simmer for ~15 minutes or according to quinoa package directions.
While quinoa is cooking, heat coconut oil in skillet or wok over medium heat. Add chopped apple and pumpkin spice seasoning and saute ~7-8 minutes. The apples will start to become tender and fragrant.
Add pepitas to skillet and toast for ~4-5 minutes. Keep shaking the pan until they've turned mostly golden brown.
Stir in vanilla extract to quinoa once it is done cooking.
Serve quinoa in bowl, add sauteed apples and toasted pepitas,
Optional: add other toppings of choice, i.e., nut or seed butters, jam, more cinnamon.
So simple, so delicious and ready in less than 30 minutes! Another bonus is that this recipe reheats well the next day so don't be afraid of leftovers.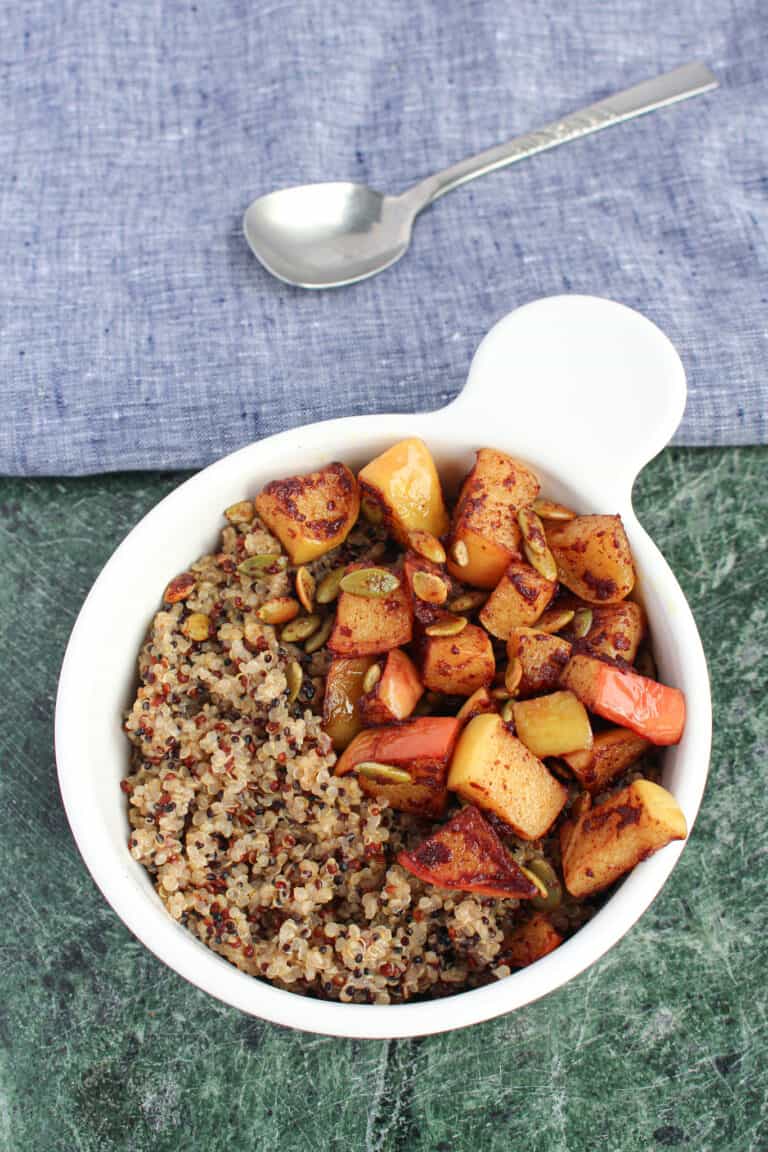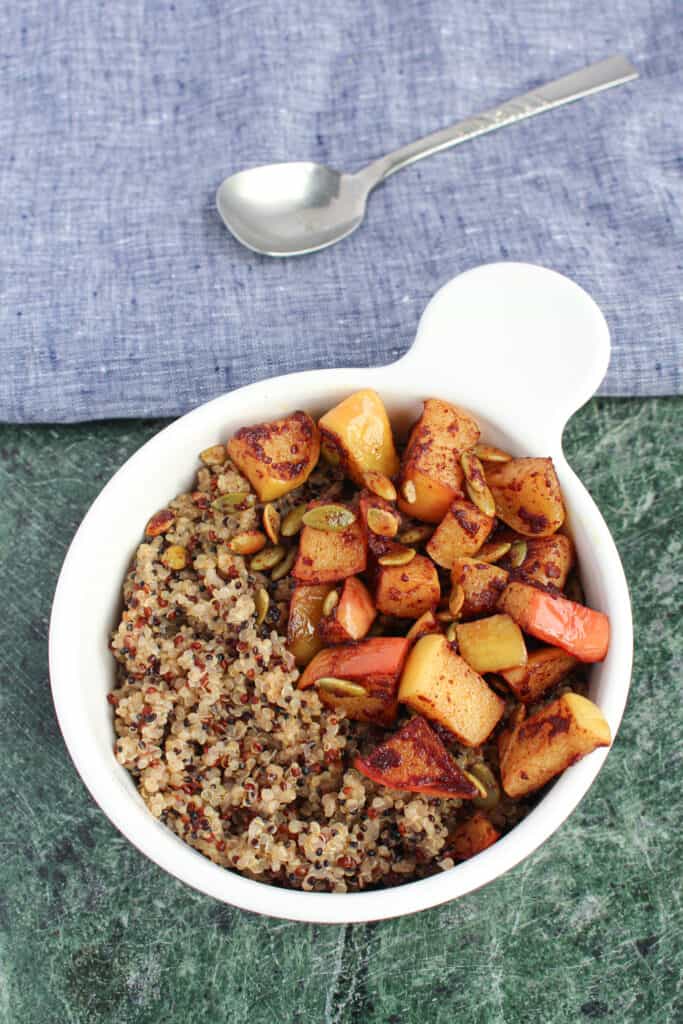 Try it out and let me know what you think!
Check out my other quinoa recipes:
xx
Emily