Making your own granola is a game changer and once you master the process you may never go back to store bought. This healthy peanut butter granola has the perfect balance of peanut butter flavor, sweetness, and crunch. Plus there are no added preservatives and it's much more cost-effective than store bought! This peanut butter granola is vegan, oil free, and gluten-free (as long as gluten-free oats are used).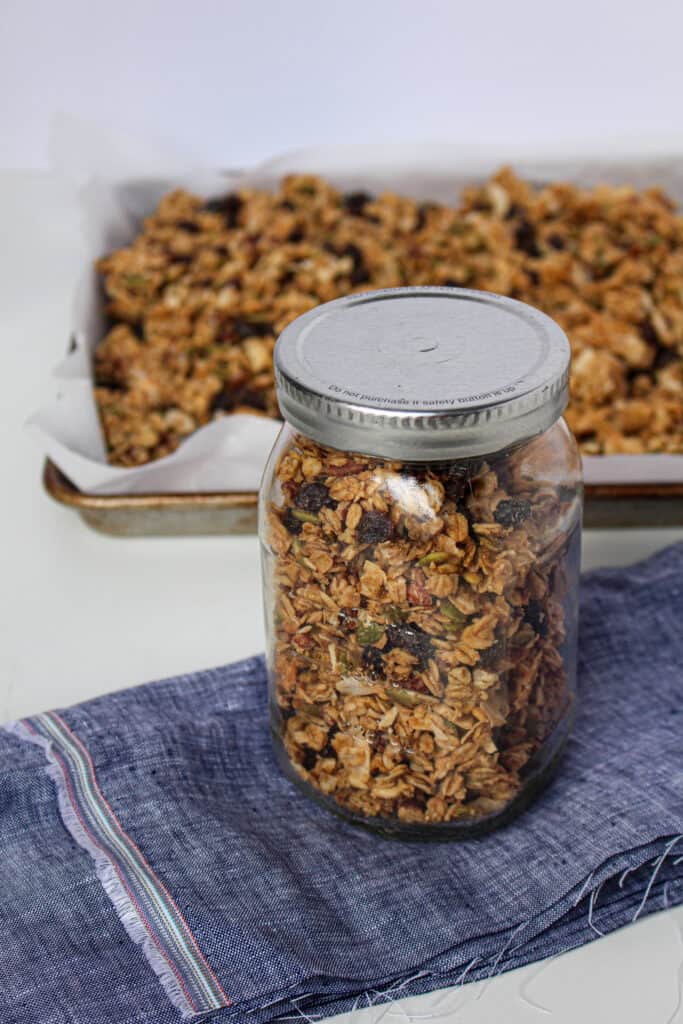 Granola making tips:
To achieve maximum crunchiness and clumpiness the granola needs to be baked on one sheet and pressed firmly to the bottom of the pan. You also do not need to stir the granola during the baking process or if you do choose to stir, recommend only stirring once. I use a 13 x 18 inch baking sheet for this recipe.
Use parchment paper for an easy clean up and to prevent the granola from sticking to the pan. (Eco friendly tip: I reuse my granola parchment paper several times, for granola making only)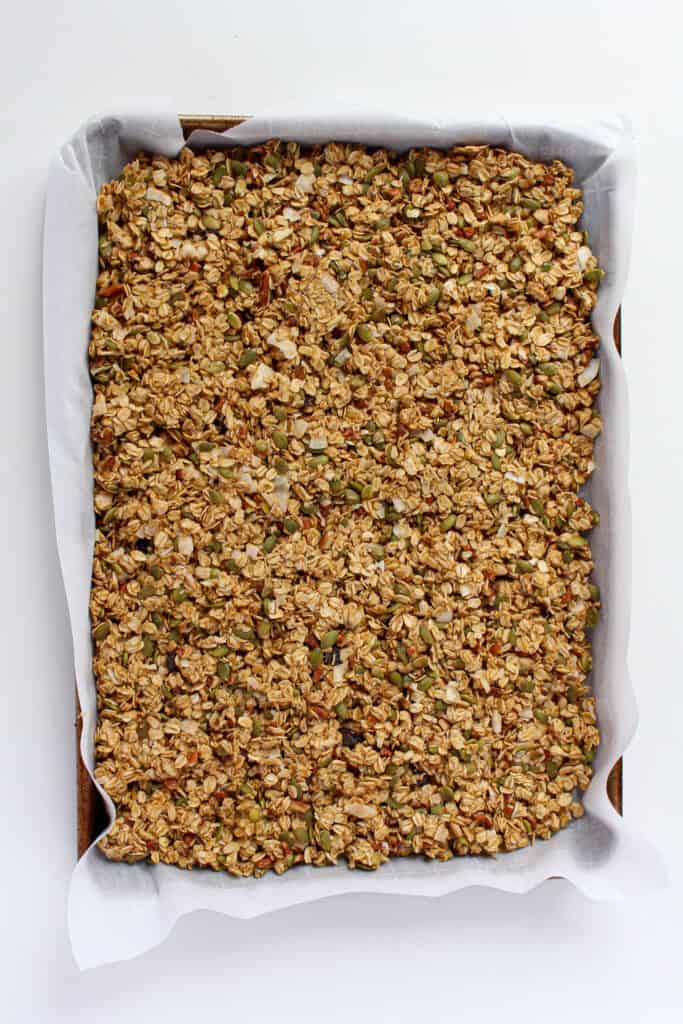 Add the dried fruit at the end. In this recipe you will mix all of the dry ingredients besides the raisins in a mixing bowl. You will add the raisins to your granola once it has mostly cooled from baking. This step prevents the fruit from burning on the pan. This recipes calls for raisins but you can use any dried fruit you choose.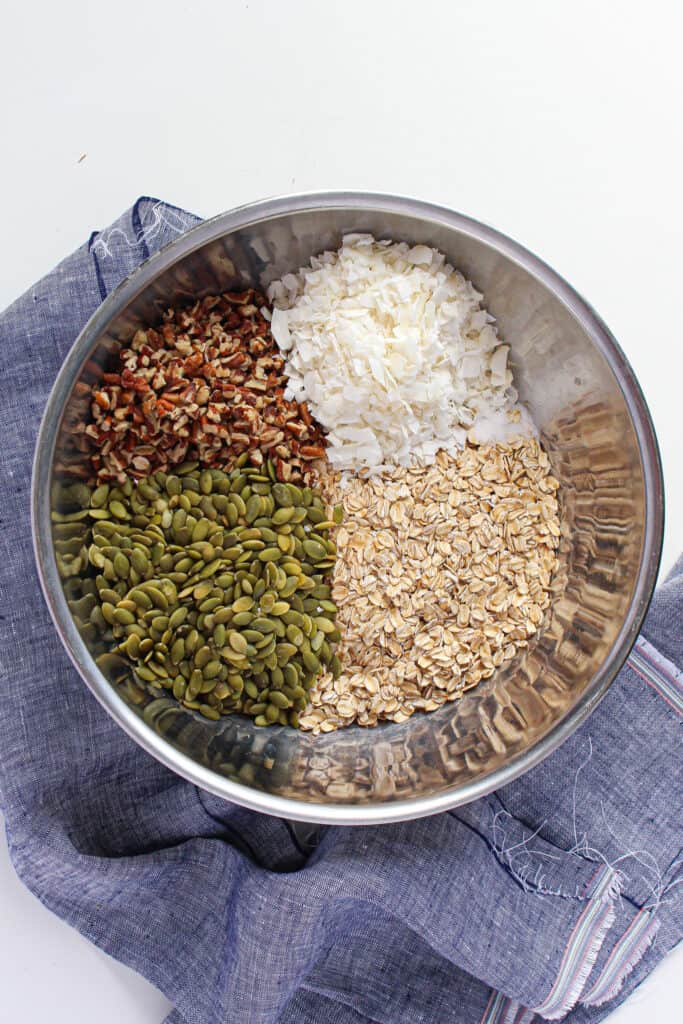 In a pan on the stove you will melt the peanut butter and mix in the maple syrup, vanilla extract, and water. Once the peanut butter melts and all the liquid ingredients are well mixed (this will only take a few minutes) you will pour this on the dry ingredients in the mixing bowl. Mix everything together really well so all the dry ingredients are evenly coated.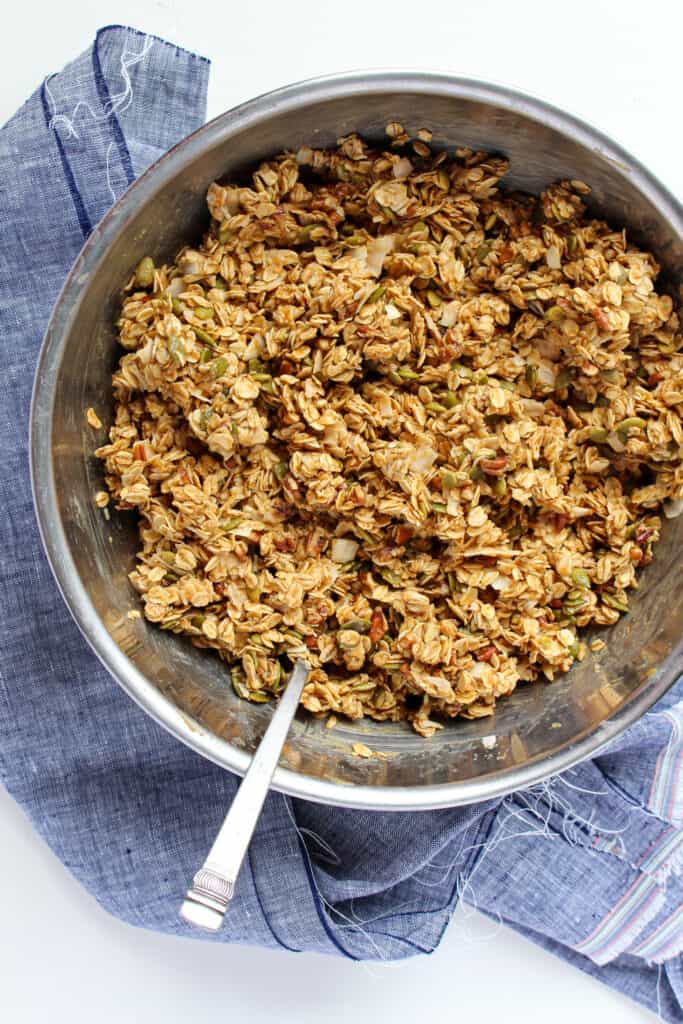 You will bake your granola at a relatively low heat which will dry out the granola without burning it. This recipes call for 325 degrees Fahrenheit. Most granola recipes call for a temperature between 300-350 degrees, anything higher than this will lead to an over-baked or burnt granola.
Ways to enjoy your delicious peanut butter granola:
Topping for a smoothie bowl
Over ice cream
With plant-milk of choice
On it's own as a snack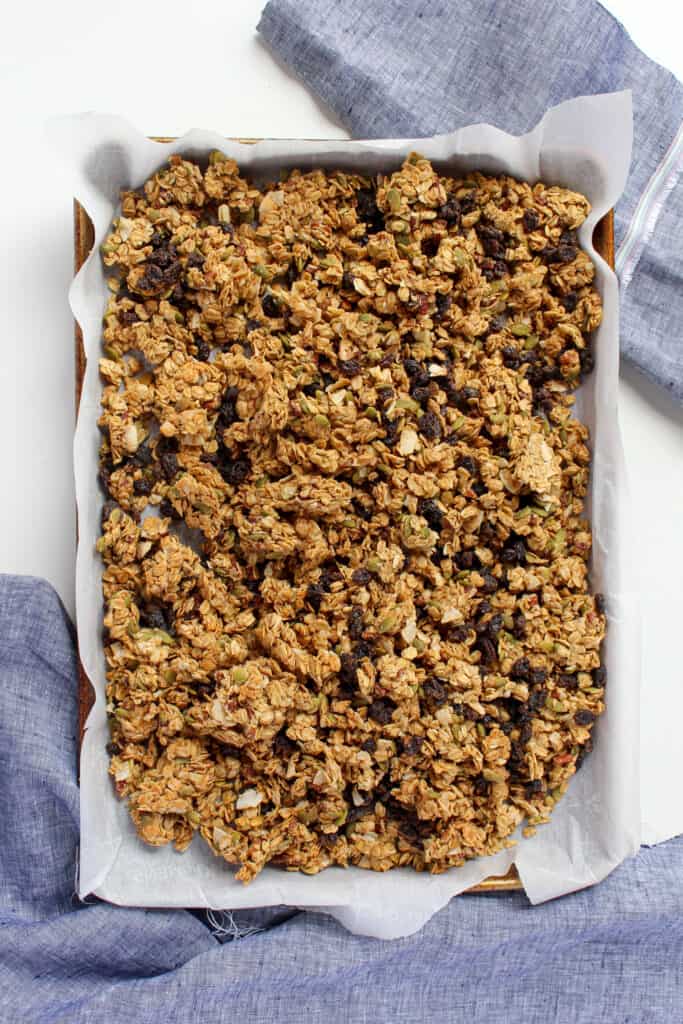 Peanut Butter Granola Recipe:
Print
Ingredients
4 cups oats

1.5 cup raisins

1 cup pecan pieces

1 cup pepitas (pumpkin seeds)

1 cup shredded coconut

3/4 cup natural peanut butter

3/4 cup maple syrup

5 tablespoons water

2 teaspoons vanilla extract
Print
Directions
Preheat the oven to 325 ºF
Add oats, nuts, seeds, and coconut to a mixing bowl
On the stovetop, add peanut butter, water, maple syrup, and vanilla extract to pan. Stir and cook over low-medium heat for ~2-3 minutes, until peanut butter is melted.
Add wet ingredients to dry ingredients in mixing bowl. Stir until thoroughly combined
Pour granola onto a baking sheet lined with parchment paper and press down the pre-cooked granola with a spatula to create a uniform layer. 
Bake for ~23-25 minutes
Remove granola from the oven and allow the granola to cool then add raisins.
Store in an airtight, glass container. Should keep for a few weeks.
Hope you enjoy!
Resource I found helpful when I started making granola from the Kitchn:
How To Make Easy Homemade Granola