These maple-roasted brussels and sweet potatoes are an essential dish for all of your fall dinner party and holiday spreads. This recipe is simple to make, delightfully colorful, and bursting with flavor. Serve on your favorite platter and if you are feeling a little extra, whip up a delicious garlic-sage tahini sauce to dizzle on top. Interested? Read on – both recipes are shared below.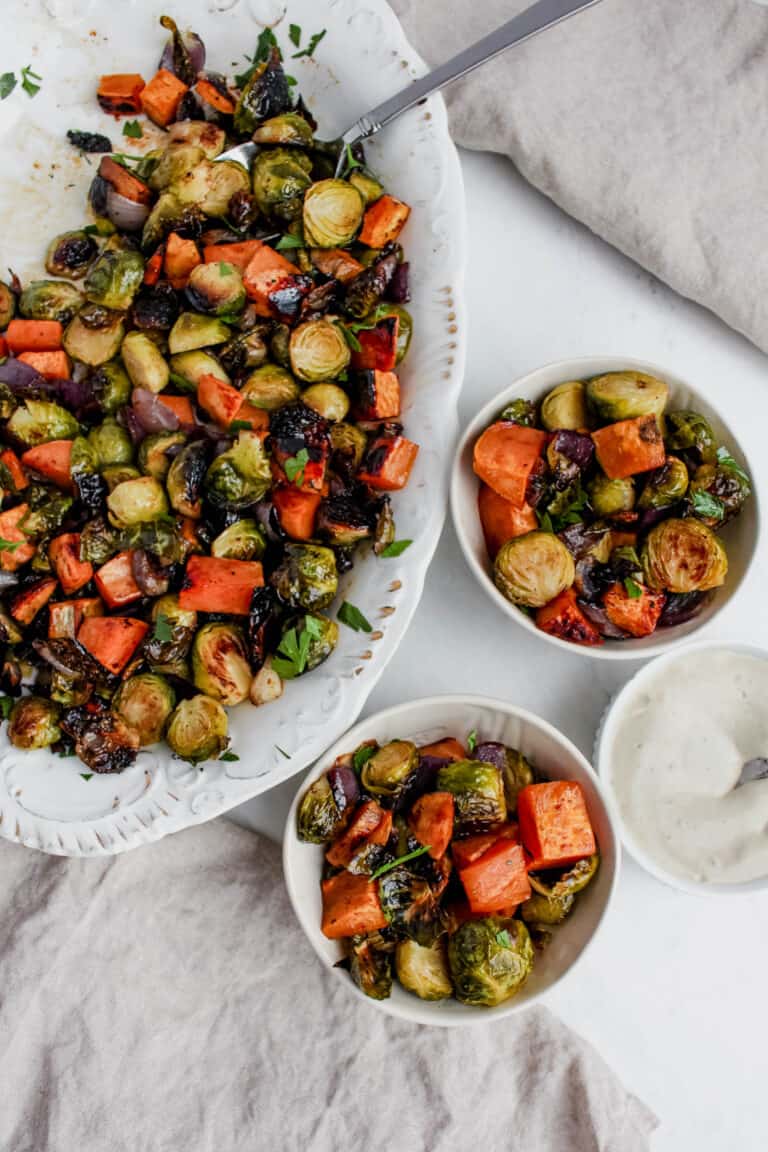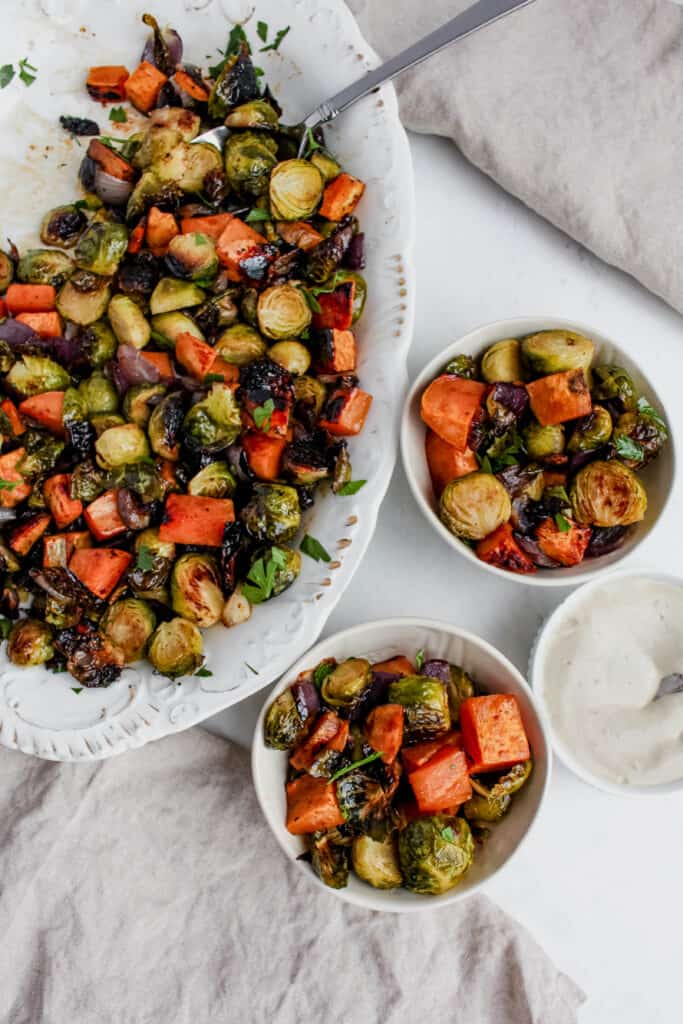 Roasting vegetables requires little preparation outside of washing and chopping the veggies into bite-size pieces. Add an oil, salt, and pepper, then bake until golden brown and tender.
This recipe uses 3 vegetables: sweet potato, brussels sprouts, and red onion. Other fall vegetable options that would also work great for this recipe include carrots, beets, white or purple potatoes.
A mixture of avocado oil and maple syrup is the secret sauce in this recipe and really elevates the flavor profile of the vegetables.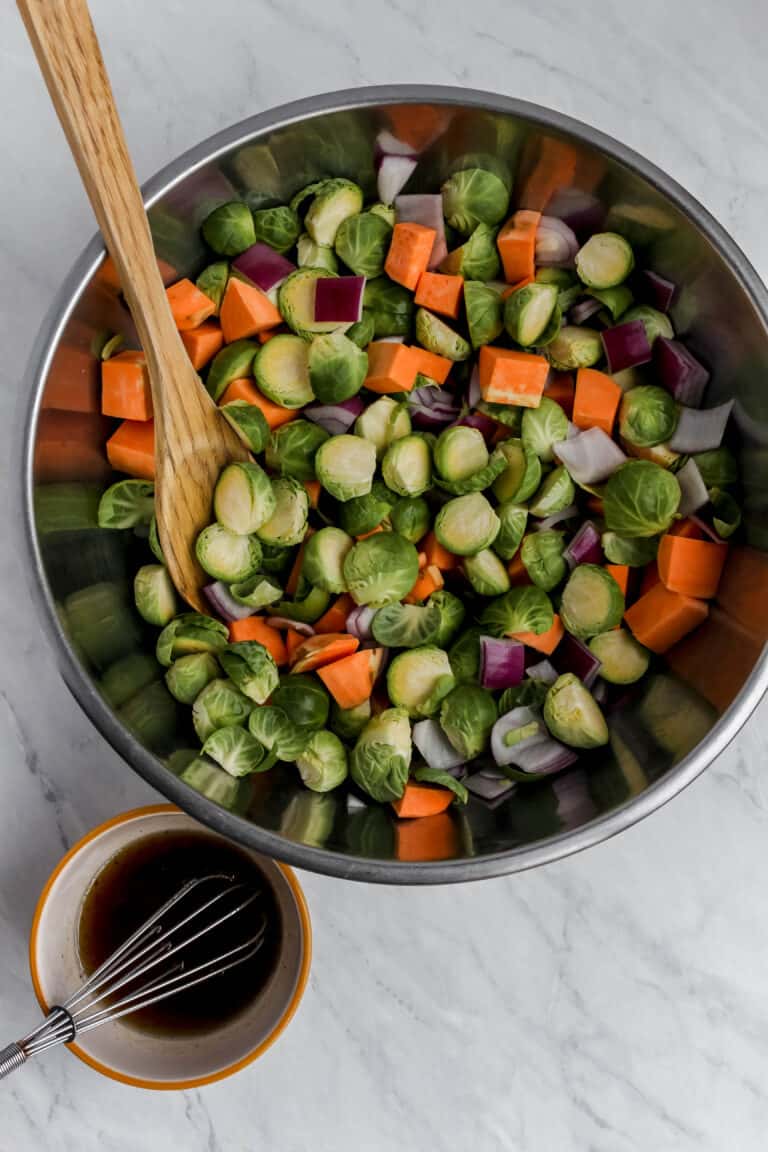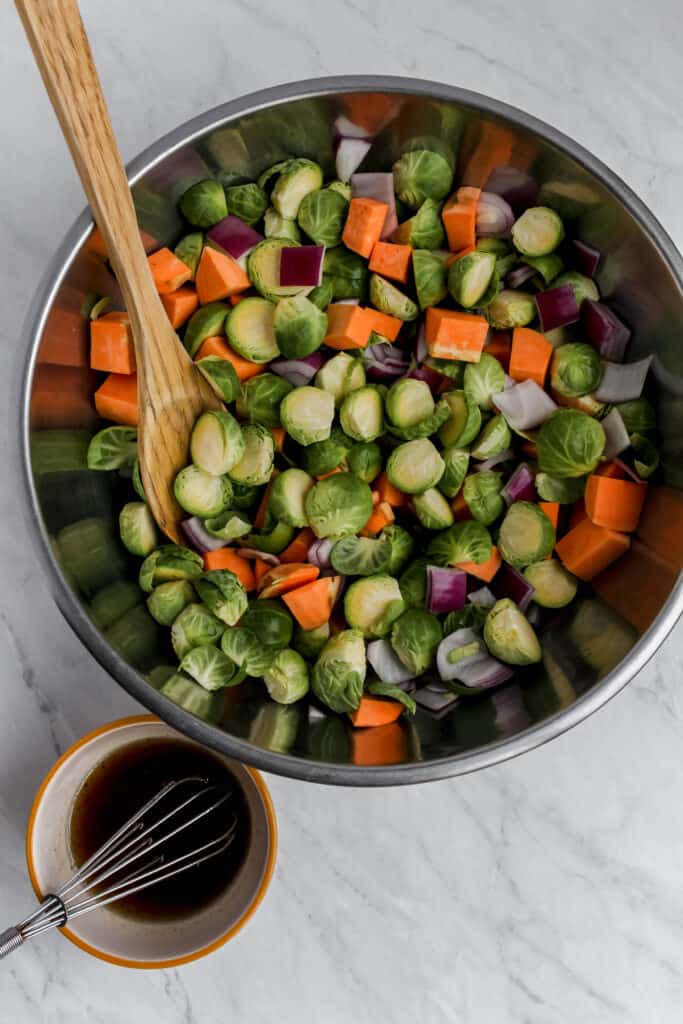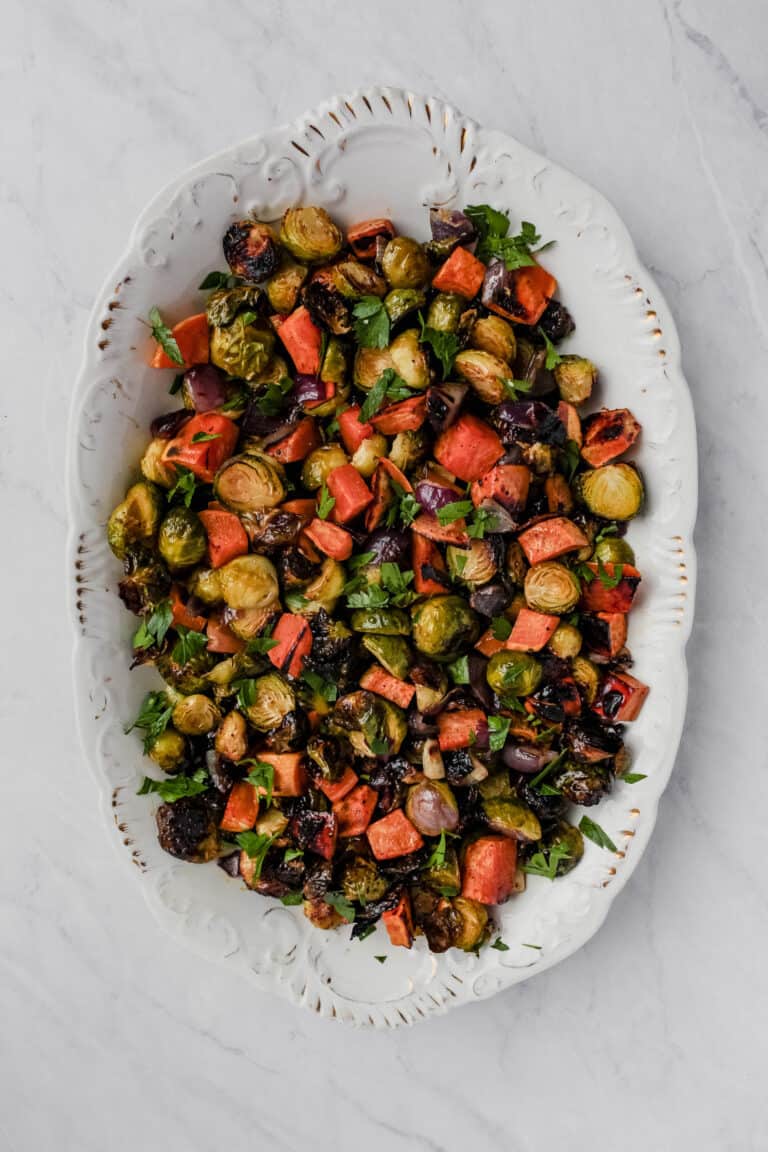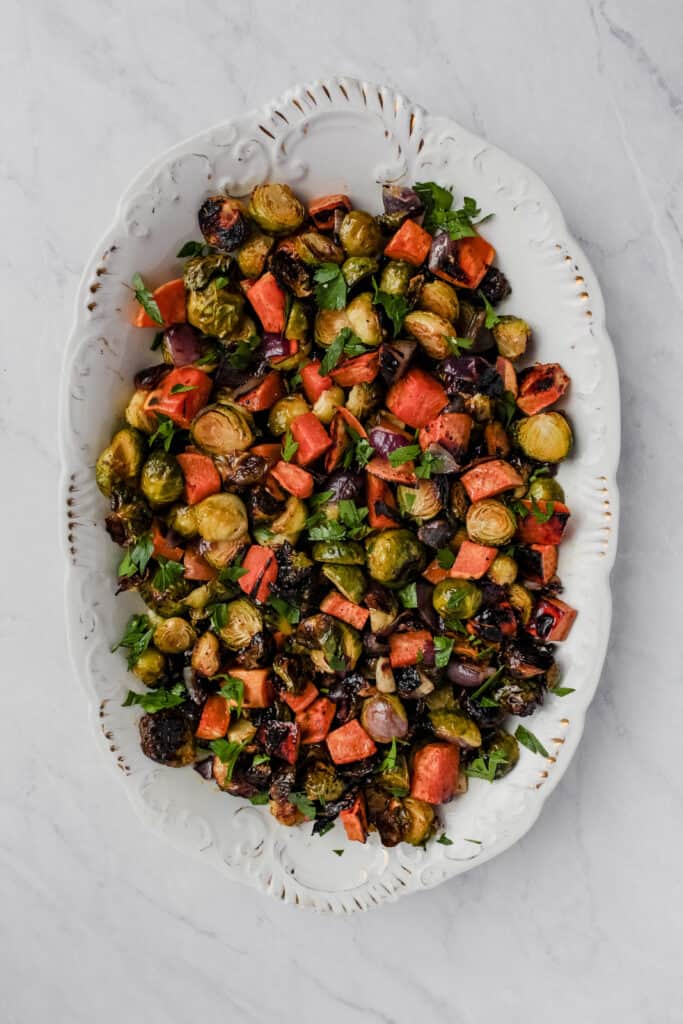 Kitchen Tools / Items You Need to Prepare This Dish:
Cutting board
Sharp knife
Large bowl
Small bowl + small whisk or fork for mixing
2 large baking sheets
Parchment paper
Tips For Oven Roasted Vegetables:
Avoid over crowding your vegetables on the baking sheet. You want to give the vegetables space when roasting as this allows them to brown nicely. If you overcrowd the baking sheet then the vegetables will steam instead of caramelizing. I recommend using 2 large baking sheets or 1 large and 2 small baking sheets for the amount of vegetables used in this recipe.
Rotate the baking sheet in the oven and/or stir those veggies while roasting. You want rotate your baking sheets about halfway through your roasting time which helps the vegetable brown evenly in the oven. I also suggest stirring the vegetables once while roasting.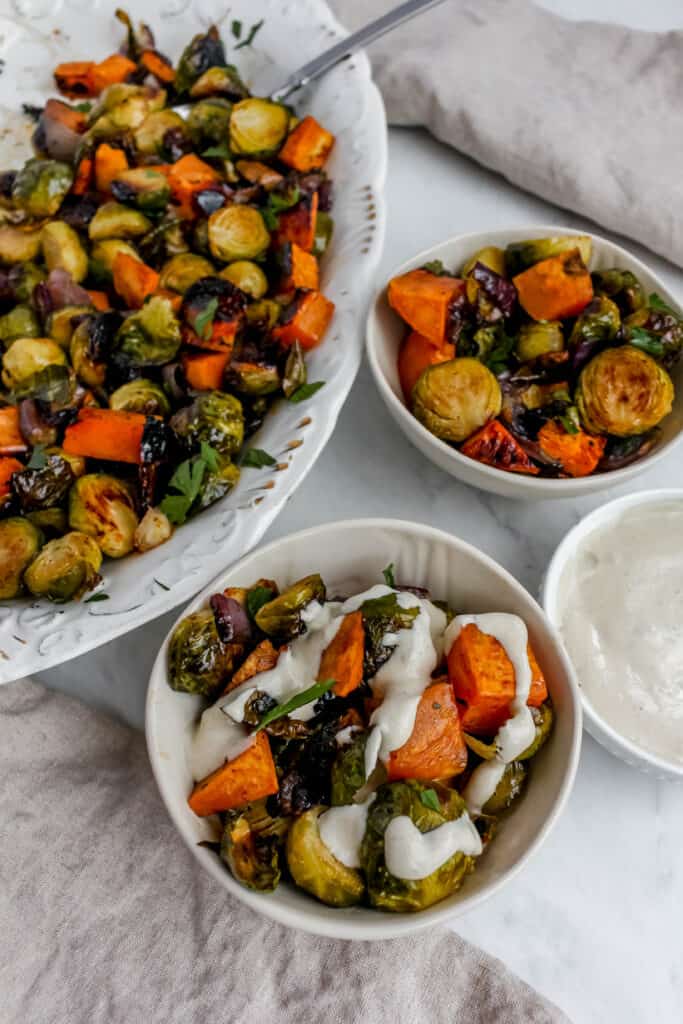 Maple-roasted Brussels and Sweet Potatoes Recipe:
Ingredients
2 lbs brussels sprouts, sliced in half lengthwise

2 sweet potatoes, peeled and chopped into bite-size pieces

1 medium/large red onion, chopped into bite-size chunks

1/4 cup maple syrup + 1 tbsp for drizzling

1/4 cup avocado oil

1/2 teaspoon black pepper

1/4 teaspoon salt

3-4 springs fresh parsley, chopped for garnish
Directions
Preheat oven to 400 degrees Fahrenheit
Add brussels, sweet potato, and onion to a large mixing bowl
In small bowl, whisk together avocado oil, maple syrup, salt and pepper. Pour mixture over vegetables and toss to evenly coat.
Spread vegetables evenly across 2 large baking sheets lined with parchment paper. Total roast time is ~30 minutes (can vary by oven). Stir once and rotate pans half way through, at about 15 minutes. Roast until browned and tender.
Carefully remove from oven, and transfer to serving platter, drizzle with remaining 1 tablespoon maple syrup and stir vegetables. Garnish with fresh parsely and enjoy warm!
Garlic-sage Tahini Dressing Recipe
Ingredients
1/4 cup tahini

2-3 tbsp lemon juice (I use 3 and this makes it more tangy)

1 teaspoon garlic powder

4 tablespoons water

6-7 sage leaves

Pinch of salt
Directions
Add all ingredients to a blender and blend.
Transfer to small bowl. You can blend in more salt/pepper/garlic powder per taste as well as thin out with more water to desired consistency..
Serve alongside and drizzle over roasted veggies.
This colorful dish has the perfect blend of sweet and savory, is gluten free, vegan, and free of the top 8 allergens. Whether you are entertaining a crowd, cooking for a party of 2, or meal-prepping for the week I hope these maple-roasted sweet potatoes make it to your table this fall season.
xx
Emily