There is something magical about layering rice, beans, and perfectly seasoned veggies. This combination creates a meal that is both satisfying and healthy, all while using simple ingredients. This vegan black bean burrito bowl has a delicious fiesta kick and may remind you of your favorite veggie burrito bowl from Chipotle or Qdoba. This healthy recipe is full of flavor, easy to make, and reheats quite well which makes for good leftovers…. if there is any 😉
Beans and grains are among some of the cheapest, yet most nutritious, foods. To really maximize cost-effectiveness, buy beans and grains in bulk! Some stores allow you to use your own containers to purchase and this is a great way to reduce waste in terms of packaging along with saving money.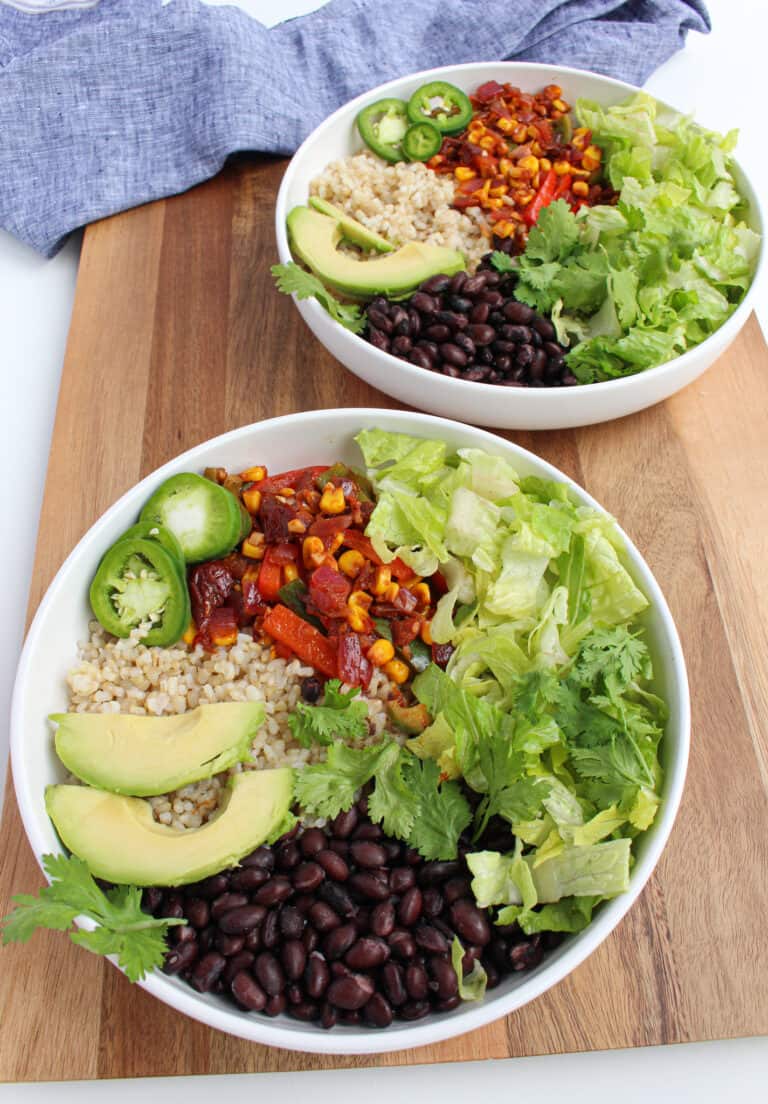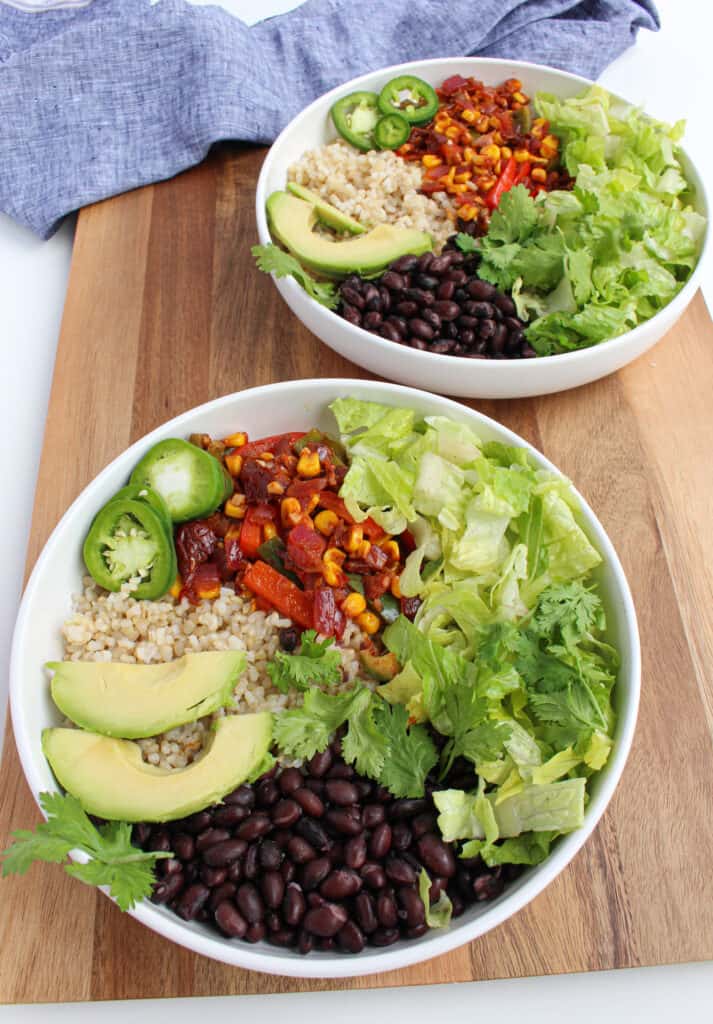 The anatomy of creating a delicious vegan meal
Many of my meals come together with the following combination: whole grain + legume (beans/lentils/soy) + veggies + healthy plant-fat like avocado, olives, nuts and/or seeds or nut/seed butter. This equation is fail-proof and the options are endless. The seasonings and herbs you use will influence the flavor and cuisine.
This vegan black bean burrito bowl comes together by starting with brown rice, your whole grain and adding black beans, your legume. You can cook your rice and beans ahead of time if desired to save time. You can also use a can of black beans instead of cooking beans from scratch for convenience.
Health benefits of beans
Beans are an excellent source of both fiber and protein, with a half cup providing ~7.5 grams of each. A great thing about choosing plant-proteins likes beans/legumes over animal proteins is that you are also getting fiber, vitamins, minerals, antioxidants, and phytochemicals. Legumes have ZERO cholesterol and are low in fat and saturated fat. Given all of this nutritional greatness in legumes, it is not surprising that legume intake is associated with reduced mortality. A 2017 meta-analysis demonstrated high legume intakes are associated with lower risk of all-cause mortality.  Specifically, they found a 7% risk reduction in the highest vs lowest intake groups.(1) Another study looked to identify protective dietary predictors among long-lived elderly people. The researchers examined the food intake patterns of people 70 years and over from a variety of cultures and the only statistically significant food indicator of longevity was legume intake. For every 20 grams of legumes consumed, there was a 7-8% reduction in mortality. (2)
Okay, so to summarize: beans are healthy, cost-effective, and delicious …. what's not to love?!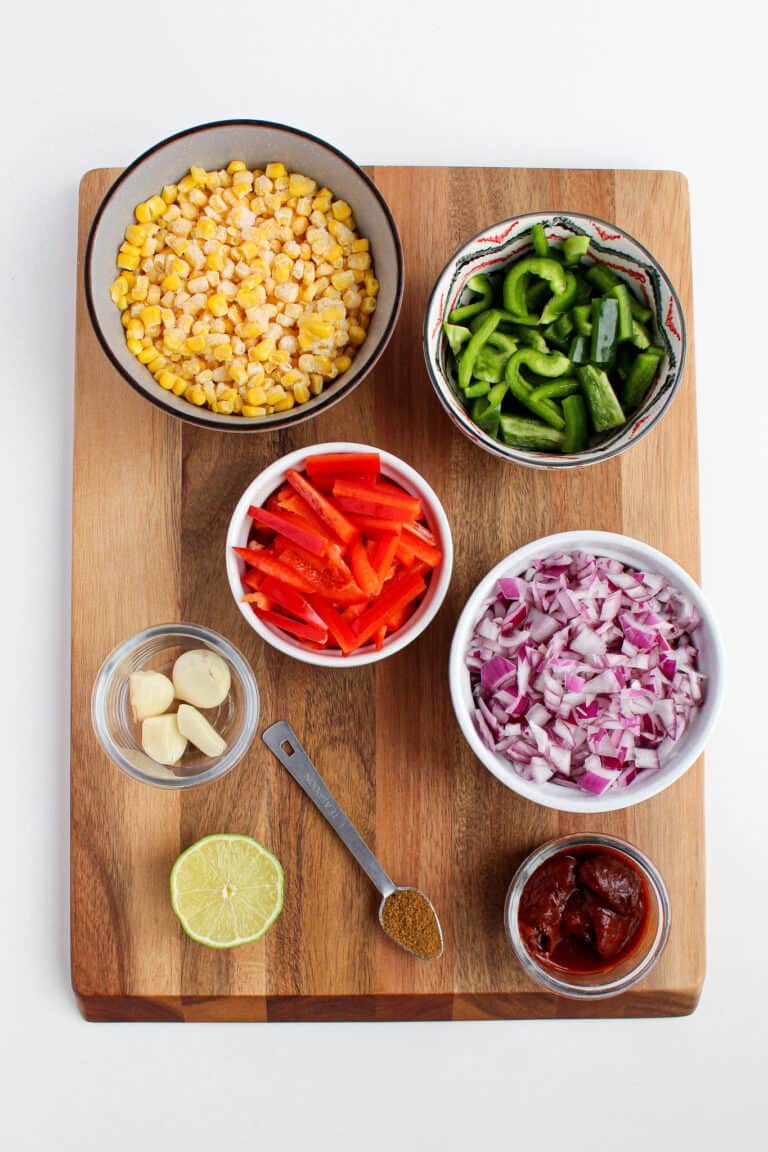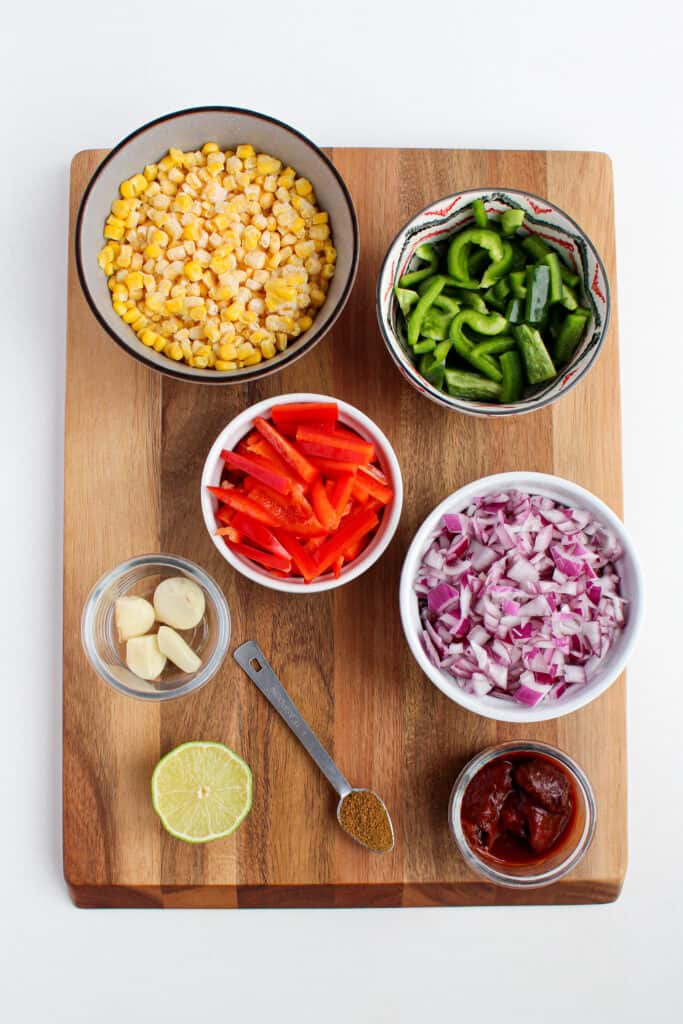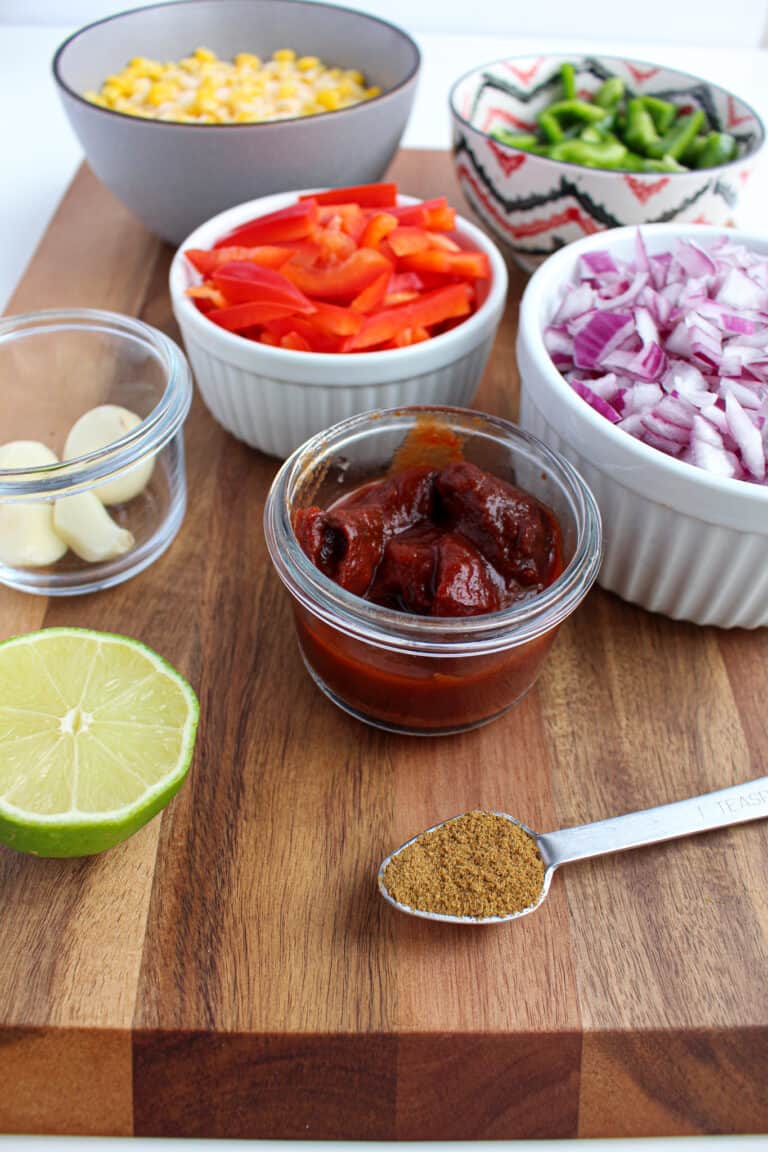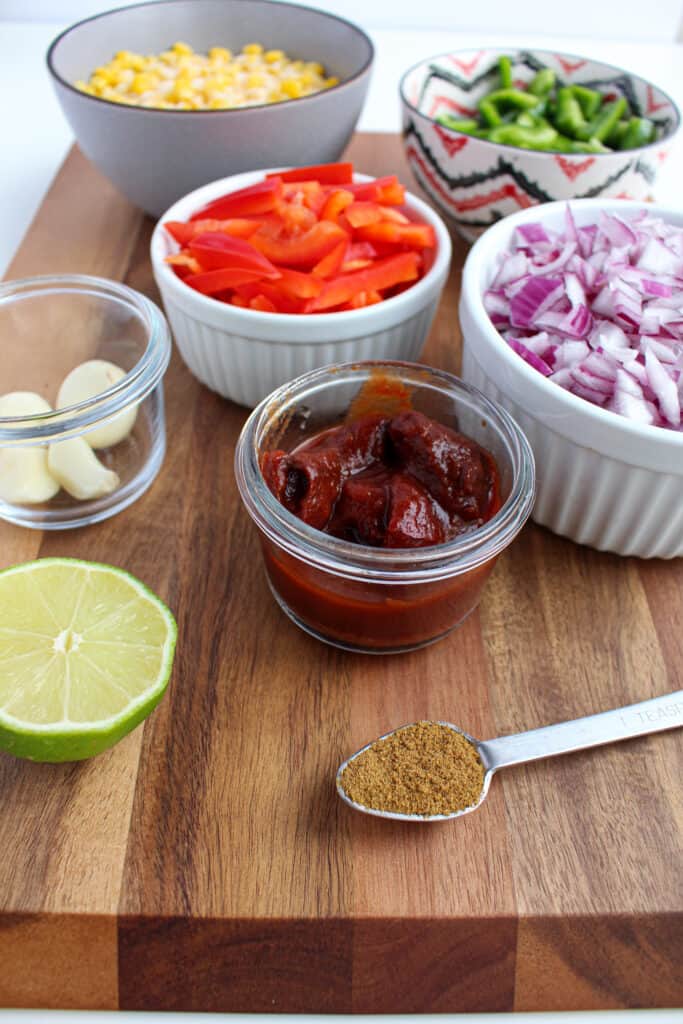 The veggies & seasonings
For this dish, I suggest using two different color bell peppers to have a variety of colors in your dish. Different colors = different nutrients. But if you happen to only have two bell peppers of the same color, don't fret – this recipe will still turn out delicious.
Use frozen corn for ease/convenience. I almost always have a giant bag of organic frozen Kirkland corn from Costco in the freezer – it's a nice add in to so many dishes and there isn't the pressure to use it all up before it spoils.
The adobe peppers + the extra added sauce really brings the heat and makes the dish. You will chop up these peppers and include them + their seeds and this brings some heat. If you don't like a little spice/heat then I don't think this is the recipe for you.
This dish gets more fiesta flavor (and antioxidants) from the onion, garlic, cumin, lime, salt and pepper. A culinary medicine tip for garlic is to crush it or dice it up and let it sit for at least 10 minutes before cooking. Doing so allows the health promoting compounds found in garlic, allicin and thiosulfinate, to rise. (3)
The toppings
Last but not least, you need toppings to finish building your beautiful vegan black bean burrito bowl and make it yours!
Lettuce
Avocado
Cilantro
Hot sauce
Salsa
Extra squeeze of lime
Vegan sour cream like tofutti Better then Sour Cream
Tortilla Chips
Diced or quick pickled jalapeno
Lime wedges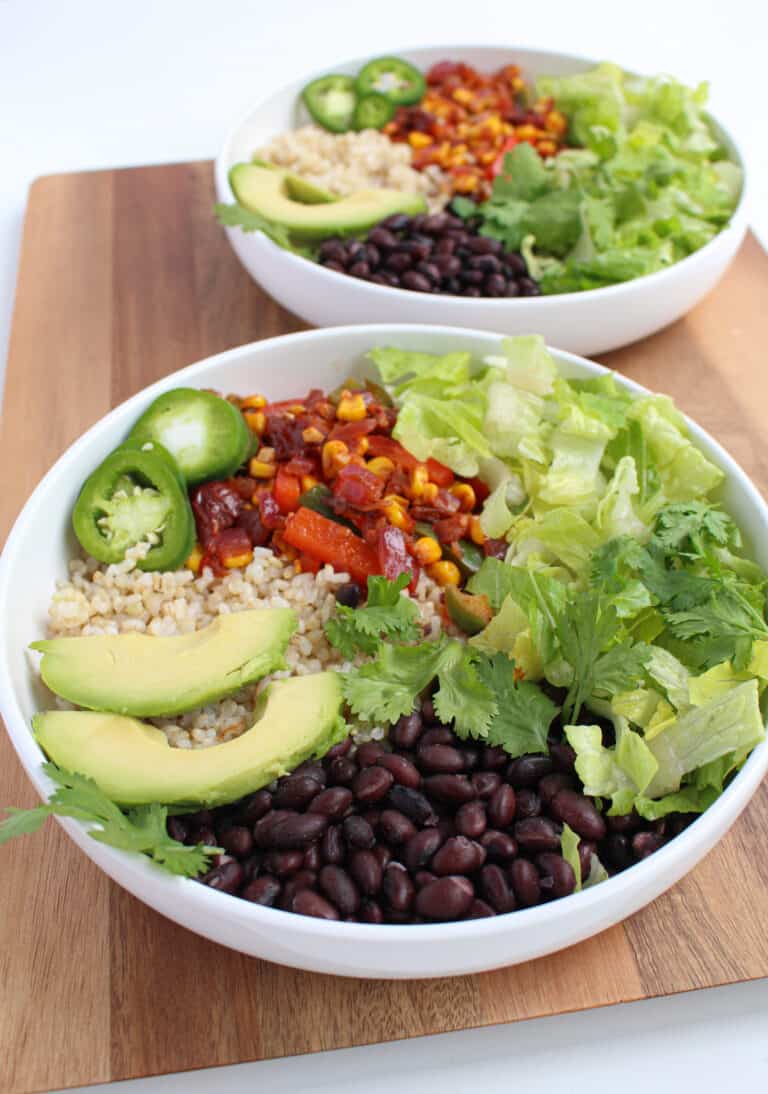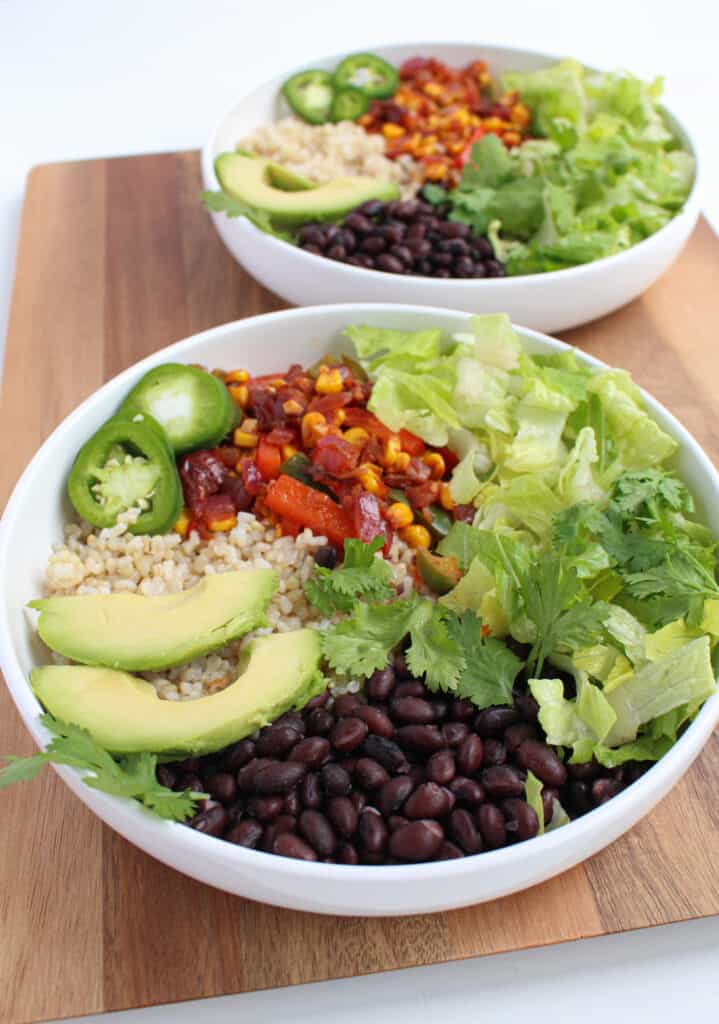 Vegan Black Bean Burrito Bowl Recipe:
Print
Ingredients
Vegetable Mixture for Burrito Bowl:

2 bell peppers, Cut into thin strips and then halved
Suggest 1 green and 1 orange or red bell pepper

2 cups frozen corn

1 large red onion, chopped

6 adobe peppers, chopped +3-4 tsp of adobe sauce from can 

2 teaspoons cumin

1 lime, 1/2 juiced, other half sliced for serving/topping

1.5 tablespoons avocado oil

Base of Burrito Bowl:

~2-3 cups of cooked brown rice, cooked according to package
directions

~3 cups of cooked black beans or 1 can of black beans,
rinsed and drained


Toppings for Serving:

Lettuce, chopped

Avocado, sliced

Hot sauce

Salsa

Vegan sour cream like tofutti Better then Sour Cream

Tortilla chips

Diced or quick pickled jalapenos

Lime wedges
Print
Directions
Heat avocado oil in large wok or saute pan over medium-high heat
Add onion, saute for 2-3 minutes
Add corn and a dash of salt and pepper and cook for ~10 minutes on medium-high heat until the corn and onions start to brown, stir occasionally. This browning is good, you want that caramelized flavor!
Add bell peppers, adobe peppers, adobe sauce, juice of 1/2 the lime, and cumin, Saute ~ 3 minutes
Lower heat to medium and add garlic and saute ~ 1 minute
Build your bowl: start with brown rice, add black beans, then add cooked vegetable mixture
Top with lettuce, cilantro, avocado, hot sauce, lime wedges, etc.
ADDITIONALLY: If you are just cooking for one and want to half this recipe – it still turns out great and leaves you leftovers for another day.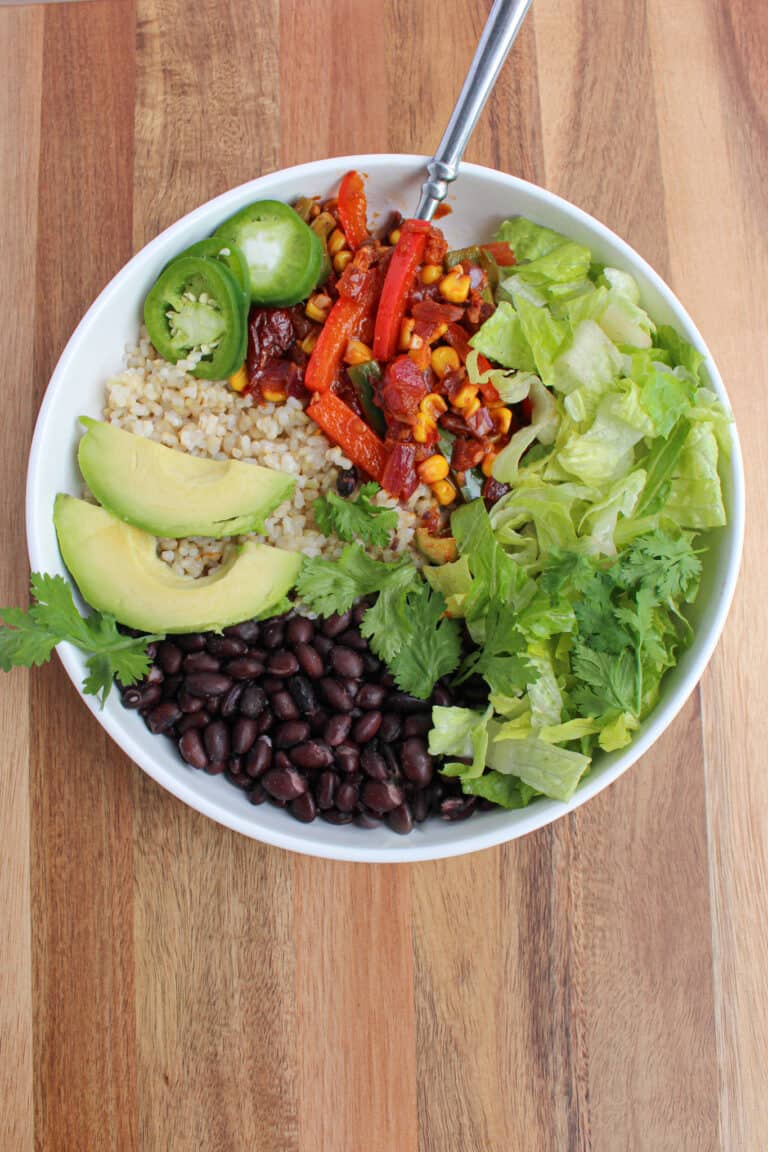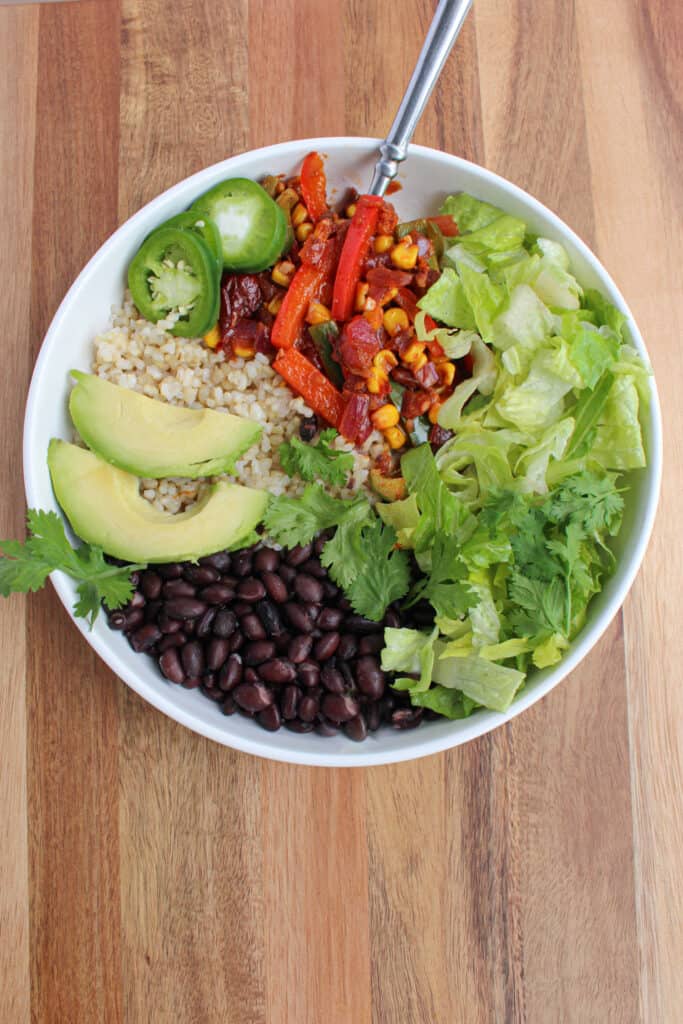 Enjoy!
xx
References
Li H. et al Biomed Res Int. 2017:8450618.
Darmadi-Blackberry I. et al. Asia Pac J ClinNutr. 2004;13(2):217-20.
Puma, J.L Am J Lifestyle Med. 2020 Jan 7;14(2):143-146.
Looking for more bean recipes? Check out: