This vegan charcuterie board (aka vegan snack board) is the perfect centerpiece for all your social and holiday gatherings. This extremely appealing appetizer offers something for everyone in an easy to share and sociable presentation.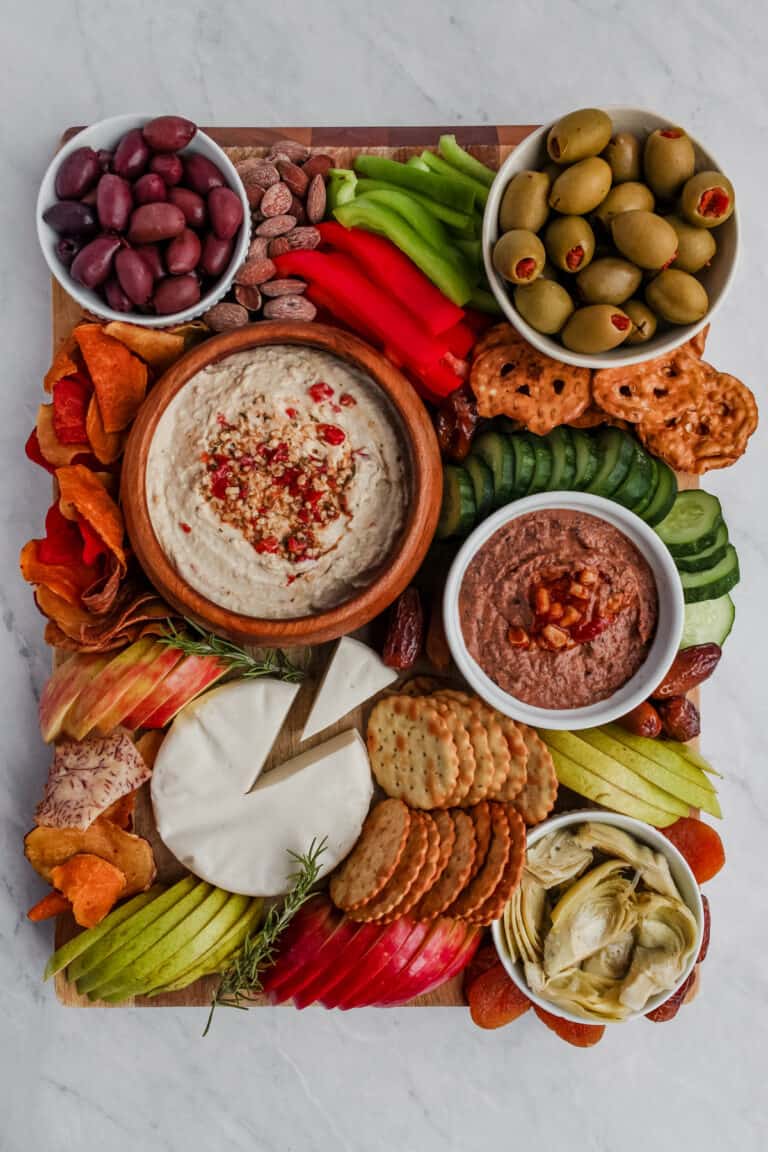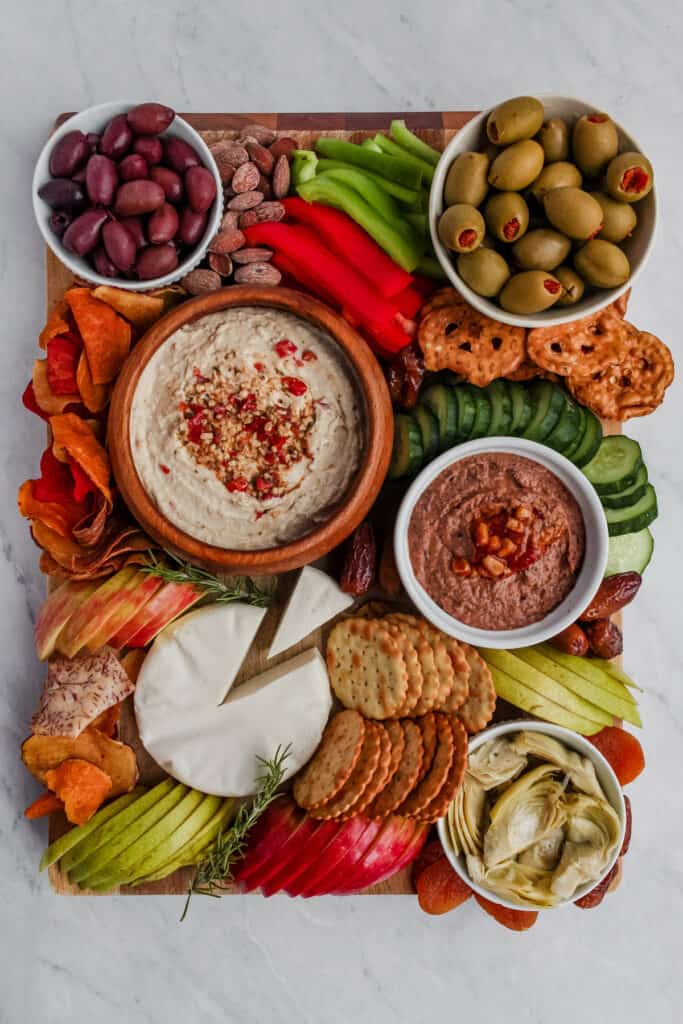 Jump to Recipe
Charcuterie is a French word for a cooking method devoted to prepared meat products, mostly pork. Today, charcuterie has become synonymous with serving a variety of foods like meat, cheese, dried fruits, crackers, dips, nuts, etc. on a wooden board or platter. Like any other recipe or meal idea, a charcuterie board can be veganized by replacing animal products with plant-based options. Simple as that!

What Makes a Vegan Charcuterie Board Great:
The colors. As the saying goes, we eat with our eyes first, so be sure to choose different colors of produce, olives, dips, chips, etc. to brighten up the board.
Sweet and salty. Can you name a better combination? Serve salty, savory options like plant-based cheese, hummus, olives, pickles alongside fresh and dried fruits and jams for optimal flavor layering.
Different textures. Contrasting textures add depth and satisfaction to a meal or snack. Pair crunchy foods like nuts, crackers, fresh vegetables with smooth, silky dips and vegan cheese, plus a few chewier options like dried fruits and olives to rounds things out.
Easy to eat and share. Include spoons in each dip, a cheese knife with the plant-based cheese, and have small plates near by the board so guests can easily serve themselves off the board.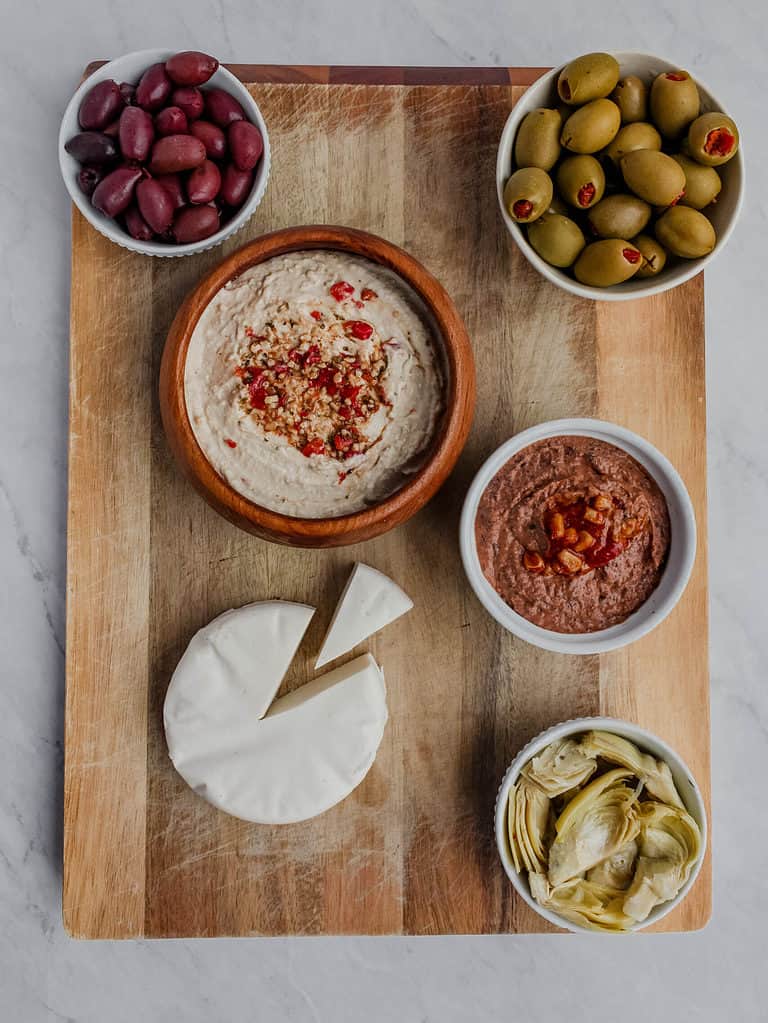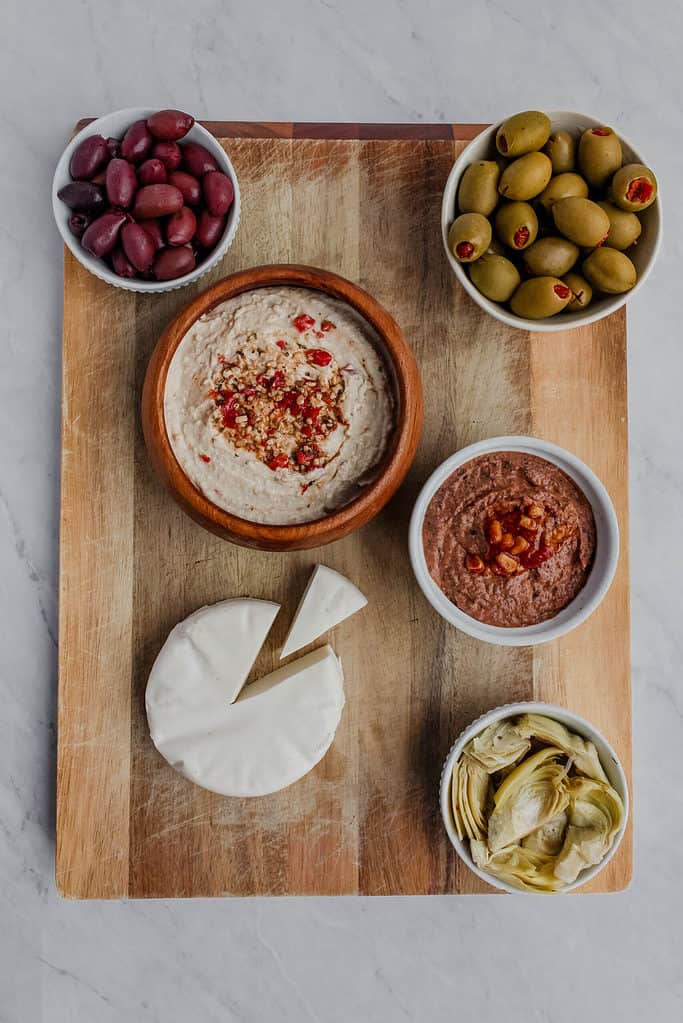 What You Need to Create a Vegan Charcuterie Board:
Start with a board or platter and begin to build your masterpiece. The options are endless when it comes to putting together a vegan charcuterie board. Here are some items you can include:
Fresh Vegetables: bell peppers, sugar snap peas, cucumbers, carrots, grape tomatoes, radishes
Fresh Fruits: apples, pears, berries, grapes,
Dried fruits: apricots, dates, raisins, prunes, figs, peaches, mangos
Jarred Goods: olives, pickles, artichokes, roasted red peppers, sun dried tomatoes
Dips and spreadables: hummus, bean dip, guacamole, jams/jellies
Nuts/seeds: fresh, roasted, candied nuts and seeds like almonds, cashews, peanuts, walnuts, pumpkin seeds, wasabi peas
Plant-based cheeses: store bought or homemade
Crackers/Breads/Chips: crackers of choice, sliced baguette, pretzel chips
Vegan Charcuterie Board (aka Vegan Snack Board)
Course: Appetizer, Snack, Main Course
Difficulty: Easy
Ingredients
Hummus, served in bowl

Bean dip, served in bowl

Plant-based cheese wheel (Miyoko's or SriMu)

Olives, served in bowl

Marinated artichokes, served in bowl

Raw veggies

Raw fruits

Crackers and chips

Dried fruit

Nuts

Optional garnishes: rosemary or thyme sprigs
Directions
Prep Work
Prepare any vegan cheese, dips, spreads if you are making from scratch. (Or buy your favorites from the store)
Wash and chop any raw vegetables and fresh fruit. Do this on a separate cutting board so that your presentation board is clean and dry  
Build your Board
Start with a clean large cutting board or platter. First place items served in bowls (hummus, dips, olives, artichokes, etc.) and plant-based cheese wheel onto the board
Add the fresh fruit and vegetables, arrange around the bowls
Add the crackers and bread in various groups around the board
Fill in the gaps with small piles of nuts and dried fruits
Garnish, serve, and enjoy!
Notes
To make this a gluten free friendly board: Choose gluten free crackers, chips, and nuts. While nuts are gluten-free in their natural state, nuts that are roasted or packaged with any additives could include wheat flour or wheat starch as a coating.
More sharebles:
No-Bake Peanut Butter Pumpkin Balls