This fall-inspired vegan pumpkin chili was originally created for and shared in The Ann's November issue back in 2014. This chili is made with simple ingredients and prepared in a slow cooker which provides you the luxury of throwing in all the ingredients, going about your day, and returning to a delicious and warming dinner.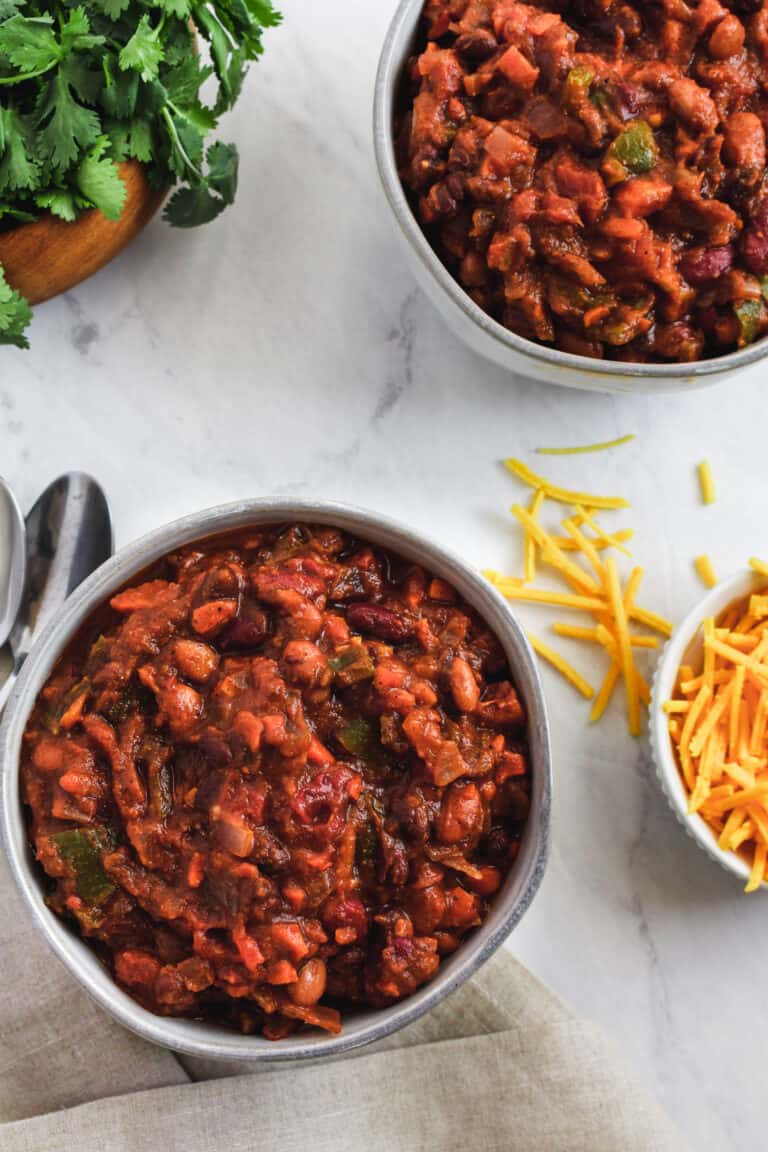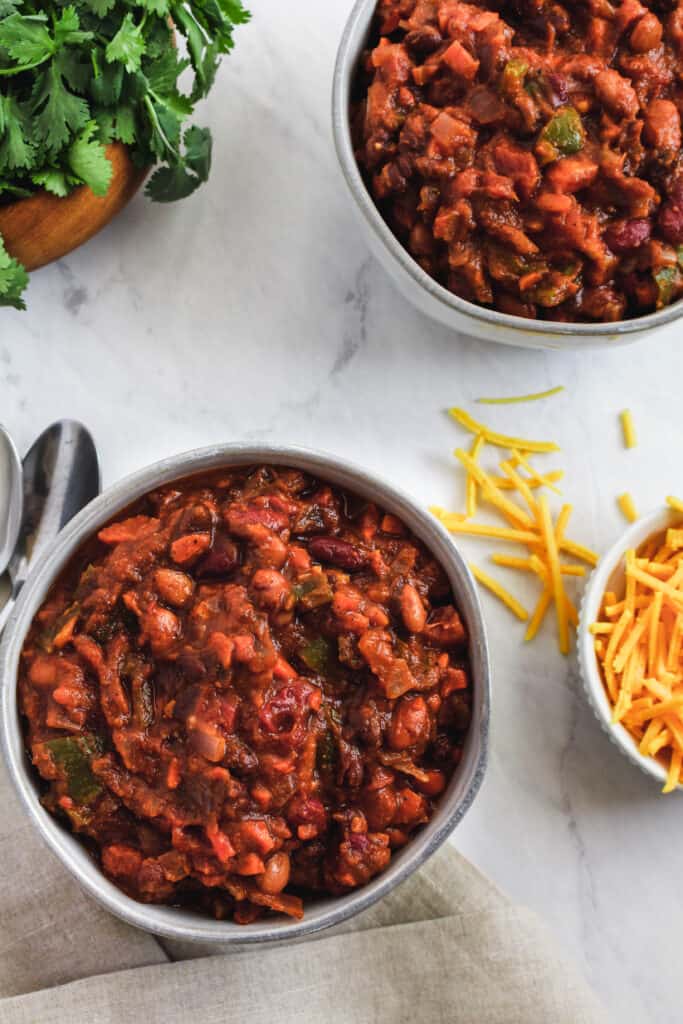 Full of hearty veggies, 3 different beans, and creamy pumpkin puree, this Vegan Pumpkin Chili is a fun fall spin on traditional chili that is sure to satisfy the whole family.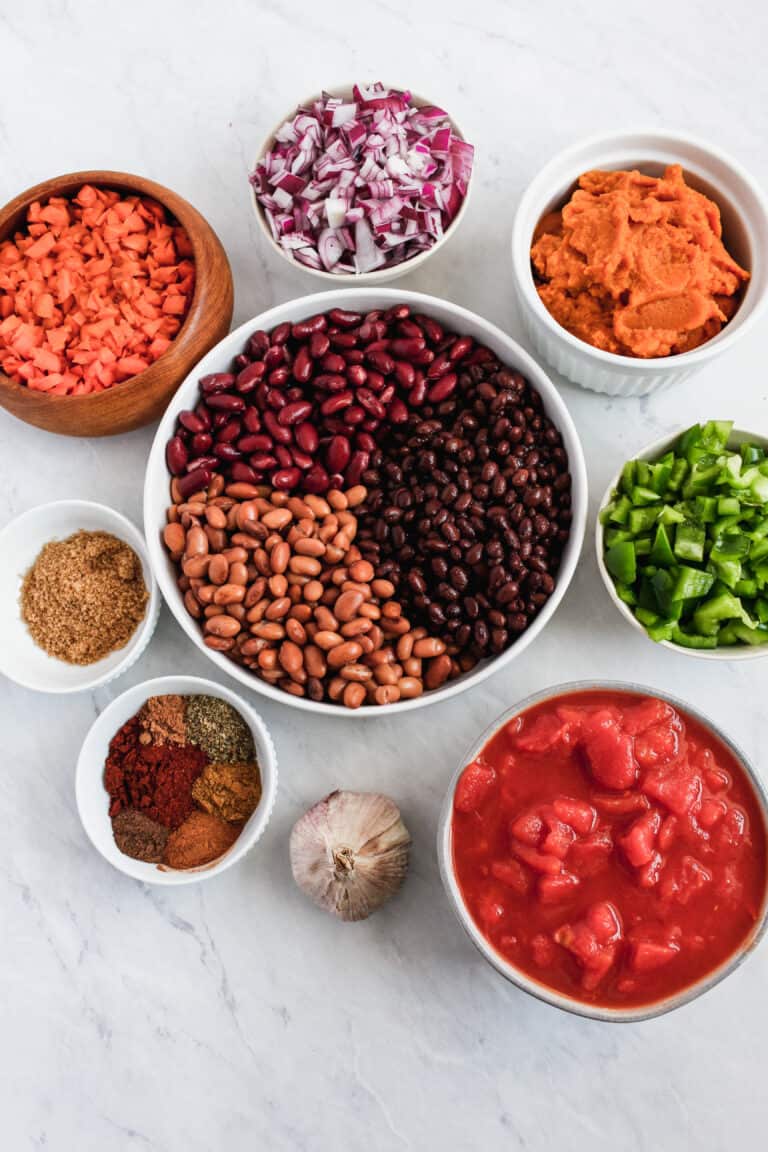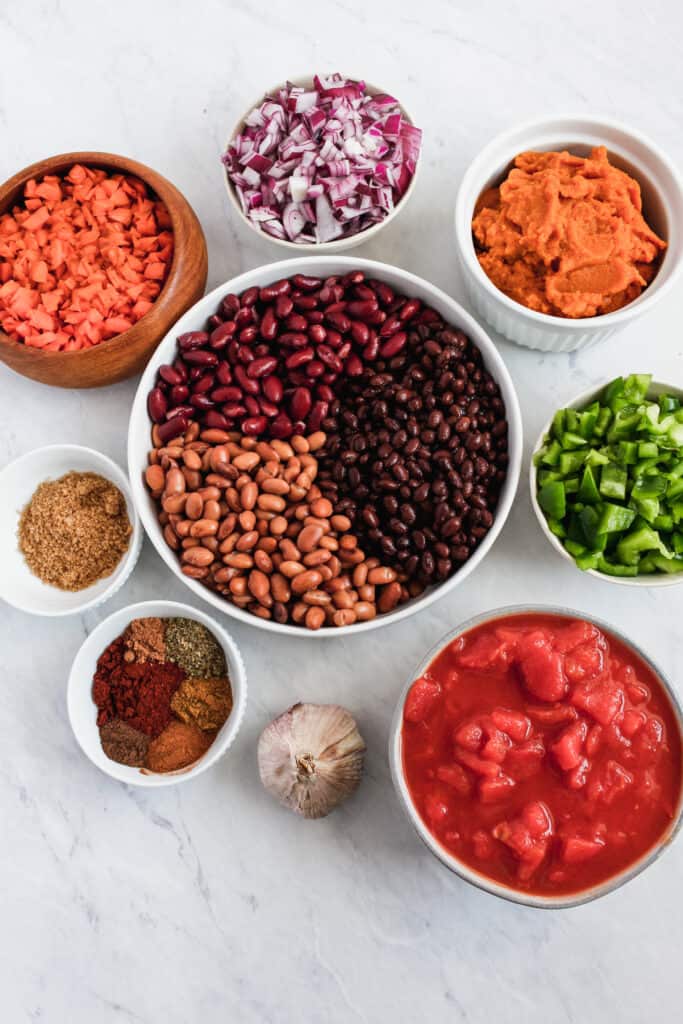 Tricks and treats for this vegan pumpkin chili
Watching sodium? Use no-salt-added or a lower sodium tomato option.
Serve with a variety of your favorite toppings such as: sliced avocado, tortilla chips, fresh cilantro, green onions or chives, dairy-free cheddar shreds and/or sour cream
This chili recipe is delicious fresh out of the slow cooker, but it is even better a day or two later, so plan to save some for leftovers!
Pumpkin chili can also be served over half a baked potato, pasta, or even spaghetti squash.
This is a hearty, thick chili. If you prefer yours a little thinner than add a 1/2 cup vegetable broth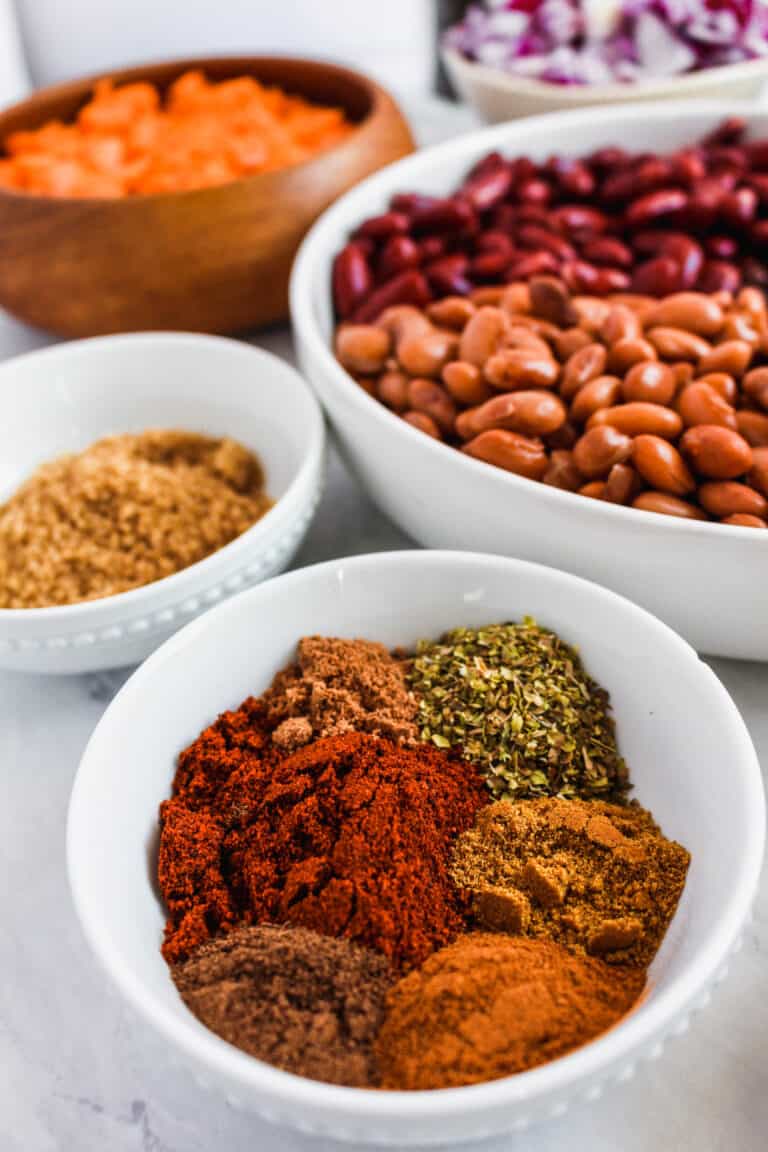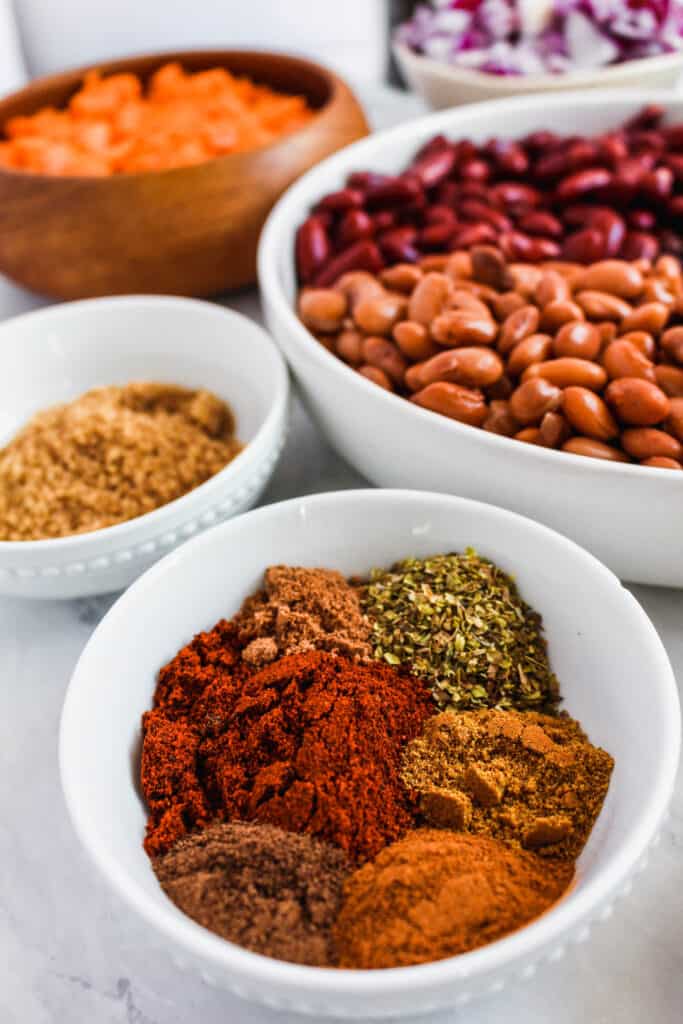 This is one of the easiest vegan slow-cooker recipes around.
Lastly, it's gluten-free, top 8 allergen free, and oil free.

VEgan Pumpkin CHili Recipe <br><br>Details
Print
Ingredients
1 – 15 ounce can of kidney beans, drained and rinsed

1 – 15 ounce can of pinto beans, drained and rinsed

1 – 15 ounce can of black beans, drained and rinsed

1 – 15 ounce can of pumpkin puree

2 – 15 ounce cans (or 1 large 28 ounce), can of diced tomatoes

3 large carrots, diced

1 bell pepper (green, red, or yellow), chopped

1 medium to large onion, chopped

4-5 garlic cloves, minced

2 tablespoons tomato paste

2 tablespoons brown sugar

2 tablespoons chili powder

2 teaspoons oregano

1 ½ teaspoons cinnamon

1 teaspoon cumin

½ teaspoon nutmeg

½ teaspoons allspice

1/4 teaspoon black pepper

Salt and pepper to taste, add at the end
Print
Directions
Drain & rinse the 3 cans of beans
Chop/dice carrots, onion, and green pepper; mince garlic
Measure out spices, tomato paste
Combine all ingredients in slow cooker, cook on low for at least 5-6 hours.
Season to taste with salt and pepper. Enjoy topped with toppings of choice!
This recipe is gluten-free, oil-free, and free of the top 8 allergens.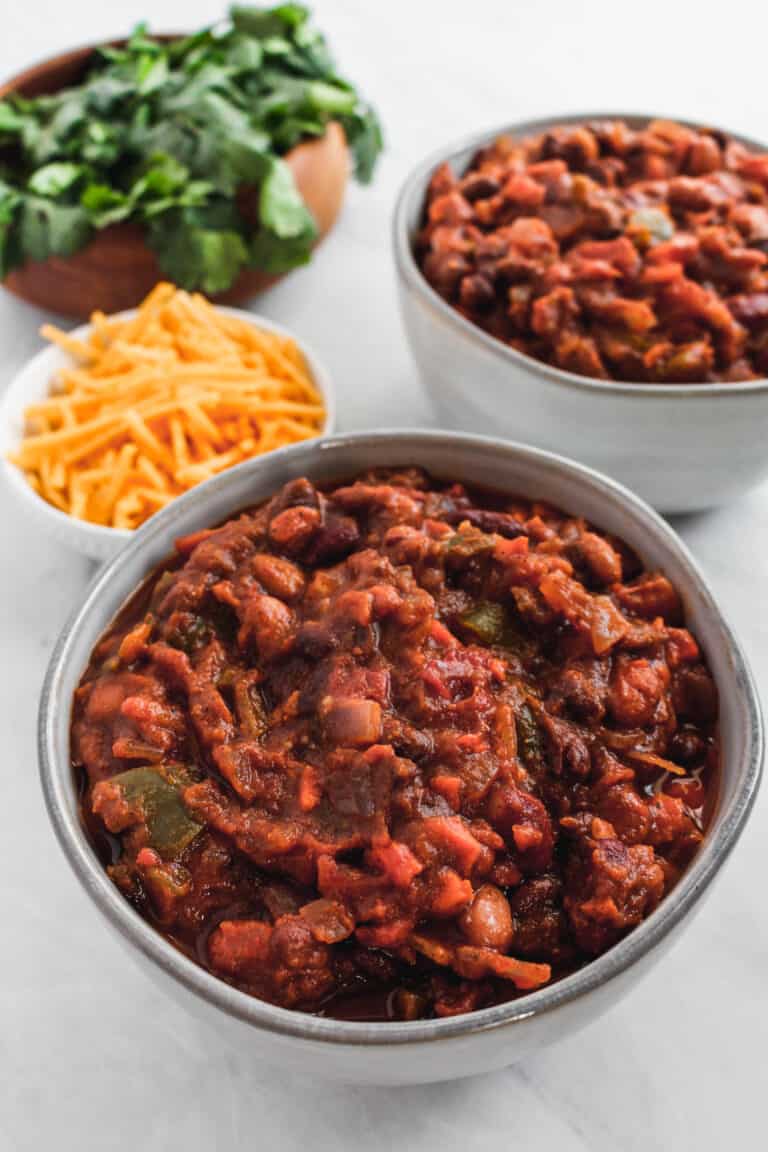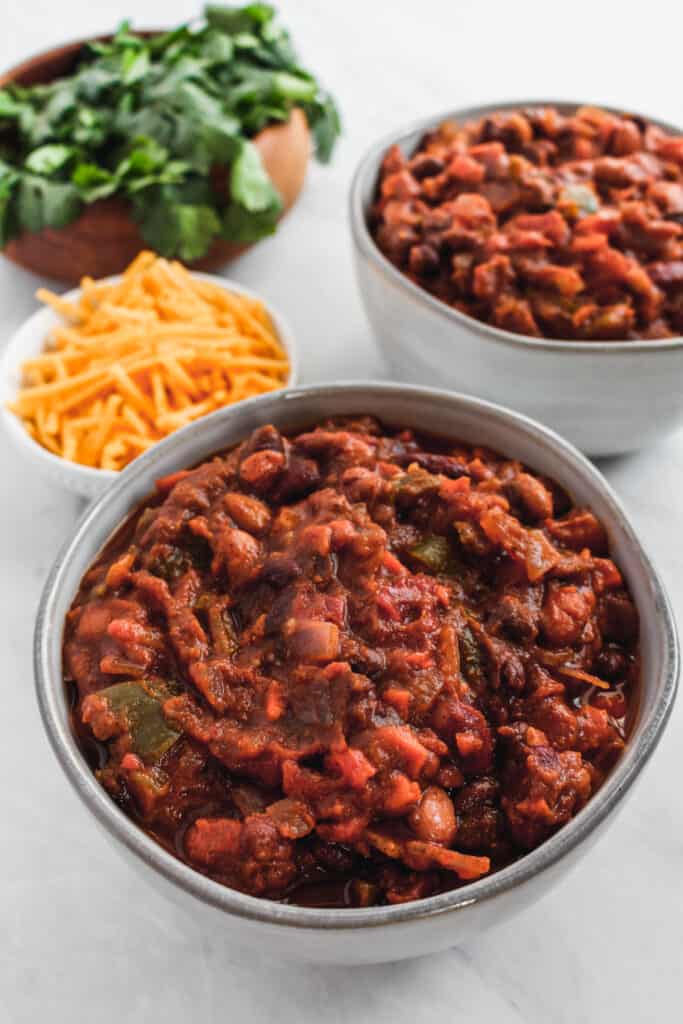 For more vegan chili recipes:
This recipe and post was update October 2020.