Eating Fiber Containing Foods with Gastroparesis: A Comprehensive Guide. An eBook
$14.99
This item is a digital download. You will recieve an emailed secure file lasting 24 hours purchase. All purchases are final sale.
Please read description below.
Description
Hello and Welcome!
This ebook, Eating Fiber Containing Foods with Gastroparesis, provides expert advice on how to include fiber-containing foods in an easy-to-digest way for someone with gastroparesis. This ebook is intended for people with mild-to-moderate gastroparesis – meaning this is for people who tolerate food and drink by mouth and are not dependent on nutrition support (tube feeding, Total Parenteral Nutrition (TPN)).
Eating fiber-containing foods (plant-foods) is both pleasurable and supports good health. This ebook provides diet modification strategies to help people with gastroparesis incorporate more plant-foods in their diet. Additionally, there are product suggestions and 6 recipes you can try out in your kitchen.
Please read this disclaimer before purchasing this ebook:
The information contained in this ebook is not intended as medical advice, medical nutrition therapy or individualized nutrition counseling/coaching. The information provided in this ebook is for educational and informational purposes only. Use of this ebook does not constitute a clinician-client relationship.
You understand that the information in this ebook should not be used to diagnose a health problem or disease or to determine any health-related treatment program. Always seek medical advice for your specific circumstances as needed for all questions and concerns you now have or may have in the future.
Assumption of Risk: You understand that any mention of any suggestion or recommendation in this ebook is to be taken at your own risk, with no liability on my part and you agree to assume all risks.
All rights reserved. No part of this ebook may be reproduced, transmitted, transcribed, stored in a retrieval system, or translated into any language, in any form, by any means, without the written permission of the author. All content has been developed solely for your personal use and may not be reproduced for publication or for the personal or commercial use of others without express permission from the author.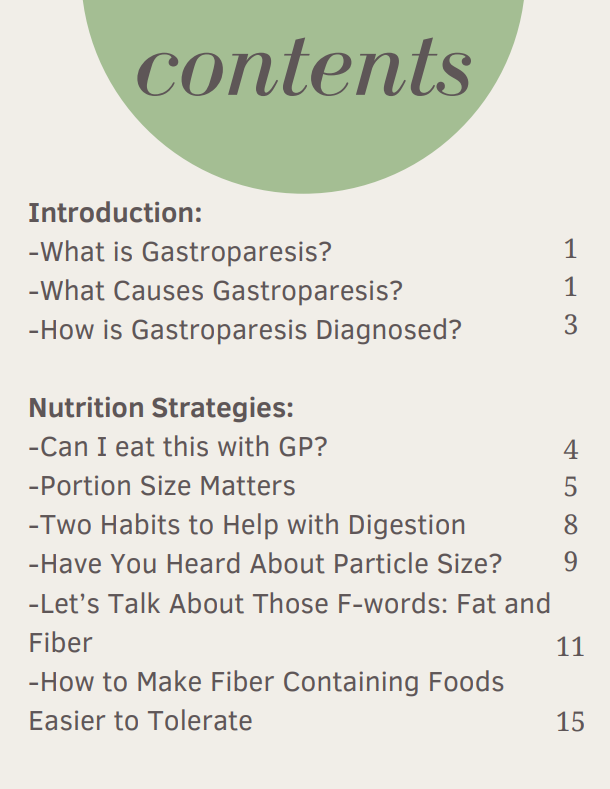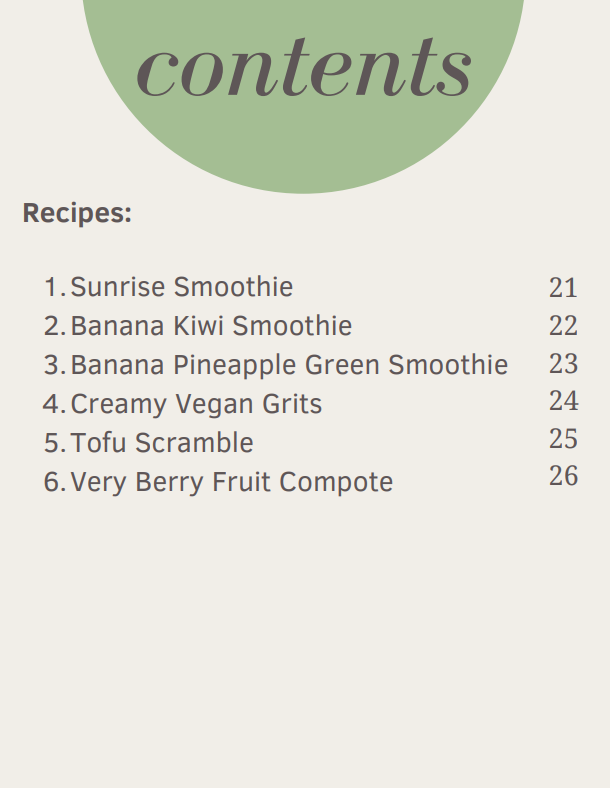 This ebook contains 27 pages (not including the cover, and 2 table of contents pages shown above). PDF is 31 pages total.
Want to know more about how to eat when you have gastroparesis? Check out my post: Gastroparesis Nutrition Strategies 
Only logged in customers who have purchased this product may leave a review.