I participated in my first Zoo-De-Mack ride this year and it was a blast!  Put this event on your bucket list if you live in or near Michigan and enjoy the following: outdoors, riding a bike, and a good party.
Straight from the Zoo-De-Mack website because I can't describe it any better than they do:
 EVENT DESCRIPTION:  The Zoo-de-Mackinac is a weekend of huge parties with great bands, one of the most scenic bicycle rides in the country, a lot of sunshine, views of the  mighty Mackinac Bridge, and one magical island.

 THIS IS NOT A RACE!!! The Zoo-de-Mackinac is a collection of outdoor enthusiasts (4,000 in 2014) who want to enjoy a little physical exercise together in one of the most  beautiful areas in the state of Michigan. The bike ride starts Saturday morning at Boyne Highlands Resort and spans 51 miles along Lake Michigan on a paved road with very little  automobile traffic. Riders pedal through rolling countryside and trillium covered forests, along sandy beaches, and are surrounded by breathtaking views of Lake Michigan from 400′  high bluffs. We stop approximately half way, at a unique place called the Legs Inn for a leisurely lunch and to swap stories. The ride continues on to Mackinaw City, where Star Line  Ferry boats have been chartered for the ride over to Mackinac Island. Once on the magical island, check into your hotel and stroll into town to forget the aches and pains from the day's  ride. As the evening wears on, the island comes alive with The Gatehouse, Pink Pony, and Horns hosting post ride parties with incredible live bands!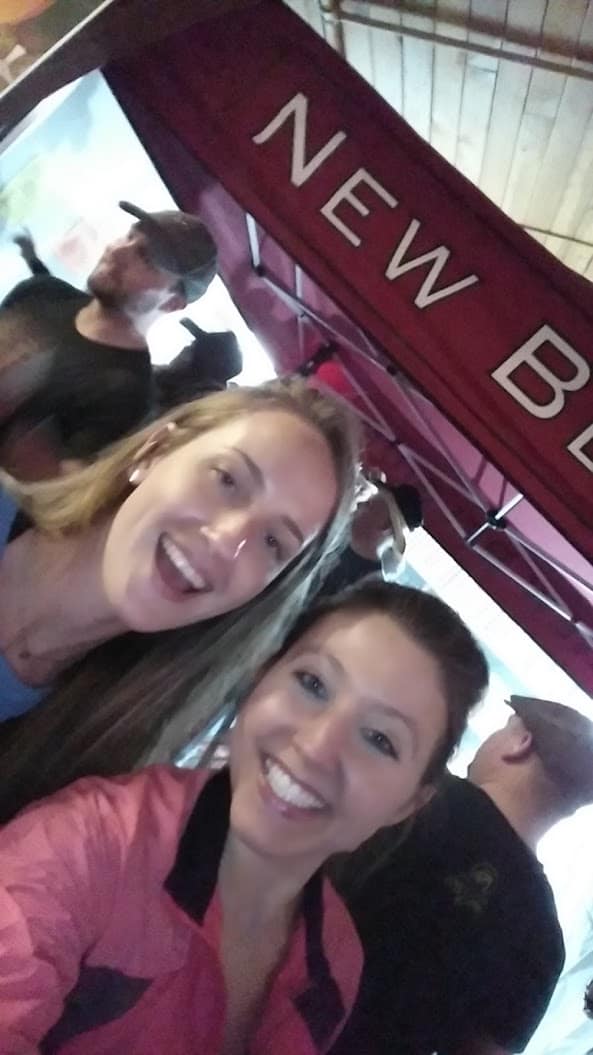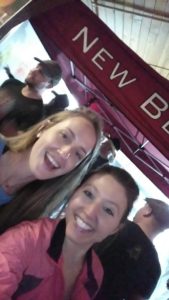 We left Ann Arbor after work Friday and headed up north. We have decided that next year we are not going to work on Friday in order to leave early, avoid traffic, and start the party sooner. Friday night we stayed at America's Best Value Inn in Petoskey. This hotel is about a 20 minute drive from Boyne Highlands (where the ride starts/ends, Zoo Bar party is at). After unloading our bikes and bags we headed straight to Zoo Bar to check in/get our wristbands and enjoy the festivities. The band + beer = A+. While there I tried New Belgium's Citradelic, a tangerine IPA, for the first time and it was awesome!  It's a perfect summertime beer.  We hung out there until about 1am then headed back to the hotel to get some rest.
The ride Saturday was nothing short of spectacular! The description above on scenery is 100% accurate and the weather was perfect. Everyone we met while riding was great. However, I will say the website overestimates how long it is going to take to finish the ride…. well at least it did for us.  This ride was only the 4th or 5th time I had ever ridden my road bike so I was excited (and nervous) about that plus I had never ridden 51 miles so I had no idea what to expect or how long it was going to take. The website states it takes the average rider "six to seven hours of riding time, not including stops". It took us less than 4 hours, not including the lunch break at Legs Inn and again, we weren't racing/working that hard. We didn't stop a bunch to take pictures either – seeing it in person was good enough for me plus my camera was acting weird, hence all the blurry photos.
Once we crossed the finish line in Mackinaw City there was another party with live music and beer…..this place gets me.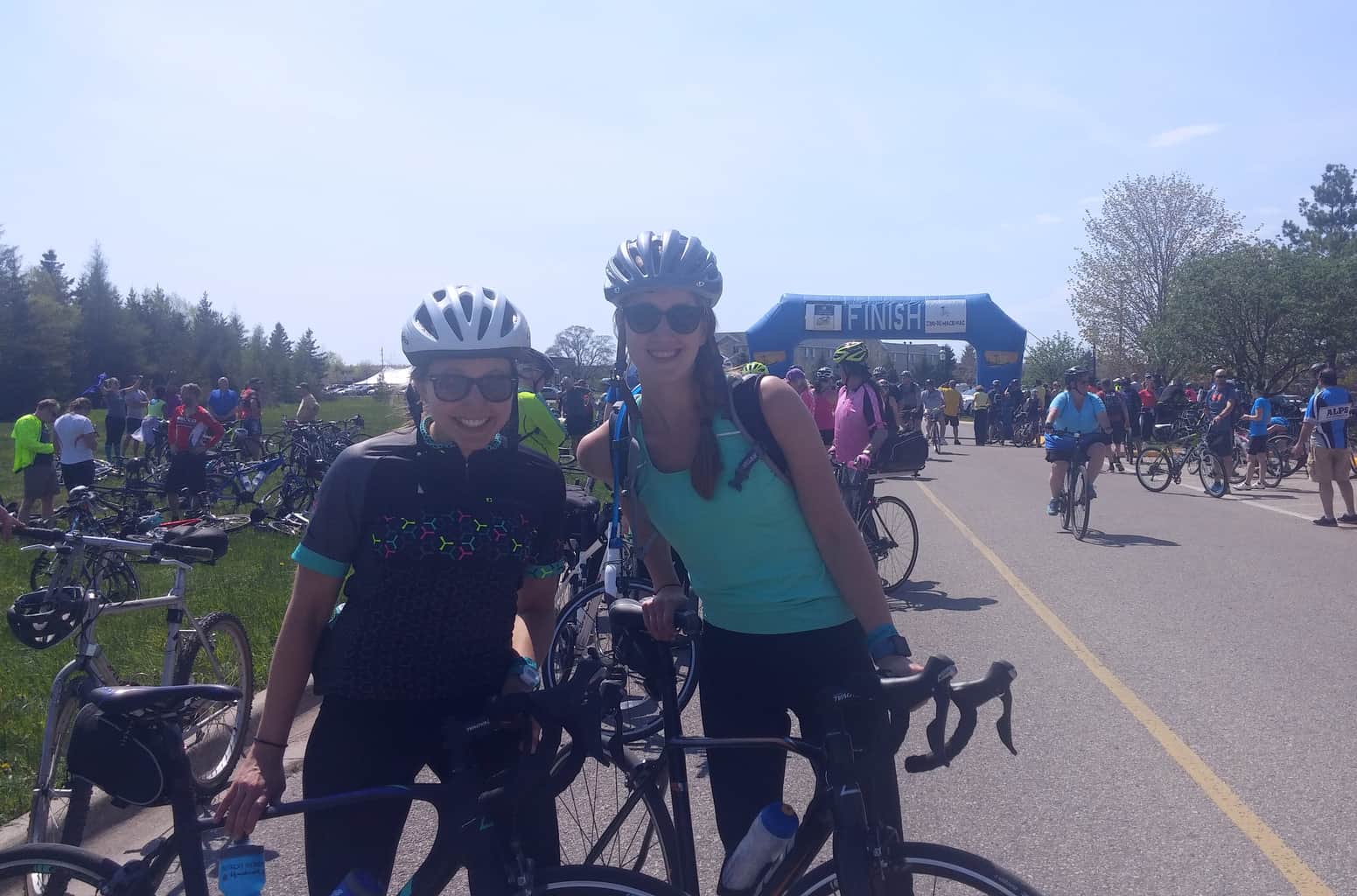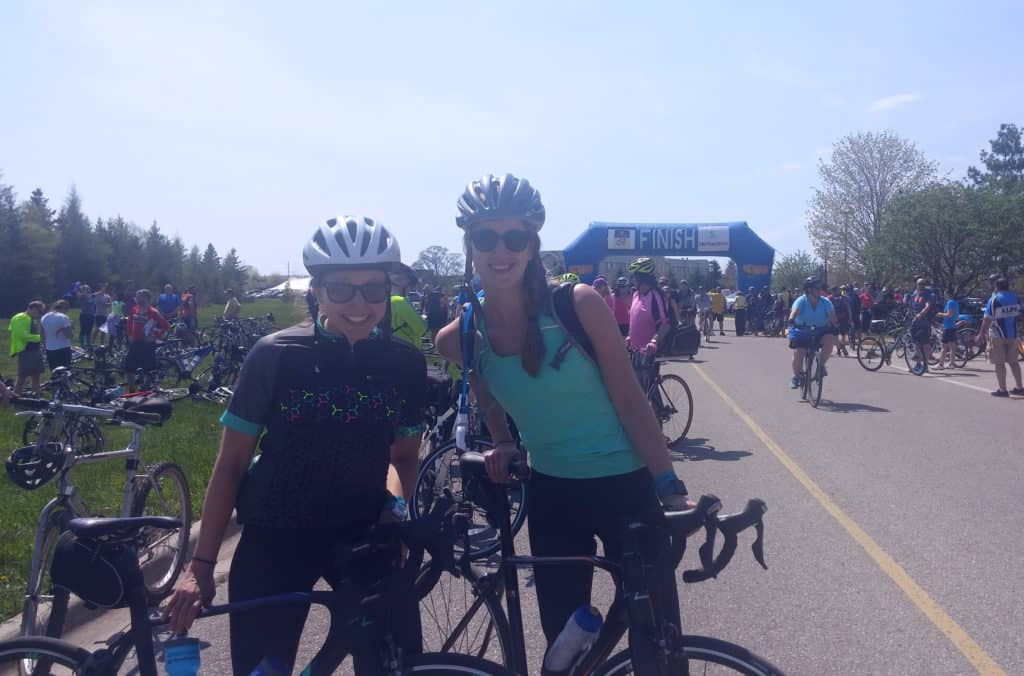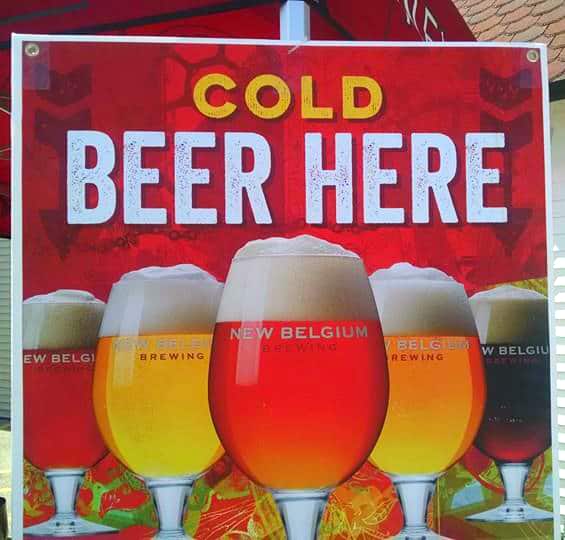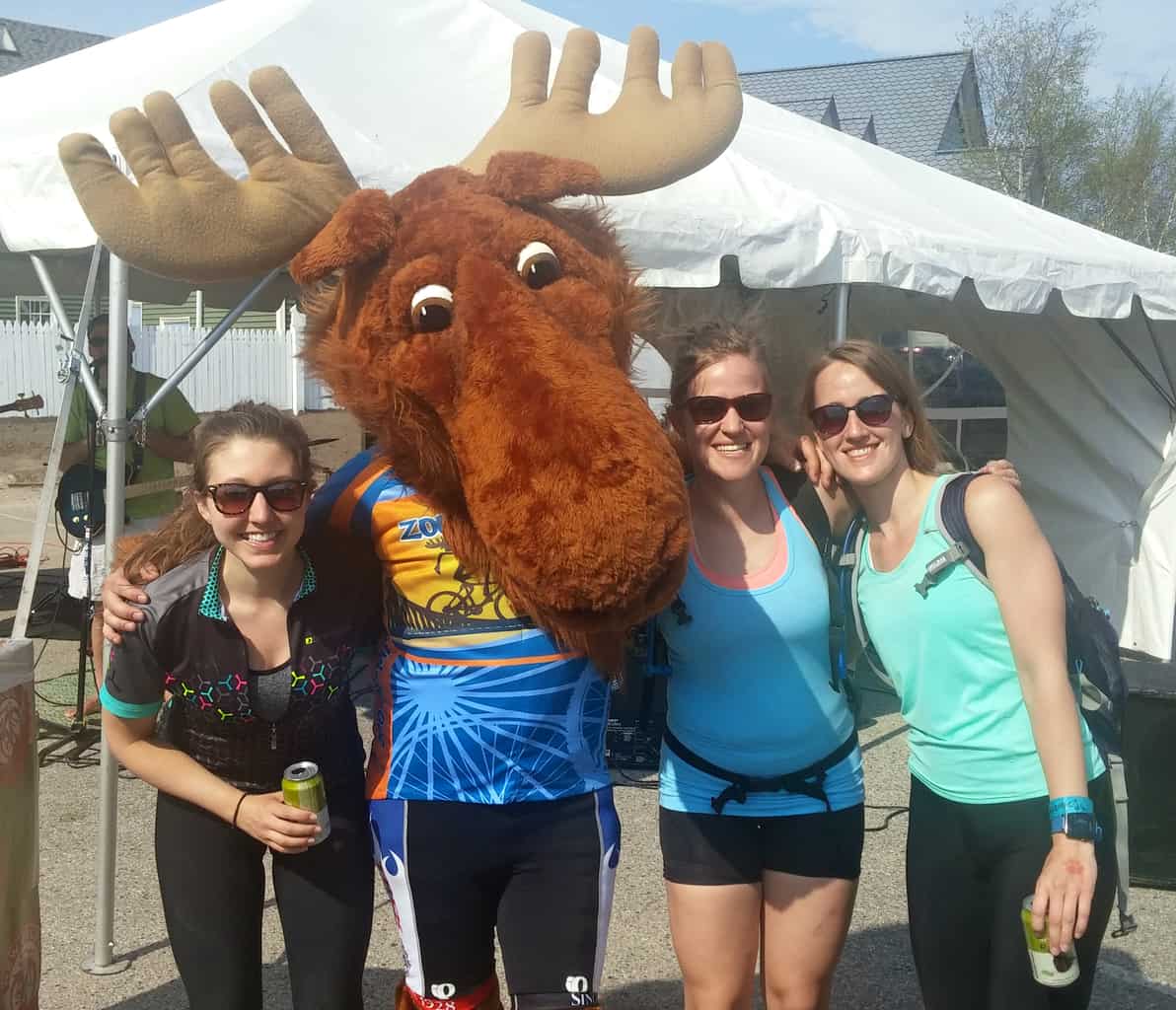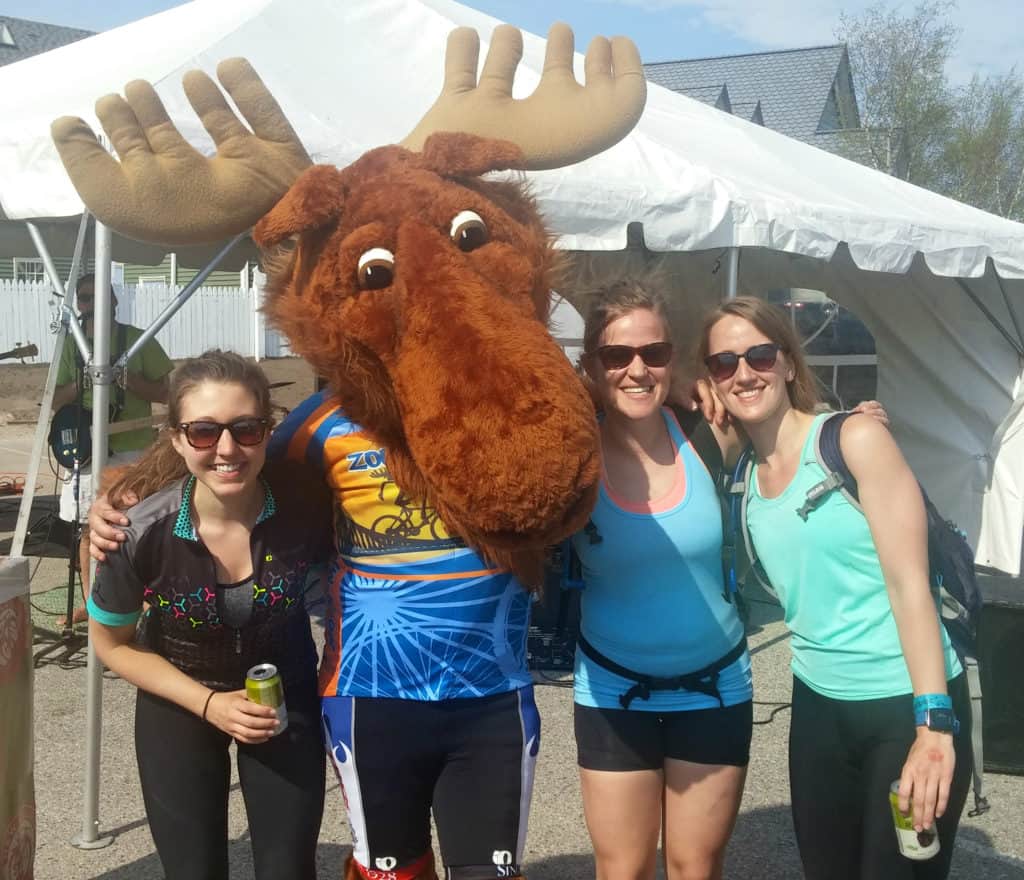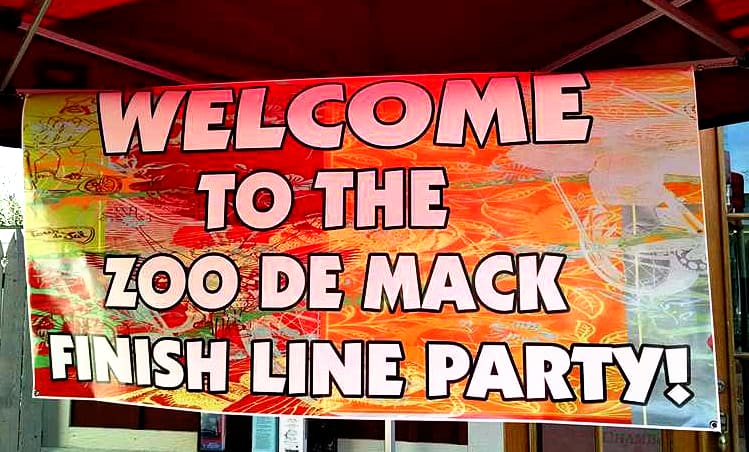 In Mackinaw City we stayed at Rainbow Motel which is small, cute, & not expensive. It has a pool and hot tub which we totally took advantage of. The only bad thing about this place was that upon checking in they let us know we were not allowed to bring our bikes in the room and that they had to be locked up outside. Um…I didn't bring my lock…. about that…… so we ended up "storing ours in our friend's hotel room".  🙂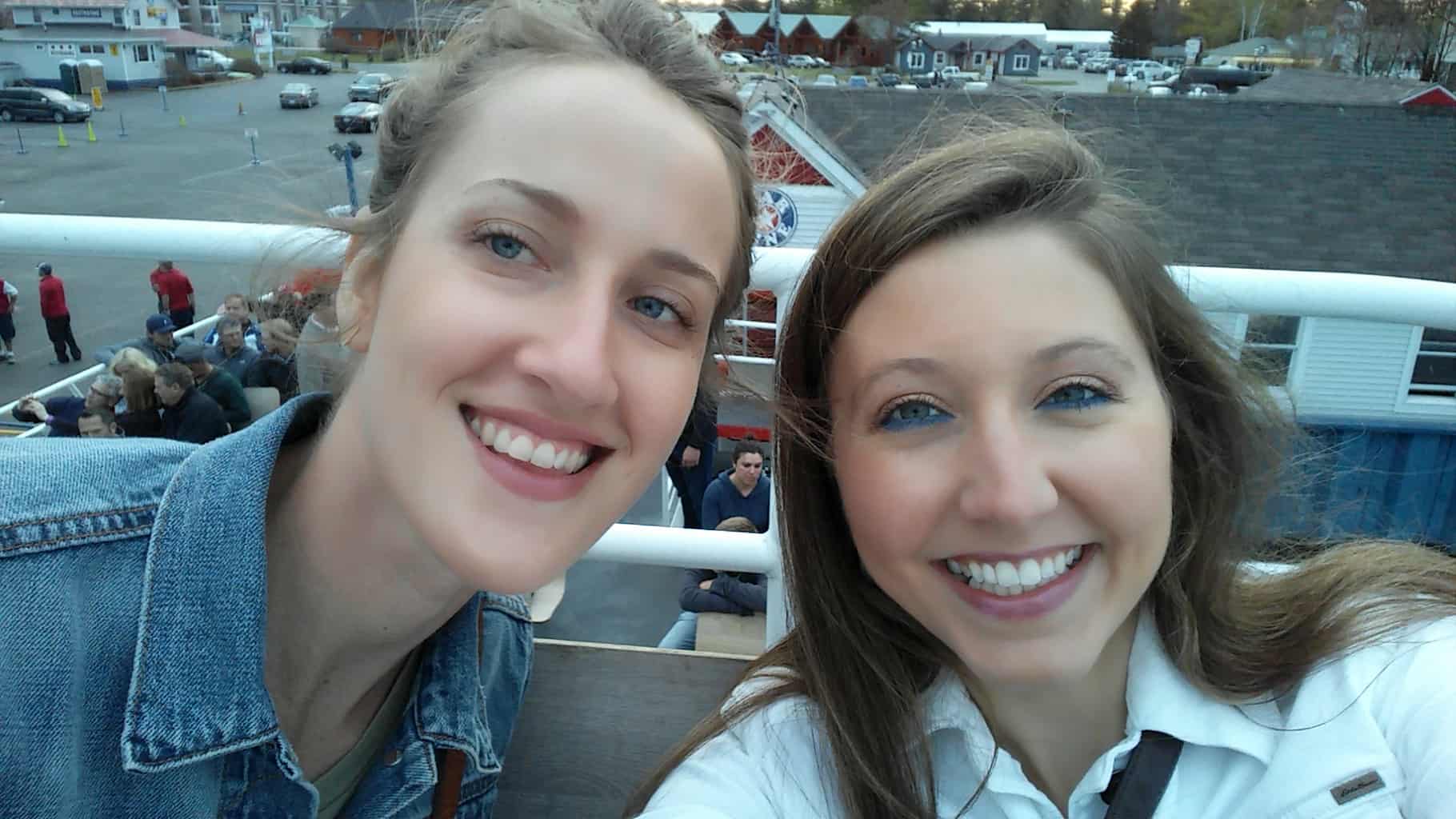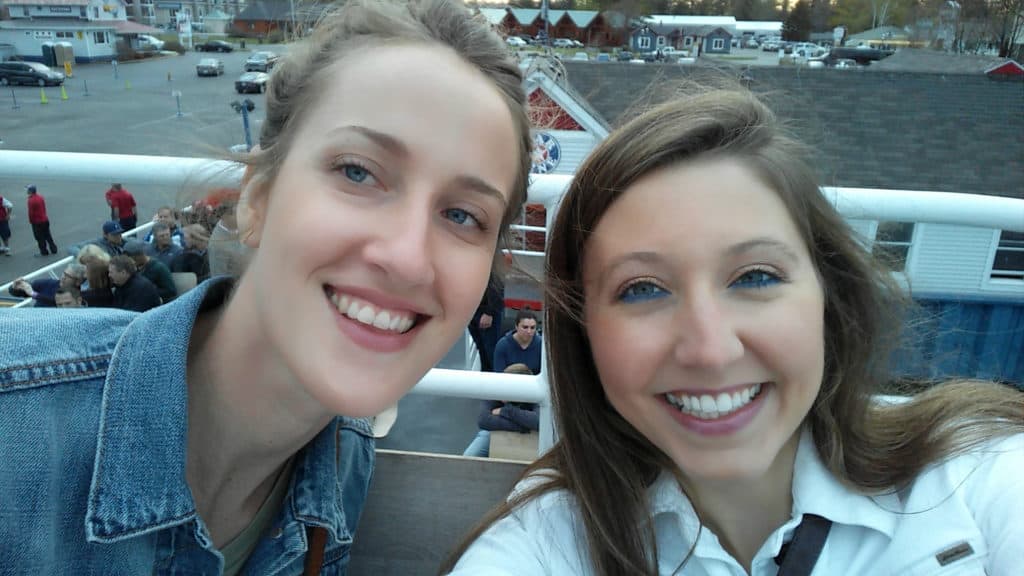 Saturday night we took the ferry over to Mackinaw Island where we had dinner at Millie's on Main (they have a veggie burger), then headed to The Pink Pony for more music and adult beverages.
Sunday we had breakfast, walked around Mackinaw City, then got in line for the shuttle back to Boyne. We has to wait for about an hour which honestly felt like forever because we were tired. Next time I might try to avoid having to use the shuttle to get back, but it wasn't horrible.
Overall: great weekend! Recommend!