This Easy Vegan Buffalo Chick'n Wrap uses the TikTok tortilla wrap hack which is a fun and brilliant way to assessable and consume a delicious wrap.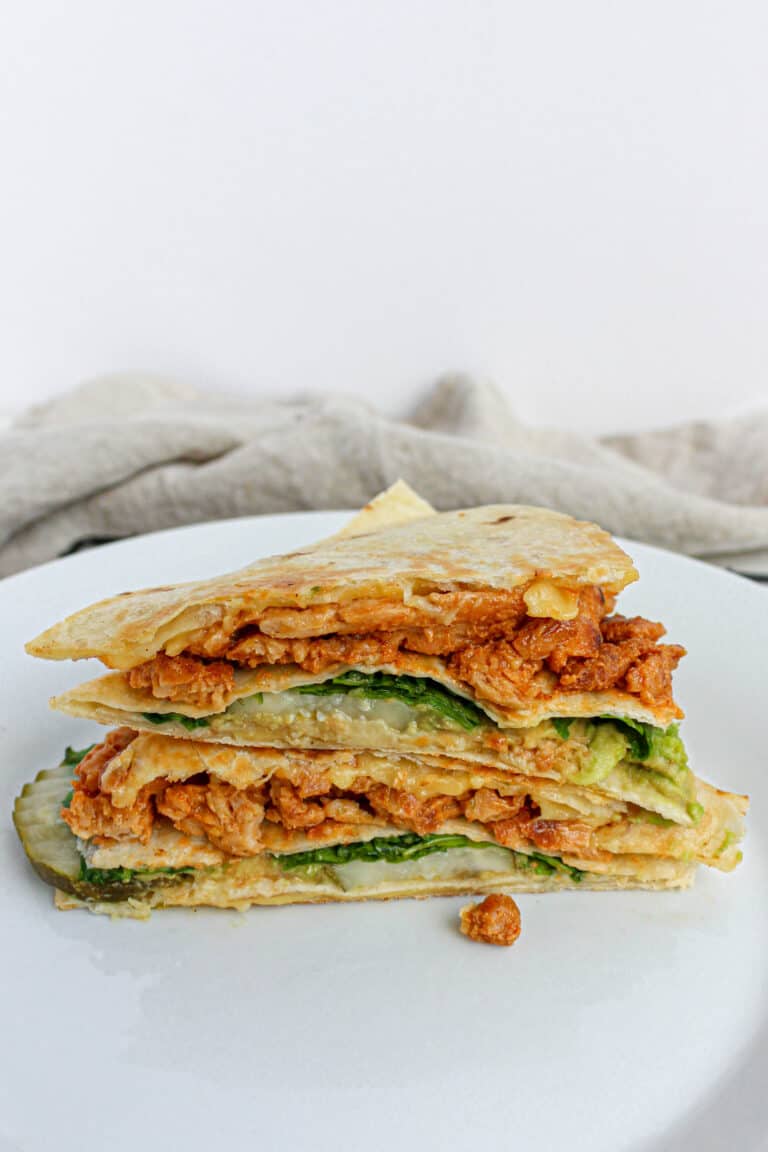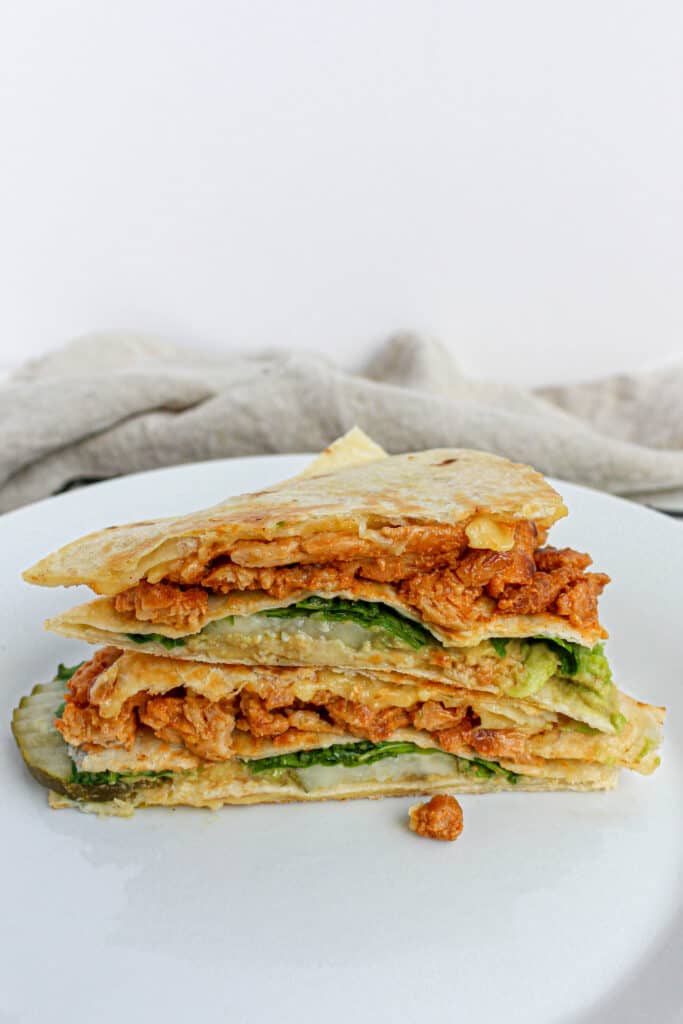 Tiktok Tortilla Wrap Hack:
Instead of placing all your ingredients down the center of the wrap and rolling it up, you make a cut from the center of the tortilla down to one edge. From there you fill the different quadrants with ingredients and then fold it up into a triangle that can be enjoyed as is or heated in a pan. I recommend heating if/when you are using cheese, so the cheese gets nice melty.
I have made this easy vegan buffalo chick'n wrap recipe using Violife shreds and Chao cheese slices and both products worked great in terms of meltiness and flavor.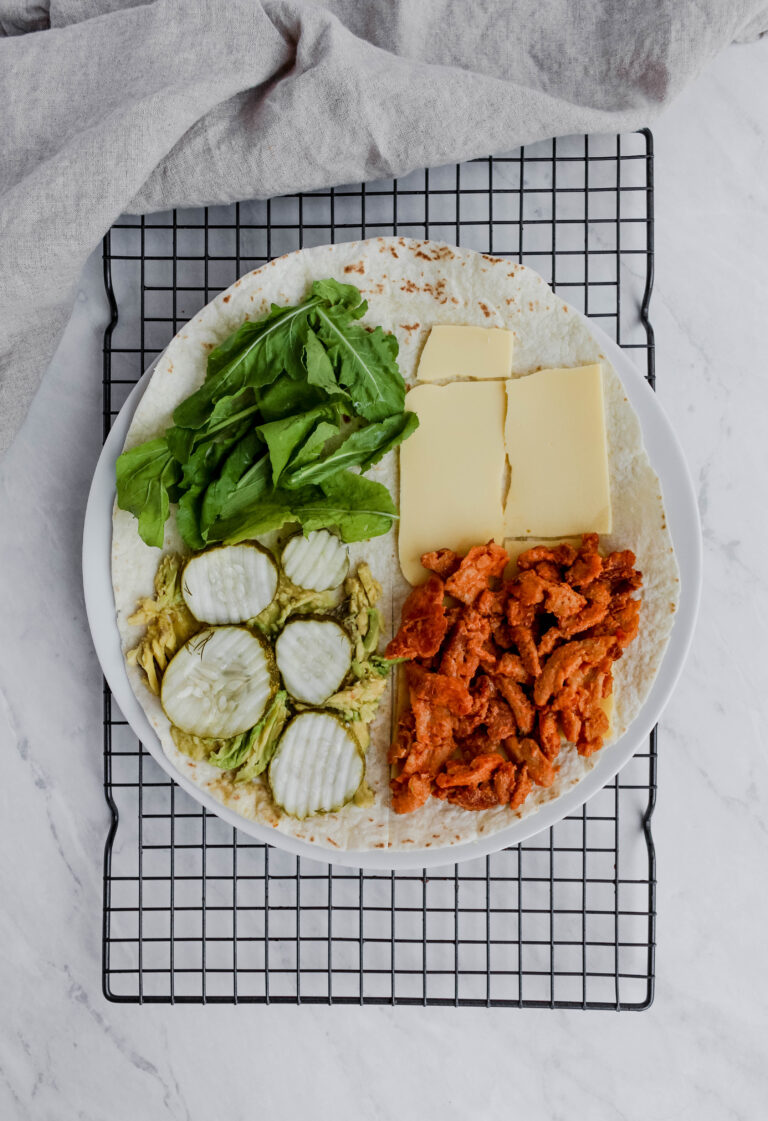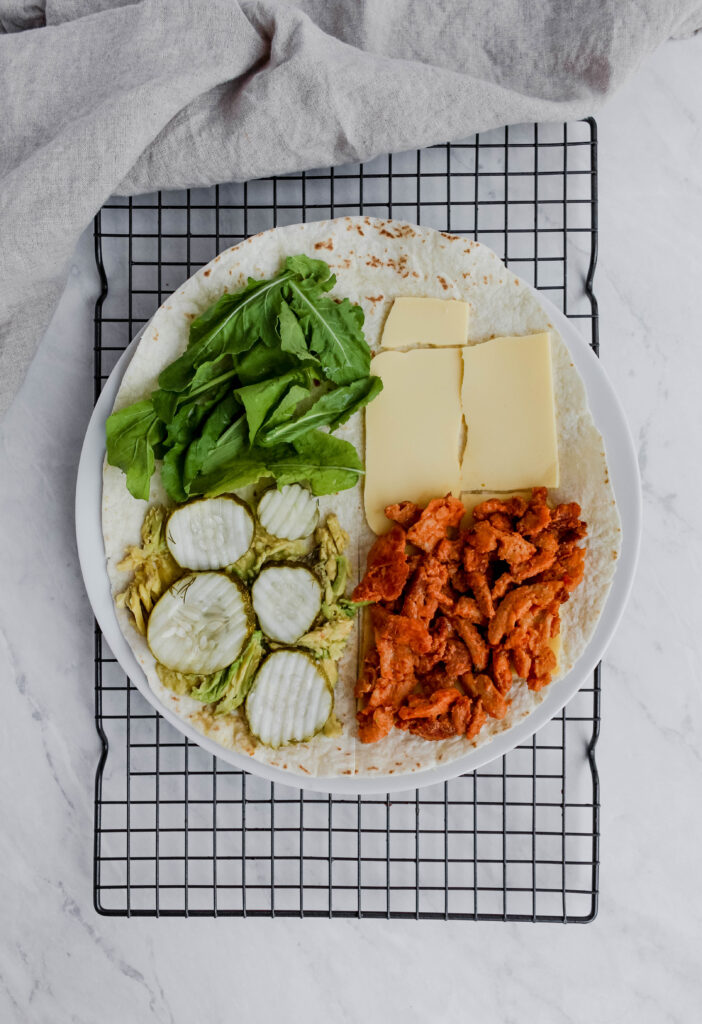 Soy Curl Chick'n:
Soy curls are made by Butler Foods, and they are a great alternative to animal proteins like chicken and meat. Soy curls are made from 1-ingredient: whole soybeans, which makes them a good source of both protein and fiber. They have a meaty texture similar to seitan and are a good option for those who need to follow a gluten-free diet (as seitan is made from wheat gluten). But even if you love and eat gluten – soy curls will not disappoint!
Purchasing and Storing Soy Curls:
You can buy Soy curls directly from the Butler Foods website or order from Amazon. I started with buying the 8-ounce bags and more recently started ordering the 12 lb. bulk box.
Per Butler's website and recommendations for storing: "Soy Curls™ are an all-natural product and do not contain any preservatives or additives. Keep them refrigerated or frozen to keep them fresh."
Preparing Soy Curls:
You must hydrate soy curls prior to cooking them on the stove or baking in the oven. This is extremely simple and only takes 8-10 minutes. All you need to do is add the soy curls to a bowl and add enough water that the soy curls are covered. After ~8-10 minute you drain the excess water and can cook with the hydrated soy curls.
Buffalo Sauce:
Choose your favorite buffalo/wing sauce, homemade or store bought. I used the Primal Kitchen Buffalo Sauce for this recipe. Another popular brand found in most stores, that is also vegan, is Sweet Baby Ray's® Buffalo Wing Sauce. Alternatively, you can easily make your own buffalo sauce, there are many recipes available online, you will need: a hot sauce like Franks Red Hot, vegan butter, and some cayenne pepper. A splash of white vinegar is also common and makes it tangier.
Easy Vegan Buffalo Chick'n Wrap Recipe:
Easy Vegan Buffalo Chick'n Wrap using TikTok Tortilla Hack
Course: Main Meal
Difficulty: Easy
A quick and tasty vegan meal! The TikTok wrap hack ensures every bite is full of the right amount each ingredient.
Ingredients
2 cups soy curls (this is a little less than half an 8-ounce package)

¾ cup buffalo sauce

1 avocado

1-2 cups greens (Spinach, arugula, or lettuce), washed and dried

Cheese slides or shreds (2 slices or ~ 1/3 cup shreds per wrap)

Pickle chips (~4-5 per wrap)

4 Large tortillas
Directions
Preparing the soy curls
Soak the soy curls in water for 10 minutes then drain the water 
Add soy curls to skillet and sauté over medium-high heat for about 8 minutes until lightly brown
Add in buffalo sauce, mix well, and cook for ~ 2 minutes
Turn off heat
Wrap Assembly
Take a knife and make a cut from the middle of the tortilla down to the edge
Imagine the tortilla being divided up into four quadrants or quarters. You will be placing different ingredients into each quadrant
Add cheese to both upper and lower right quadrants. (The right half of the tortilla has cheese on it)
Add soy curls to lower right quadranton top of the cheese
Add ¼ smashed avocado and then 4-5 pickle chips to the lower left quadrant
Add greens to upper left quadrant
Fold the wrap up, starting from the bottom left quarter, folding it up over the top left, then folding it over to the top right, then folding it down to the bottom right. You should have a neat triangle shaped wrap
Place wrap in pan and cook on medium heat for ~5 minutes and then flip and cook on the other side for ~4-5 minutes until the tortilla is lightly browned and cheese is melted
More Soy Curl Recipes:
The Best Vegan 'Chick'n' and Potato Soup