A perfect soup for cold winter days
This creamy, delicious vegan potato leek soup is a Sunday meal-prep must for an upcoming busy week.
If you are like me, once the temp gets below 50 degrees F, it's soup season. The great thing about soups is that they are generally one-pot meals, making clean up a breeze. Soup also makes great leftovers, often with the flavors intensifying once it has had the chance to sit, or "marry", for a couple of hours or overnight.
Potatoes are a pantry staple around here because of their versatility and considerable shelf-life. When stored in a cool, dark place potatoes can last for weeks to months. Store potatoes in a basket or loosely covered bag to allow for air circulation and do not store them next to onions. Onions produce and release ethylene gas, which can cause nearby potatoes to rot and spoil more quickly. I typically store my potatoes in a brown paper bag in the garage and onions on the counter top in the kitchen.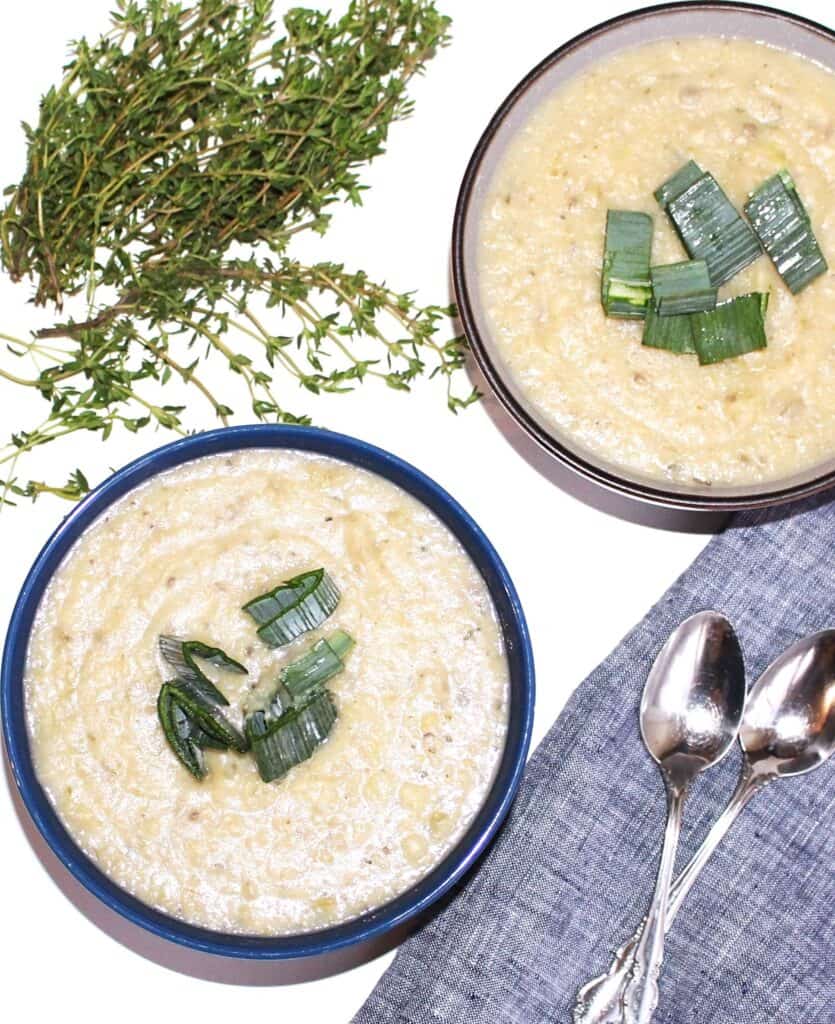 This vegan potato leek soup recipe uses canned coconut milk and cashews blended with veggie broth in place of dairy milk to make it vegan. Don't worry, you will not taste the coconut! You will, however, have a creamy soup without using any cream. Using broth that is labeled gluten free, or a homemade broth, will also make this soup suitable for those who follow a gluten free diet.
Another unique ingredient in this nutrient-packed soup is mushrooms. I used to love cooking with cream of mushroom soup and wanted that savoy, umami flavor that mushrooms have to be in this dish. This recipe calls for button mushrooms but but any mushroom will do!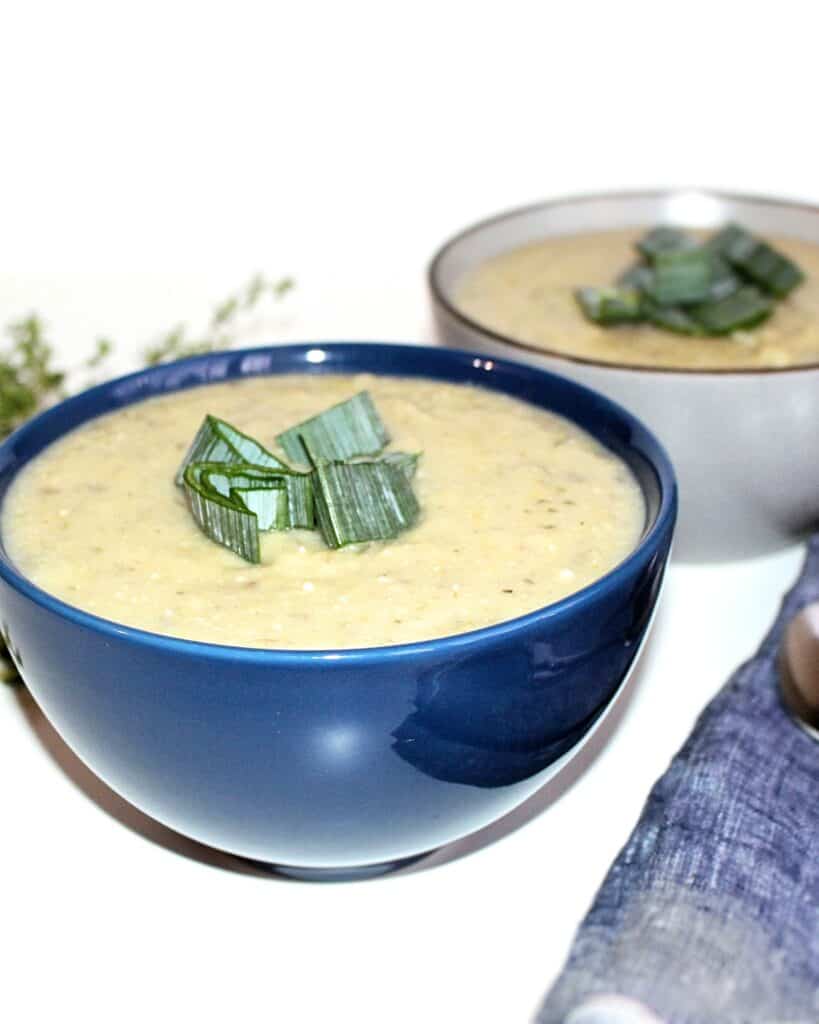 Vegan Potato Leek Soup Recipe:
Print
Ingredients
4 Russet potatoes, peeled and chopped

2 celery stalks, chopped

2 large leeks, washed well, thinly sliced
*White and light green parts only. Green tops can be saved and used for garnish

1 cup mushrooms, diced

1 can coconut milk

1/2 cup cashews

2 cups gluten-free vegetable broth, divided in half

1 tablespoon minced garlic

1 sprig of fresh thyme

2 bay leaves

1 lemon, juiced

1 teaspoon coriander

2 teaspoons dried rosemary

1-2 tablespoons vegetable broth or avocado oil

1/2 teaspoon salt
Print
Directions
Heat 2 tablespoons vegetable broth or avocado oil in a large soup pot over medium-high heat
Add leeks and sauté until softened, approximately 7 minutes.
Add potatoes, celery, mushrooms, coriander, salt, and rosemary. Sauté for another 5 minutes. If using vegetable broth in place of oil you may need to add a little more if the vegetables start to stick to the pan.
Add garlic and sauté for another 4-5 minutes
Add 1 cup vegetable broth, coconut milk, whole spring of thyme, and bay leaves
Add cashews and the other 1 cup of vegetable broth to a blender (I used a ninja bullet) and blend until smooth
Add the creamy cashew blend to soup pot and bring to a boil. Reduce heat, cover the pot, and simmer until the potatoes are soft and cooked.
Remove from heat and remove the sprig of thyme and bay leaves.
Add lemon juice
Blend the soup using an immersion blender. If you don't have an immersion blender, transfer in stages to an upright blender jug and blend until smooth.
Add black pepper and any additional salt to taste. Serve warm with with fresh chopped chives or green tops of leeks. Great with a hearty slice of bread.
NOTES:
Storage: Store in an airtight container in the fridge for up to 5 days. You can also freeze the soup and reheat when ready to eat.
More delicious vegan soup recipes:
The Best Vegan 'Chick'n' and Potato Soup