This kale and kamut salad is a ideal for when you want a salad but also a warm meal. Who said all salads have to be served cold?! This high fiber recipe is comprised of hearty lactino kale, chewy kamut, sauteed bell peppers and mushrooms tossed in a miso-ginger dressing.
This dish reheats well making it a great option for lunch the following day and/or meal prepping.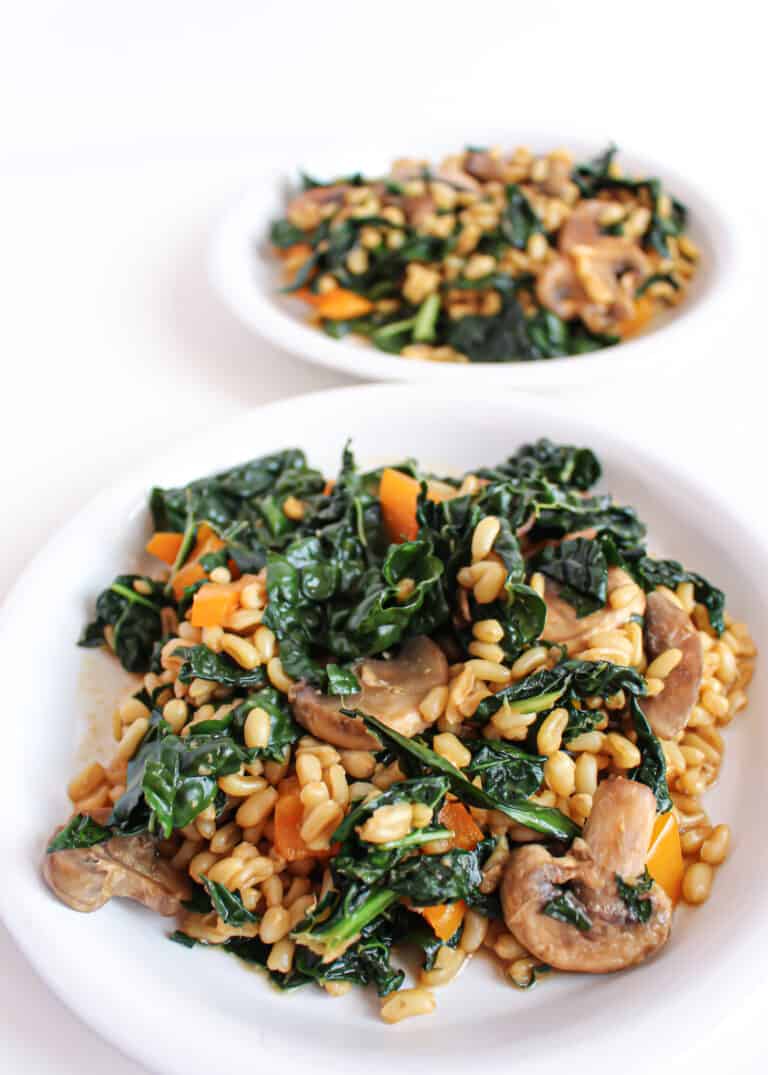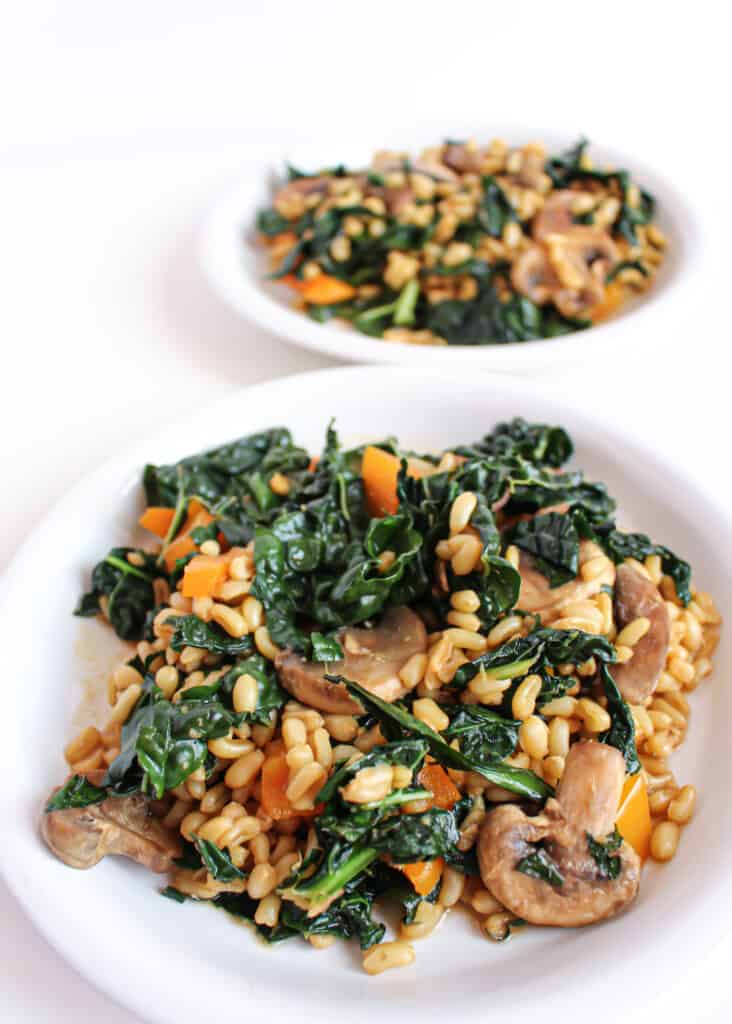 The 411 on Kamut:
Kamut, also know as Khorasan wheat, is a non-hybridized ancient wheat grain (and yes, it contains gluten). Kamut has a rich, slightly nutty taste and firm texture, making it is great in salads, soups, casseroles, and grain bowls.
Kamut nutrient profile: This whole grain is an excellent source of protein, fiber, zinc, phosphorus, magnesium, thiamin, and niacin. One cup of cooked kamut provides ~10 grams of protein and 7 grams of fiber. It's also high in many minerals such as selenium, copper, manganese, and molybdenum.
Cooking Kamut:
The Instapot has become my go-to for preparing grains. For this recipe, if cooking in an Instapot: use 2 cups of rinsed kamut and 5 cups of water, cook on high pressure for 35 minutes. Drain excess water.
If cooking kamut on the stove top, it is recommended you soak your kamut overnight and following package directions. Instructions for cooking kamut on the stove top and in a slow cooker can be found on Bobs Redmill if you need a reference.
A timing savings hack and meal prepping tip is to cook larger batches of grains that can be used in different ways or in different recipes throughout the week. Mindset: Cook once, eat twice (… or 3 or 4 times).
For example with this recipe, I recommend you cook 2 cups of dried kamut, which is going to yield a more than you will need in the recipe and that is 100% intentional. You should have ~2 and 1/4 cup extra kamut. This allows you to have a leftover whole grain you can consume in another way. Getting into the habit of making extra is a huge time saver. You can even cook your kamut a day ahead of time for this recipe.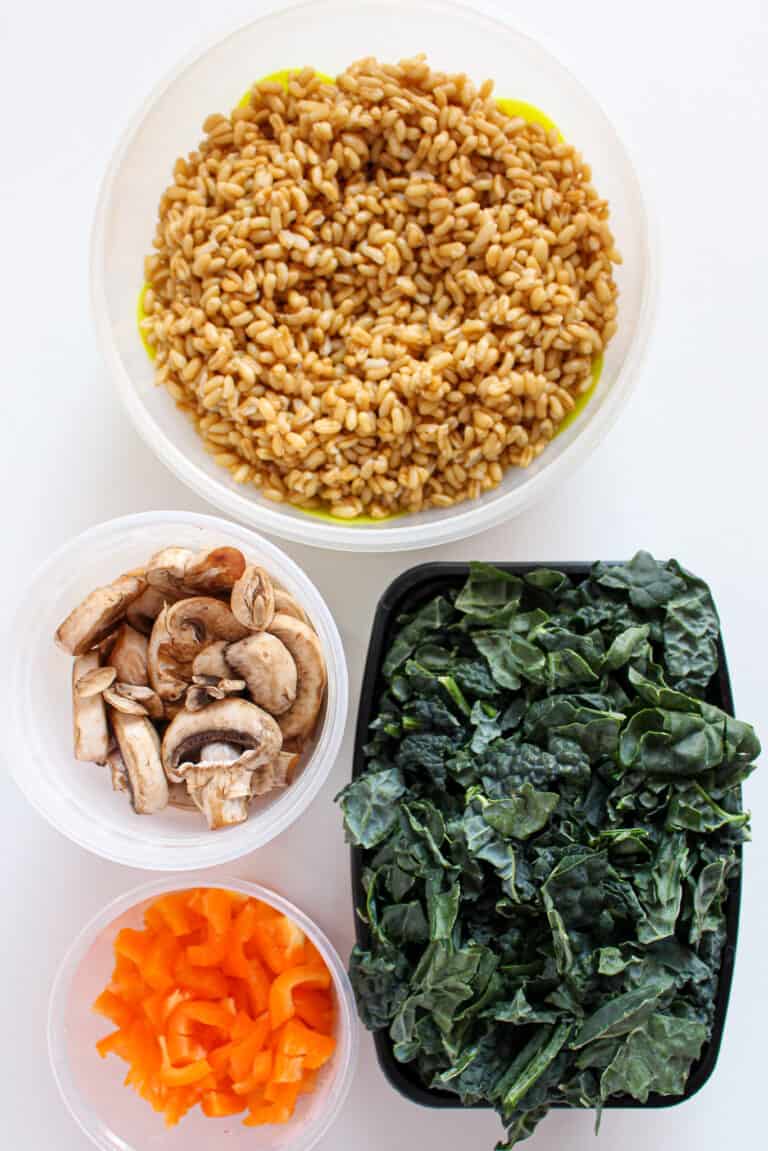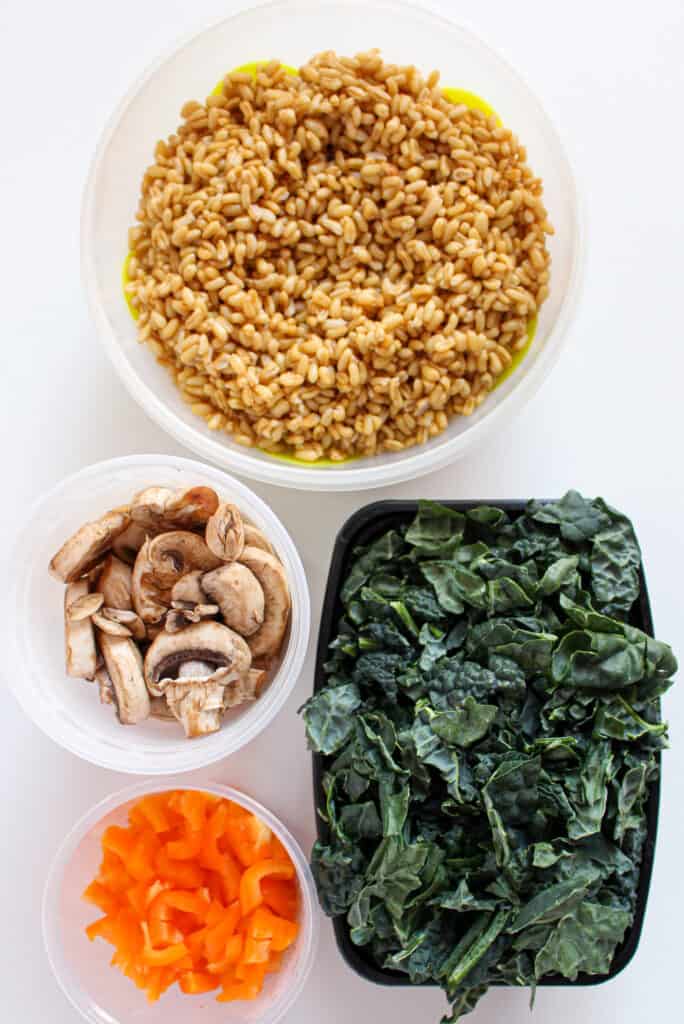 Vegetable Cooking Tips:
To optimize flavor, texture, and visual appeal it's key to avoid over cooking your vegetables. When cooking multiple vegetables together it helps to chop them into similar size pieces so they cook evenly. Another tip is to start with the vegetables that take longer to cook or can handle a longer cook time (example: onions, carrots, celery, broccoli) and then add vegetables that take less time (spinach, mushrooms). With this recipe I added the kale, mushrooms and bell pepper all at once assuming they would all take about the same time to become tender and this took ~5-6 minutes.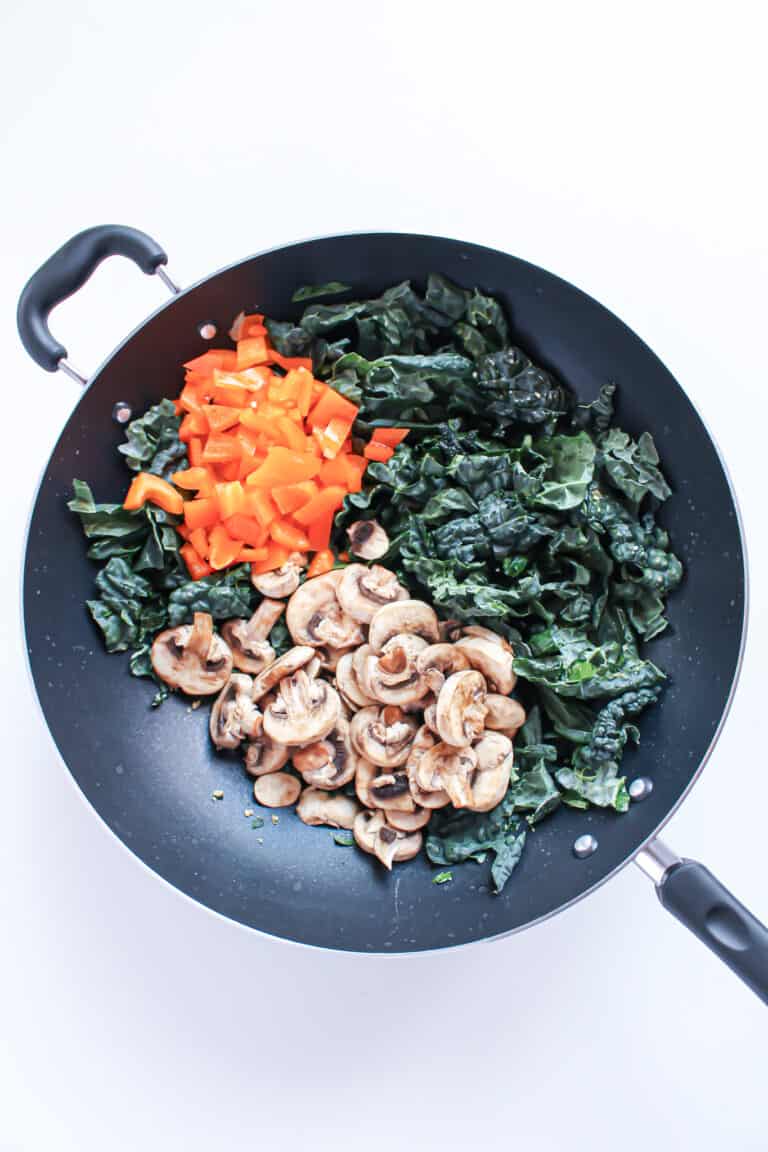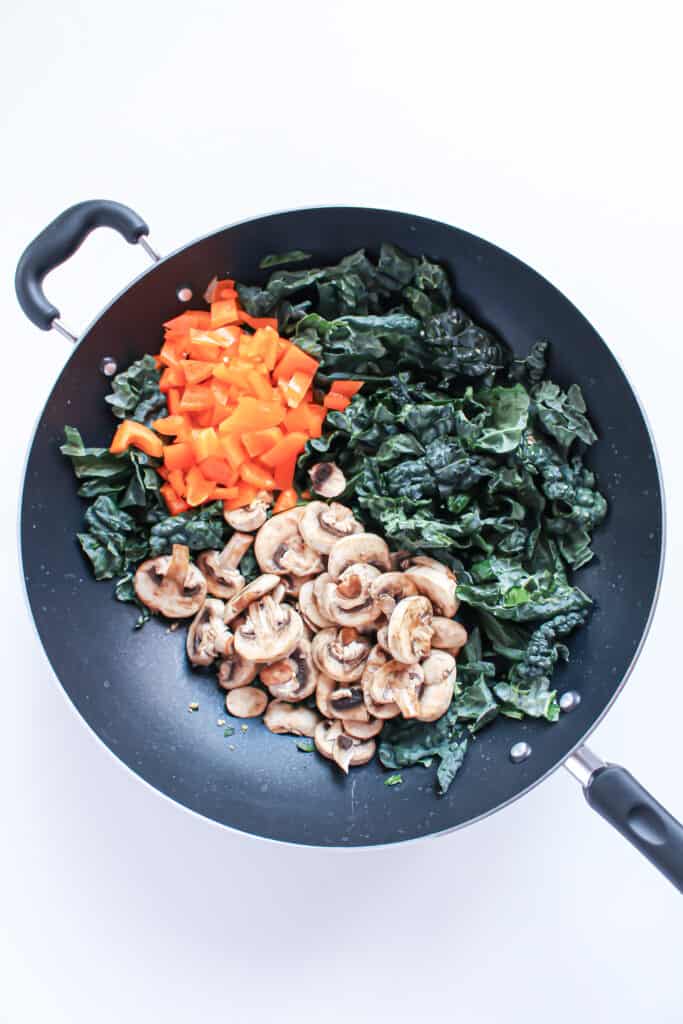 To avoid over cooking or burning garlic, add during the last minute of cooking.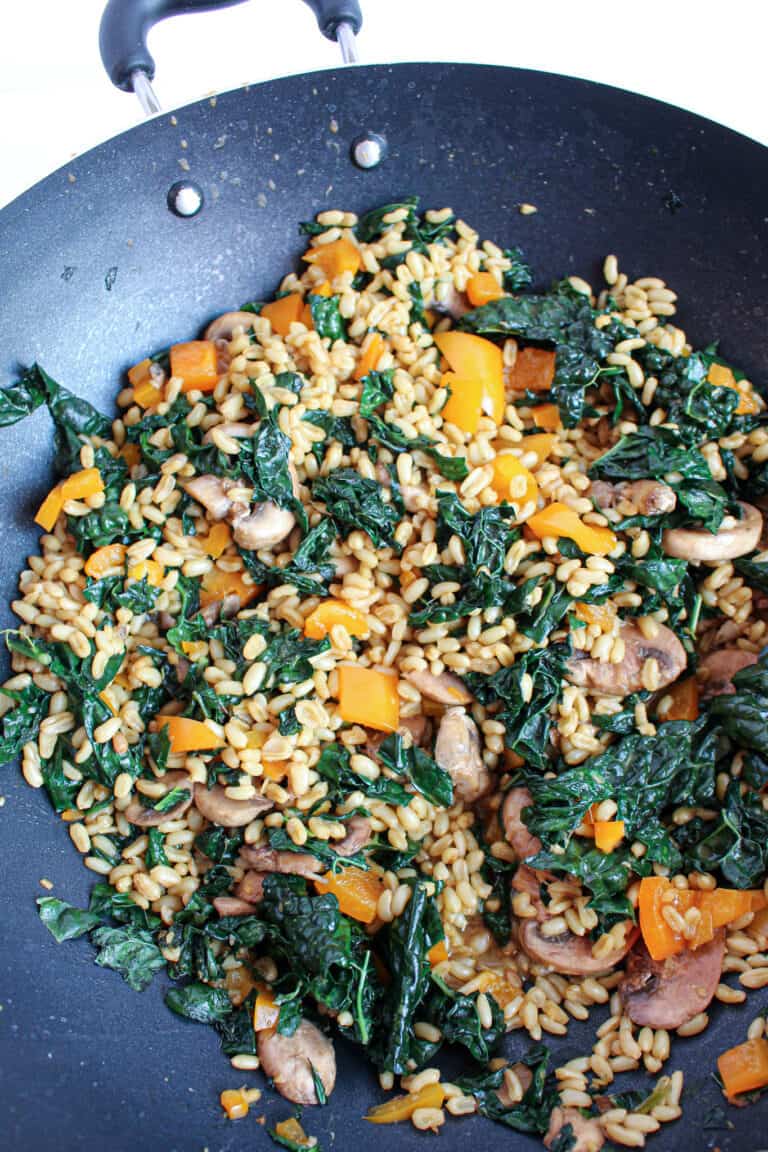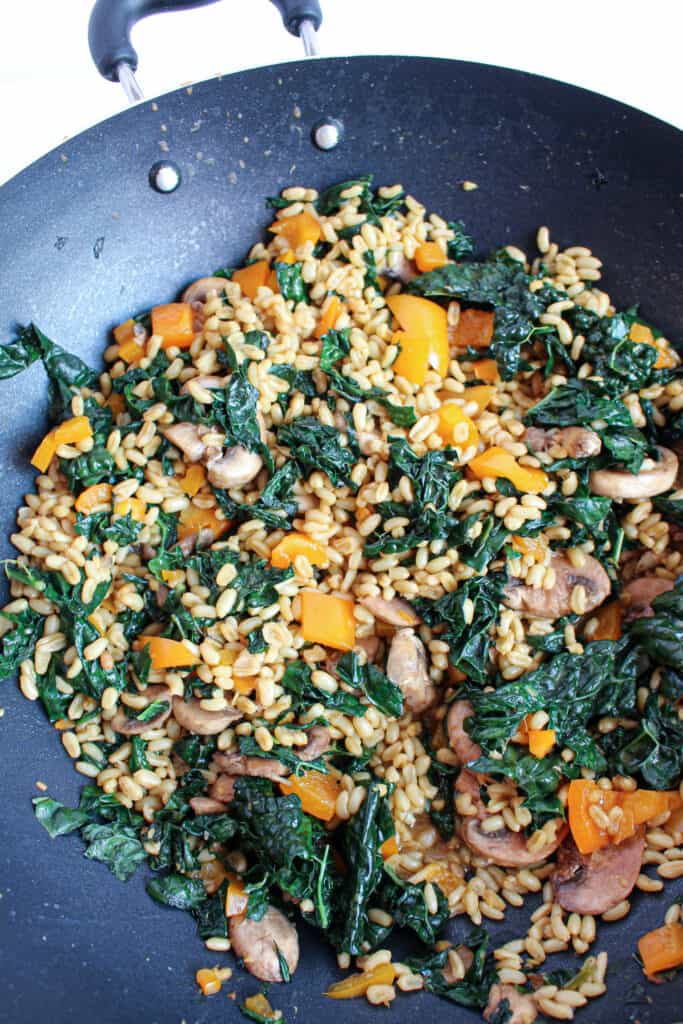 This dressing is for all my ginger loving people but don't worry that is not all you will taste here. The soy sauce and miso bring the umami, while the lime juice and maple syrup balance things out with some acid and sweetness. It's tasty, unique, and will have you coming back for seconds.
Warm Kale and Kamut Salad with Miso-Ginger Dressing Recipe:
Print
Ingredients
Salad

4 cups cooked Kamut
*Can be cooked ahead of time

1 bunch of kale, washed and chopped
*I used lactino kale

3 cups mushrooms, sliced.
*Buy pre-sliced to save time

1 orange bell pepper, chopped

1/2 tablespoon toasted sesame oil

1 tsp minced garlic

Dressing

1/4 cup diced fresh ginger

2 tablespoons low sodium soy sauce

2 tablespoons vegetable broth

2 tablespoons water

1 tablespoon white miso

1/2 tablespoon maple syrup

1 tsp sesame seed oil

1 lime, juiced
Print
Directions
Dressing:
Add all dressing ingredients to a blender or bullet – blend for 30 seconds.
Salad:
Add sesame oil to large wok and heat to medium-high heat
Add kale, mushrooms and bell pepper, saute for about 2 minutes
Add half of the dressing to the vegetables in the wok and continue to saute, ~5 minutes or until kale becomes tender.

Add in garlic and saute for an additional minute.
Stir in kamut and the rest of the dressing
Enjoy warm.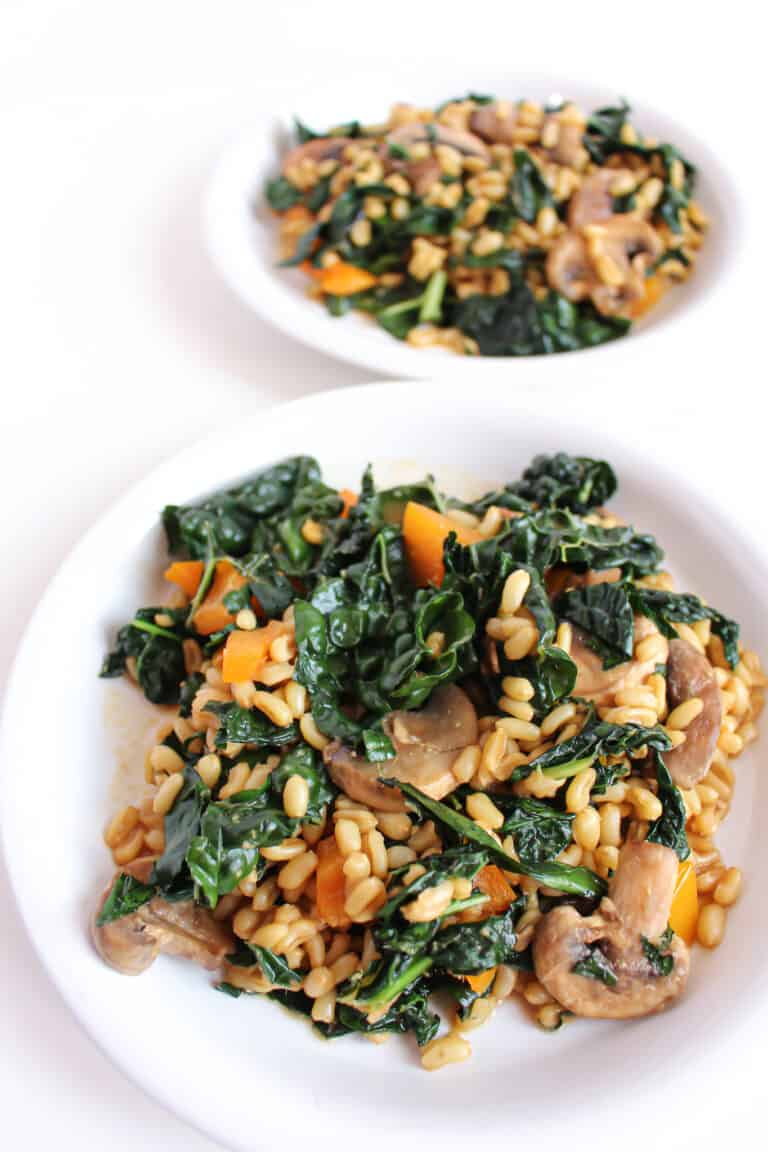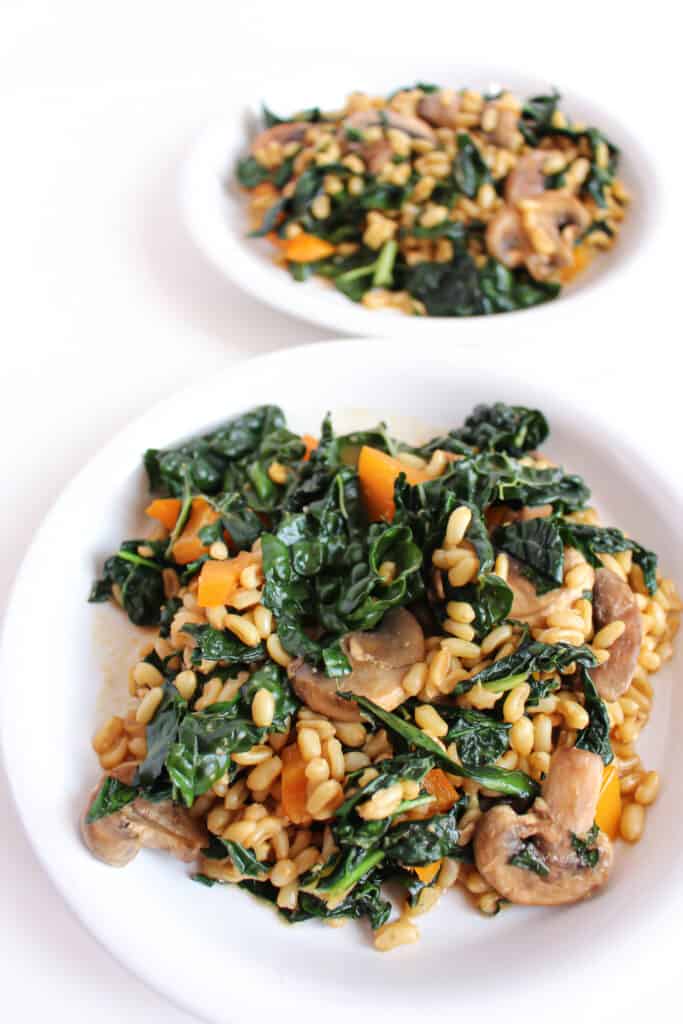 Check out my other grain salad recipes: