This quinoa tabbouleh is low in FODMAPs but not in flavor! The inspiration to create this low FODMAP quinoa tabbouleh recipe came from working with many patients who described tabbouleh as a favorite dish to enjoy. Tabbouleh originated from Lebanon and is traditionally made with bulgur wheat, parsley, mint, tomato, onion, and a lemon-olive oil dressing.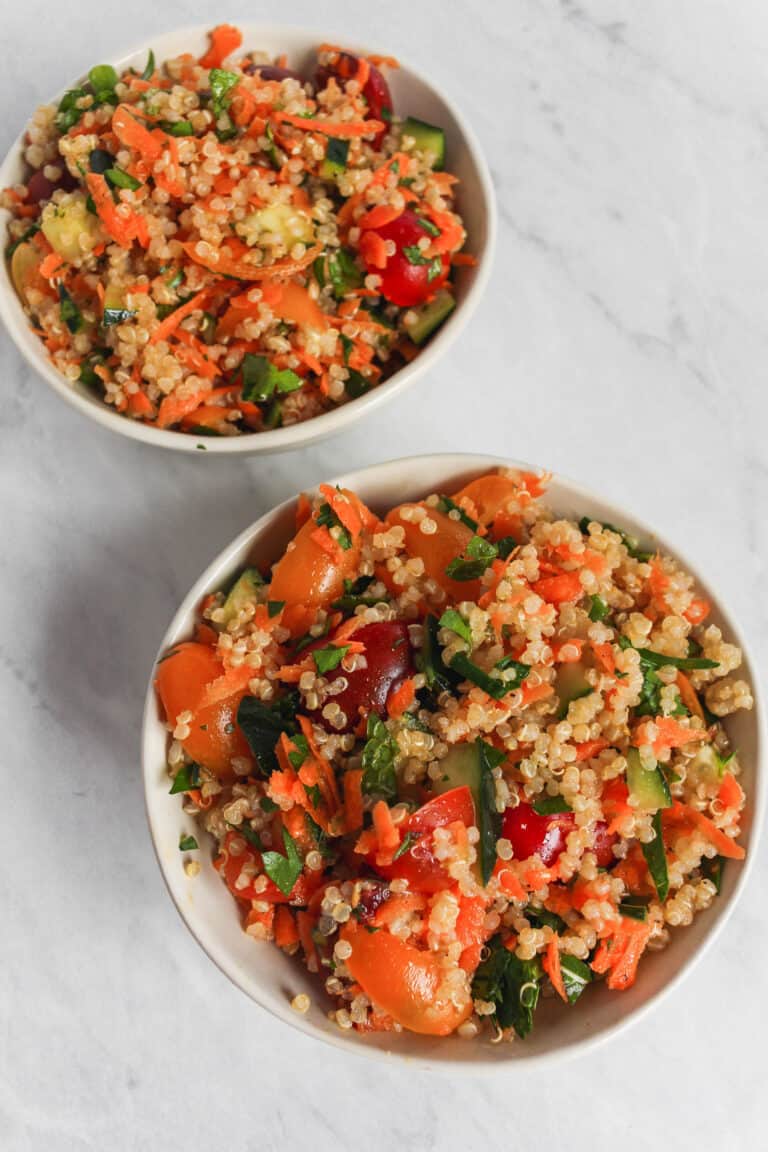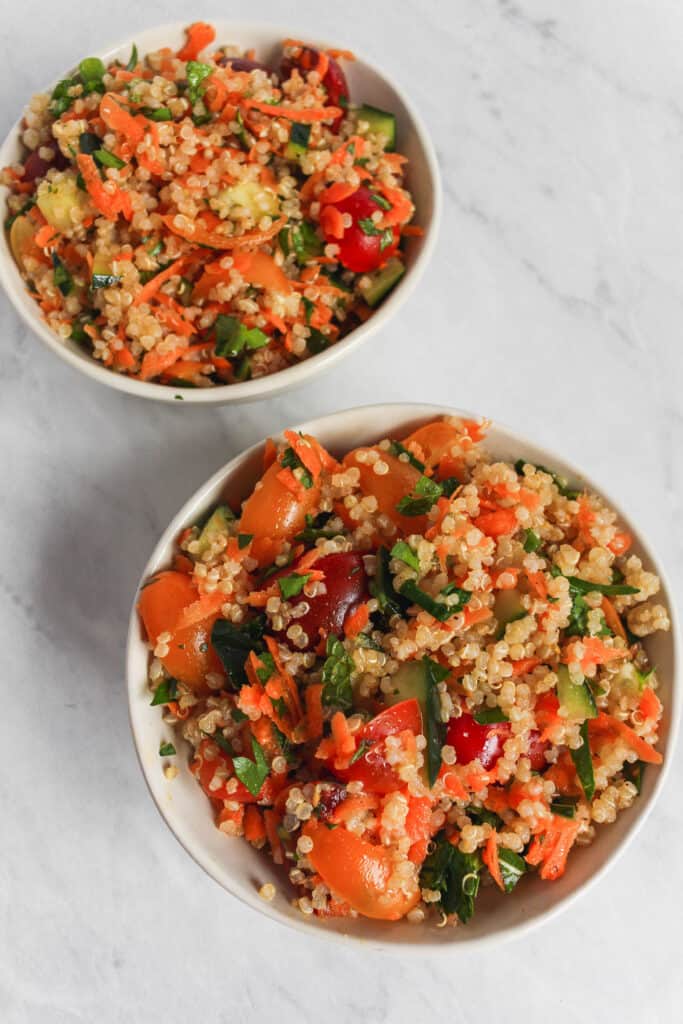 Ever since beginning to teach the low FODMAP diet I often look for new ways to convert my patient's favorite meals/recipes into low FODMAP alternatives. On the elimination phase of the low FODMAP diet, wheat and onion are temporarily removed, making tabbouleh a dish to avoid for a short a period of time. Additionally, if someone finds themselves sensitive to wheat or onion (or both), tabbouleh may be a dish that is "off-limits" for that person because it worsens their digestive symptoms. Luckily, there is often a work-around in terms of finding a different ingredient that is low in FODMAP and can be used in place of the high FODMAP ingredient(s). For example, here we use quinoa and the green tops of spring onions as theses are both low in FODMAP and can replace the bulgur wheat and regular onions that are found in a traditional tabbouleh recipe.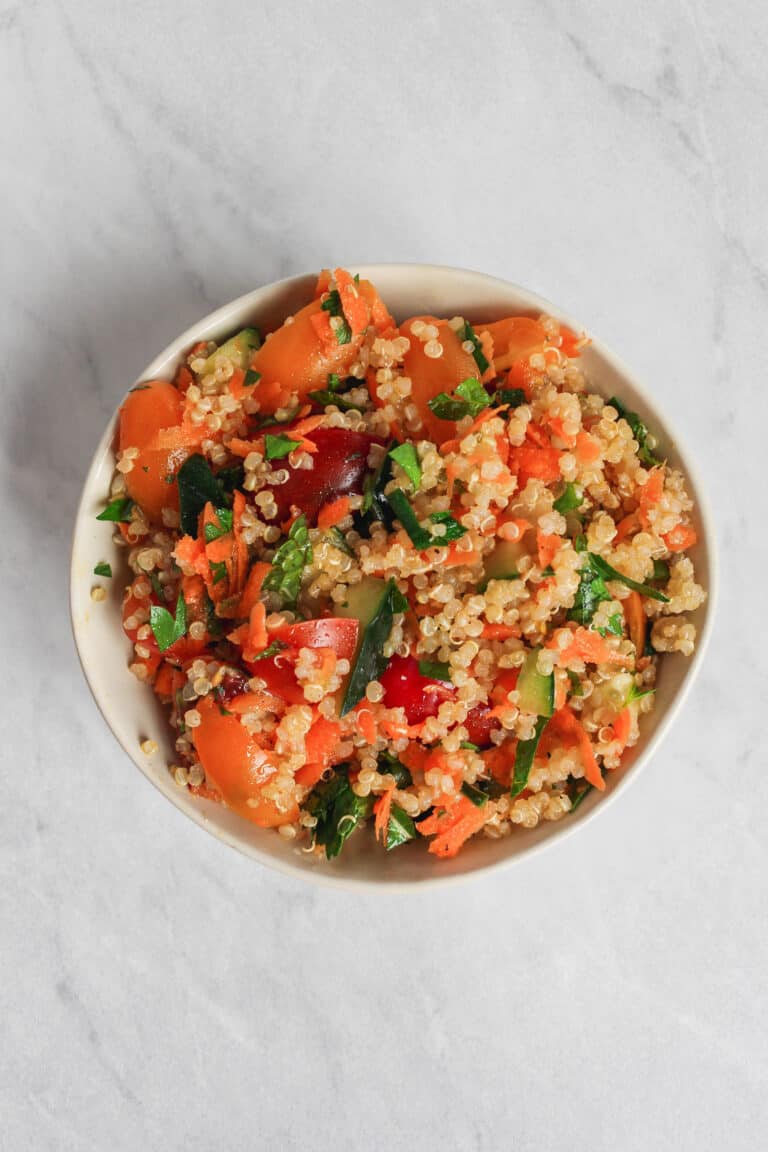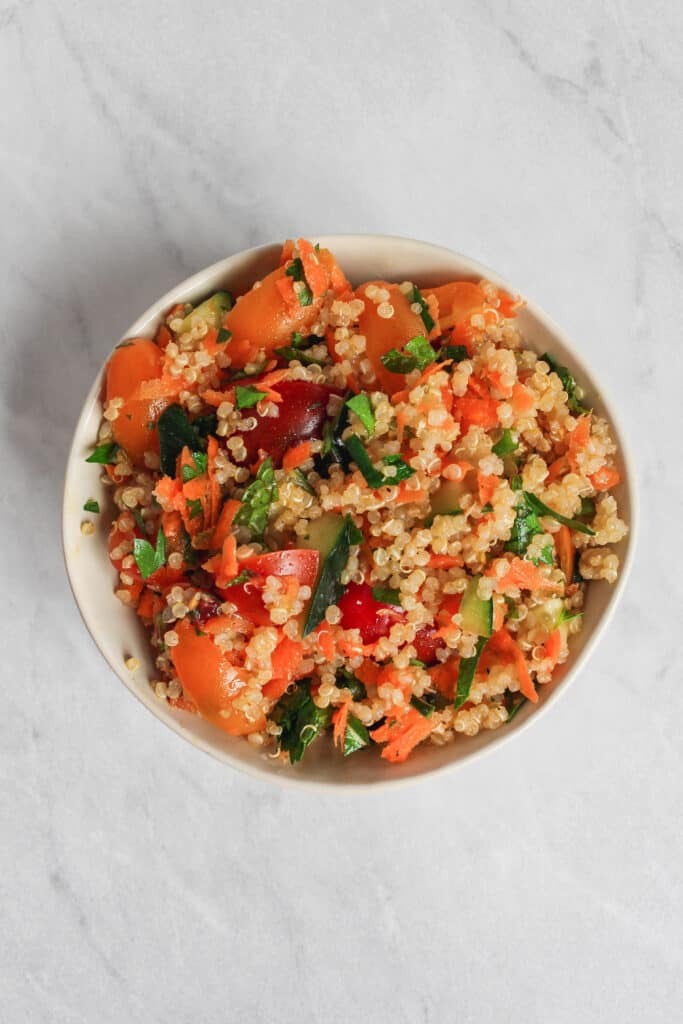 The Low FODMAP Swaps:
Subsitite quinoa for bulgur
Use the green tops of spring onions in place of onions
Carrots and cucumbers are not traditionally used when making tabbouleh, however they make an appearance in this recipe and add to the flavor, texture, and color of this beautiful salad. Additionally, a garlic-infused olive oil will provide some garlic-flavor without the FODMAP.  
Not-traditional Tabbouleh Add-Ins:
Carrots
Cucumber
Garlic-infused olive oil (in place of regular olive oil)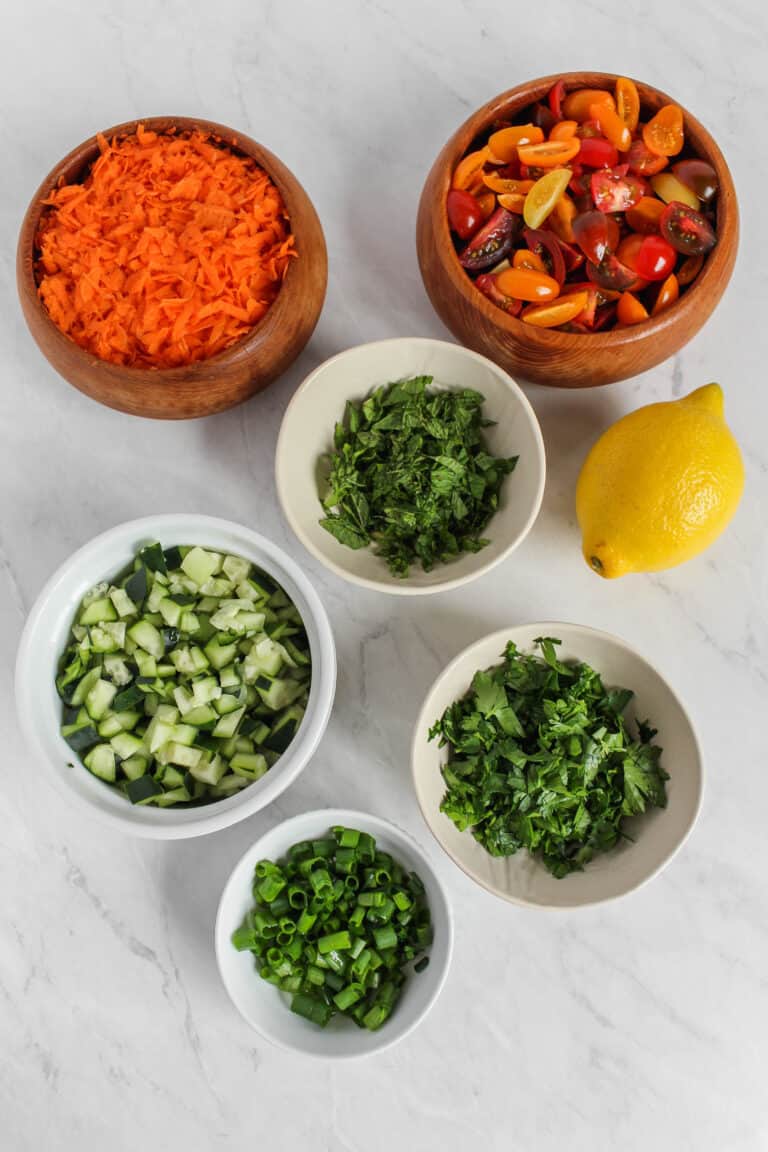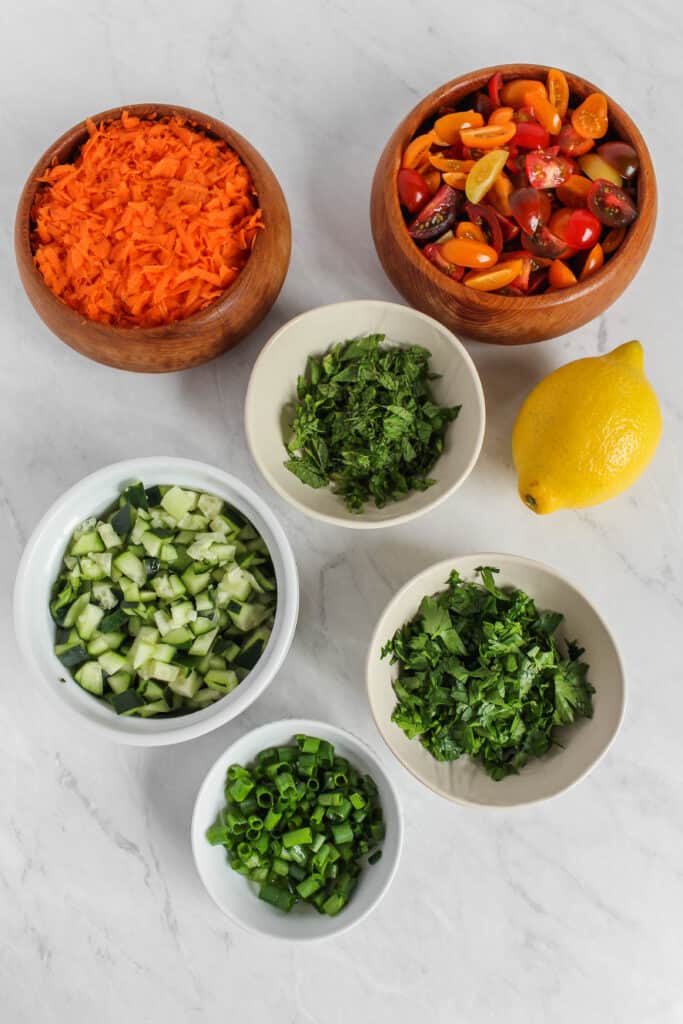 Cooking the Quinoa:
This is a simple dish to prepare with quinoa being the only ingredient that needs to be cooked. You can prepare quinoa on the stove, per package instructions, or use an instapot if you have that available. Using the instapot has a few positives, one being you are free to set it and walk away and do not need to watch it/pay attention to what is happening on the stove. Additionally, I find quinoa made in the instapot always comes out with the perfect texture and fluffiness.
If cooking in the instapot you will add 1 cup rinsed quinoa to inner pot + 1 and 1/4th cup water and cook for 1 minute on high pressure setting. Allow the pressure to release naturally.
It is important to rinse your quinoa prior to cooking. Doing so removes a natural coating, called saponin, which can cause cooked quinoa to taste bitter. Some packaged quinoas come pre-rinsed but feel free to still give them a quick rinse.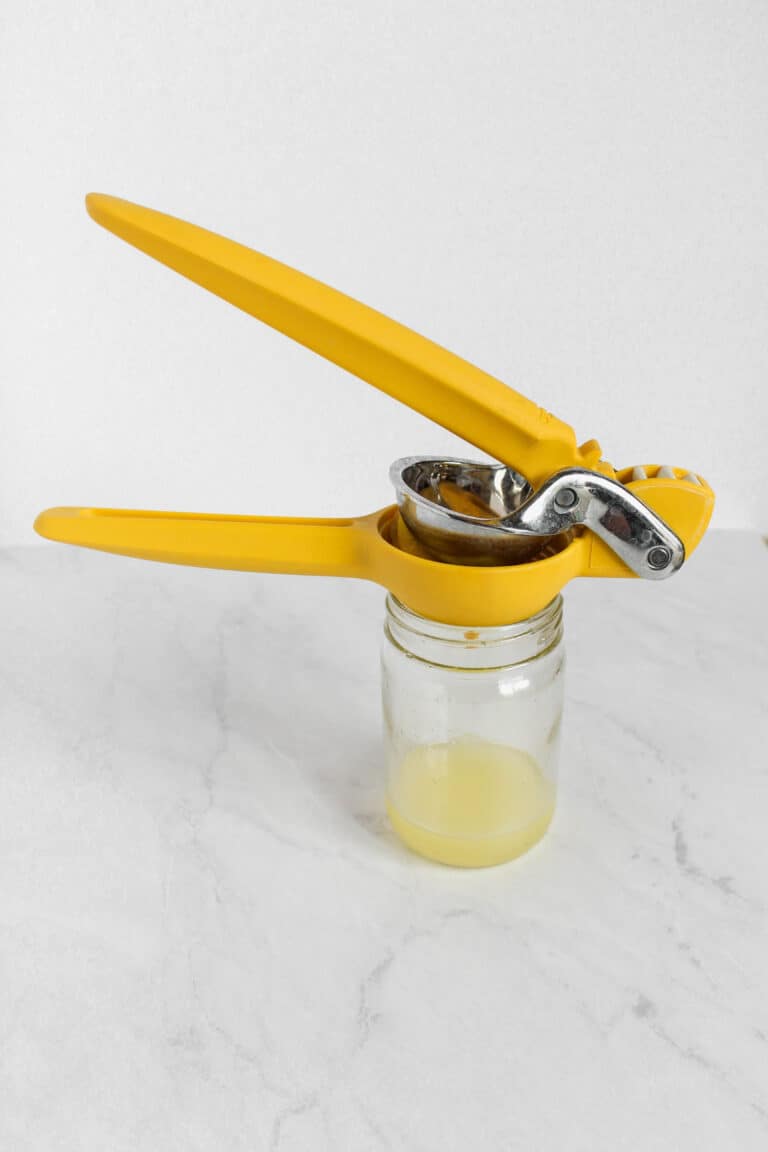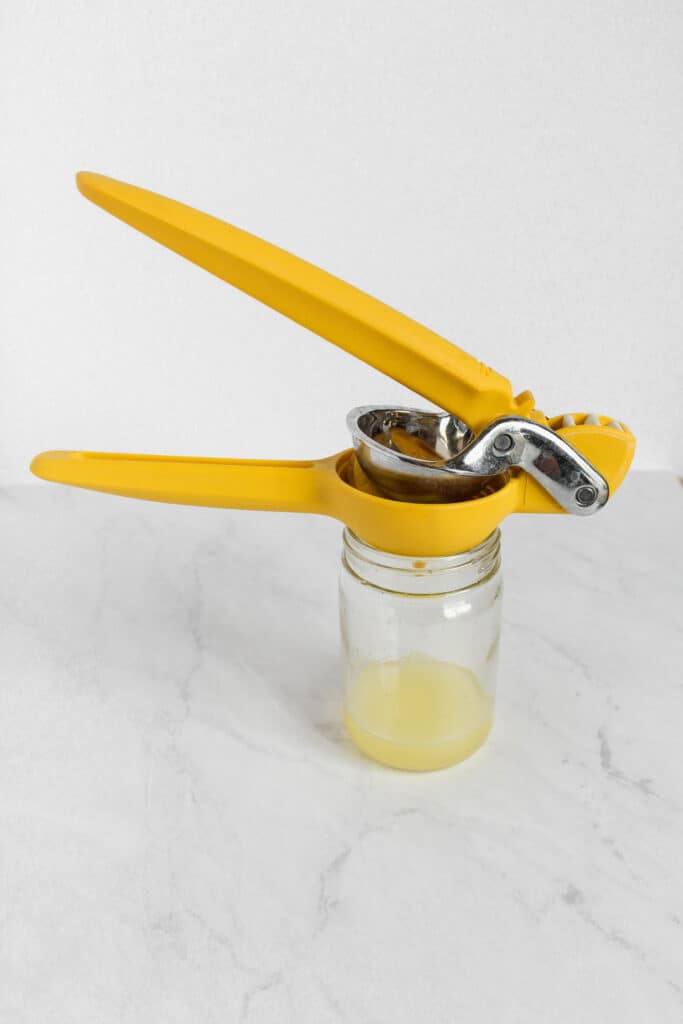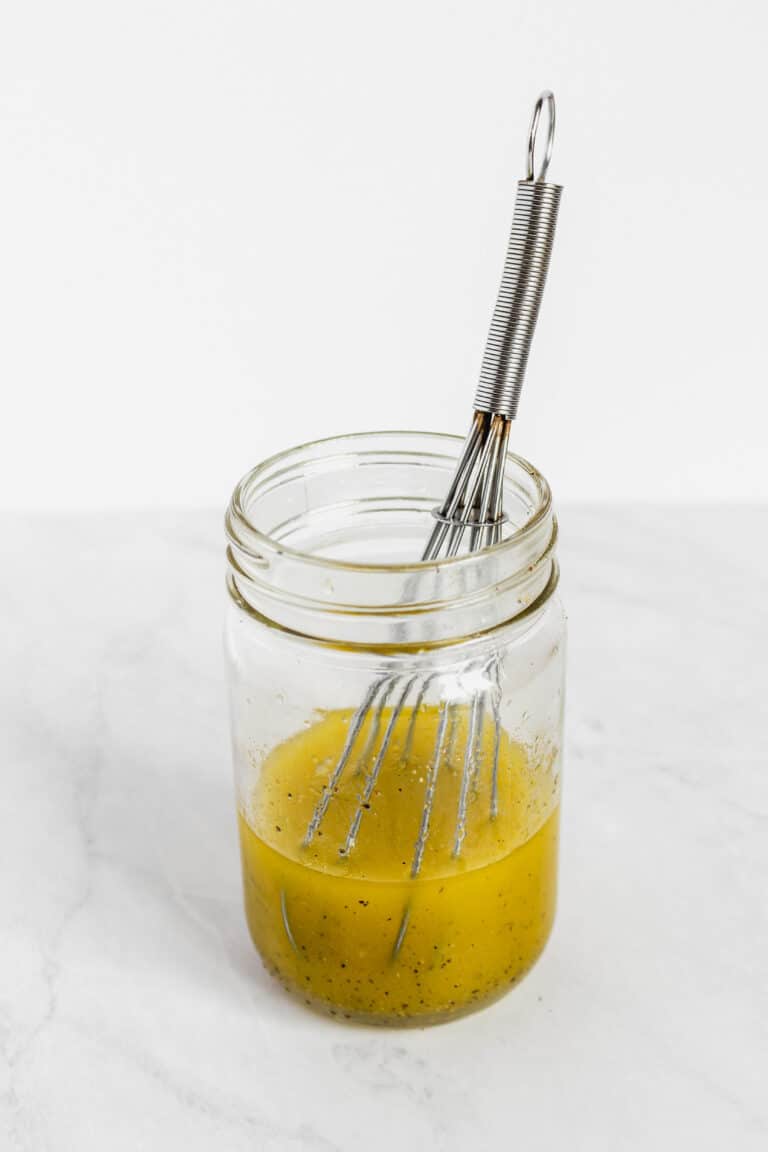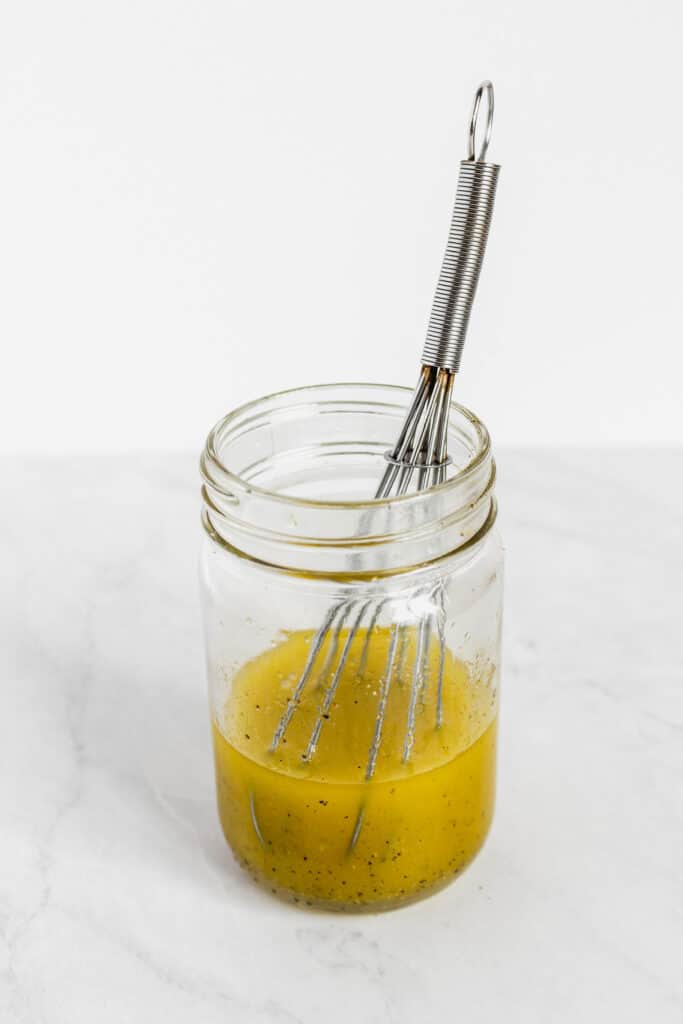 The rest of this recipe requires washing and chopping vegetables, fresh herbs, and making a simple 2-ingredient salad dressing. Everything comes together in 1 bowl which makes for a pretty-quick clean up and minimal dishes to clean.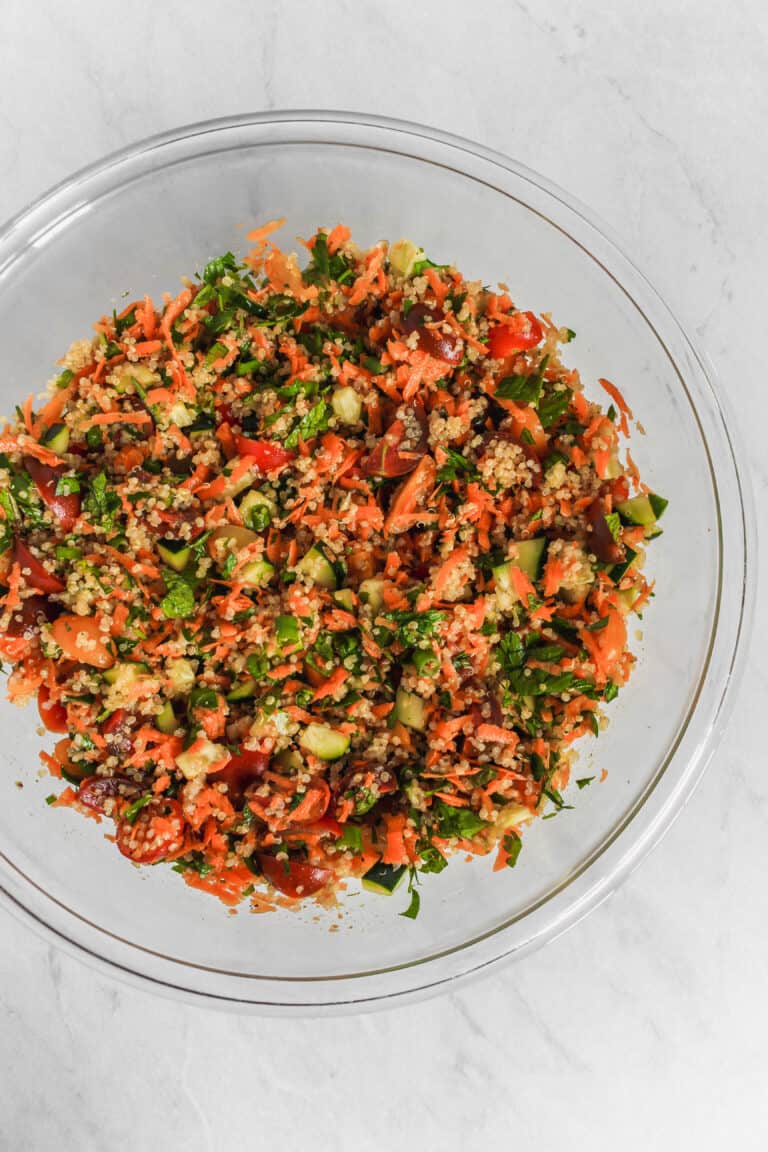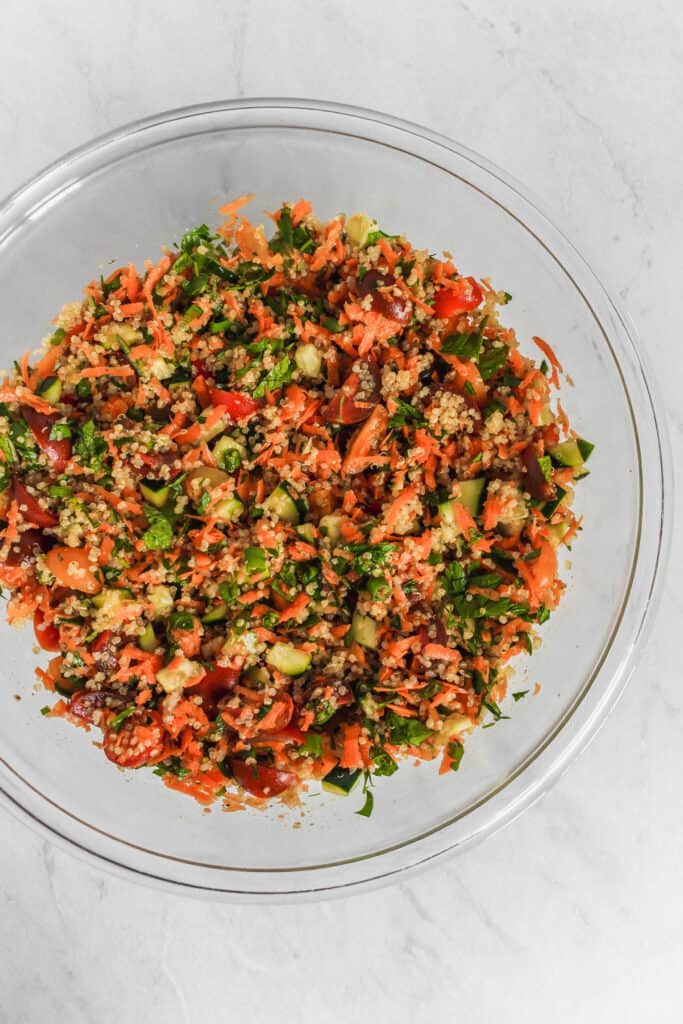 Last but not least, this salad makes fantastic leftovers and is good in the fridge for ~5 days but I doubt it will last that long.
Low FODMAP Quinoa Tabbouleh Recipe
Print
Ingredients
1 cup dry quinoa, rinsed well and cooked

3 bunches of spring onions, thinly sliced (green tops only) 

2 carrots, grated

1 pint cherry tomatoes, cut into fourths

1 large English hothouse cucumber, diced

1 heaping cup of chopped flat-leaf parsley

1/2 cup chopped fresh mint

1/2 cup garlic infused extra-virgin olive oil (Could also use plain olive oil)

1/2 teaspoon salt

1 lemon, juiced

Freshly ground black pepper. to taste
Print
Directions
Bring quinoa and 1 ¼ cups water to a boil in a medium saucepan over high heat. Reduce heat to medium-low, cover, and simmer until quinoa is tender, about 12 minutes.
Remove quinoa from heat and let stand, covered, for 5 minutes. Fluff with a fork.
Allow quinoa to cool to room temperature. To speed the process, spread out quinoa on a large rimmed baking sheet (can also place this in the fridge).
*Note/time-saving tip: Quinoa can be made ahead of time.
Meanwhile, whisk lemon juice, garlic infused olive oil, salt and pepper in a small bowl or add to a glass jar with lid and shake up well.
Combine carrots, cucumber, tomatoes, herbs, and spring onion tops to large bowl, add cooled quinoa and dressing. Stir well.
Chill in refrigerator prior serving.
Hope you enjoy this low FODMAP Quinoa Tabbouleh. Let me know what you think once you try it out!
Check out my other Low FODMAP Recipes
Banana Pineapple Green Smoothie
No Bake Peanut Butter Pumpkin Balls
Want more quinoa recipes?!? Got you covered:
Easy Garlic Chipotle Quinoa – Instapot Recipe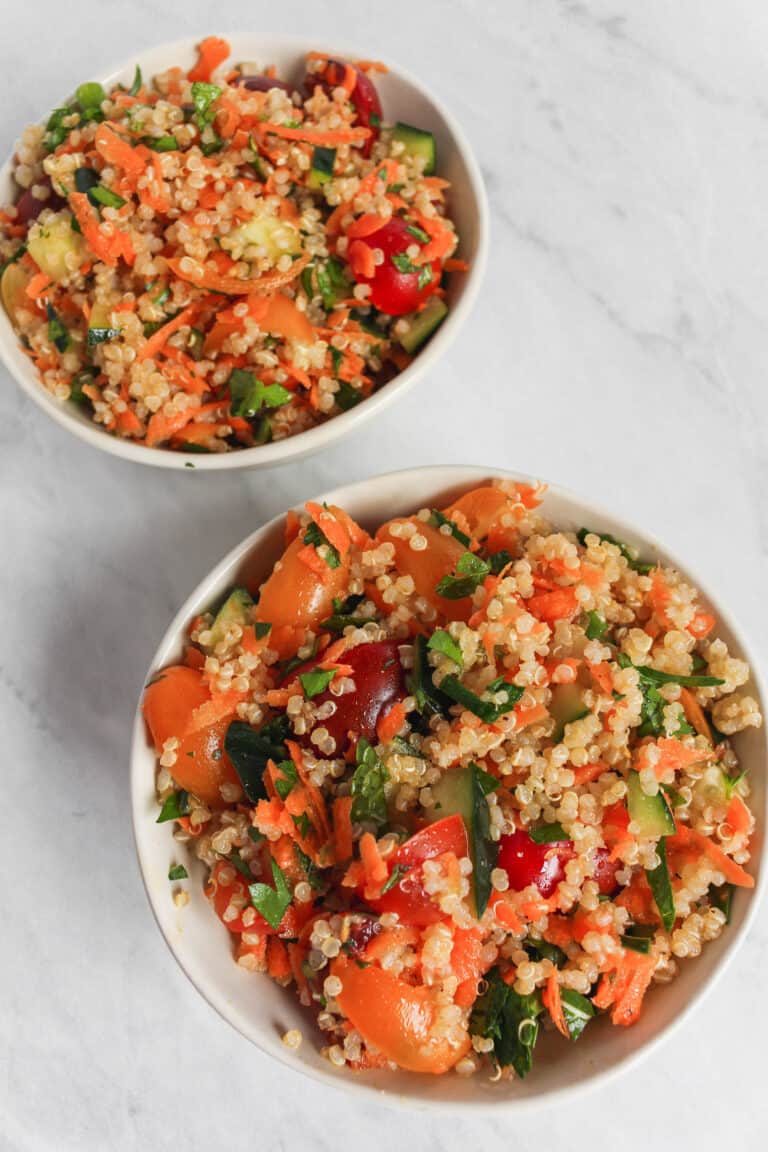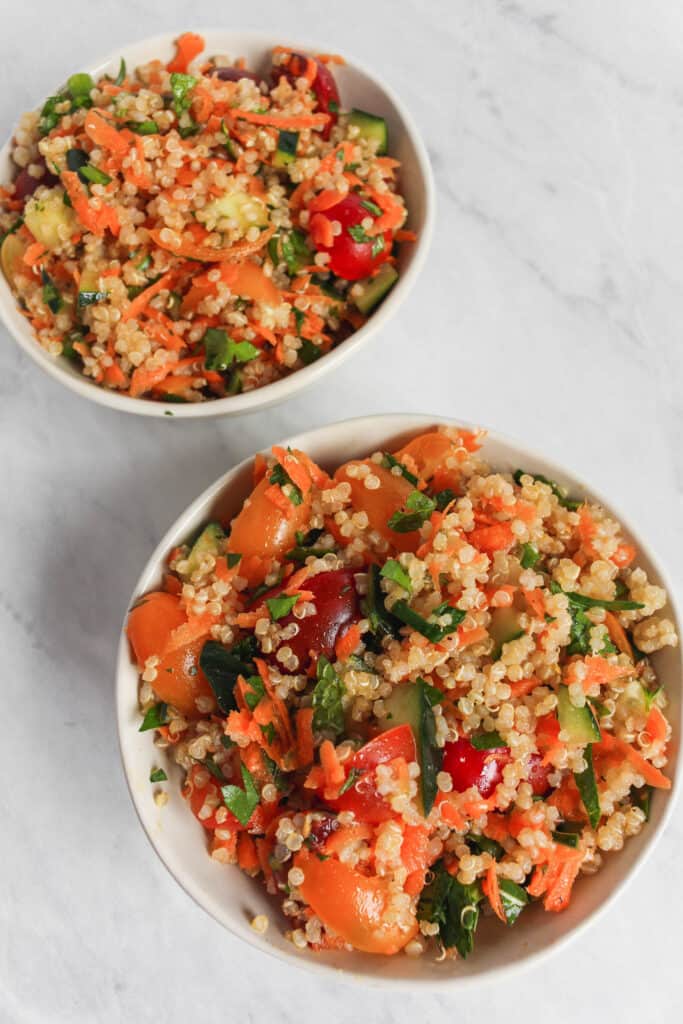 This blog post and recipe was originally posted October 13, 2015. Blog and photos were updated April 10, 2021.