Is there anything more satisfying than a full tray of nachos, still hot from the oven? These easy vegan nachos are LOADED with melty cheese, beans, and all the toppings you desire!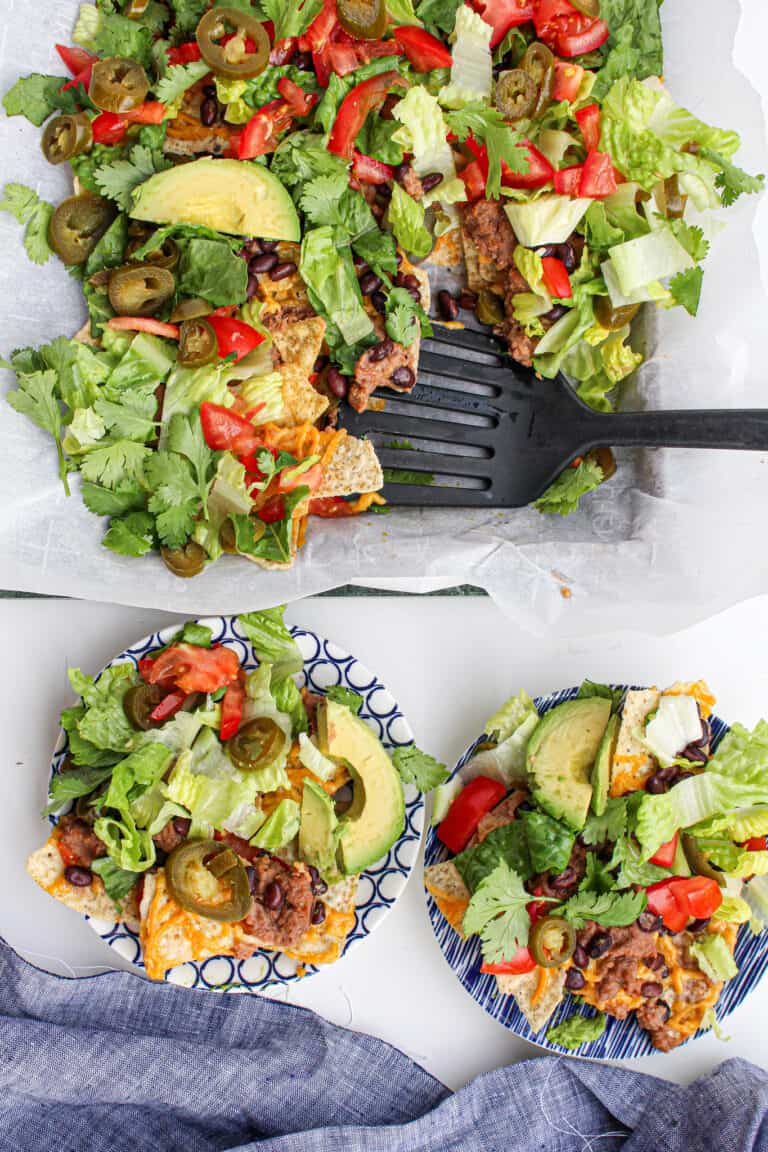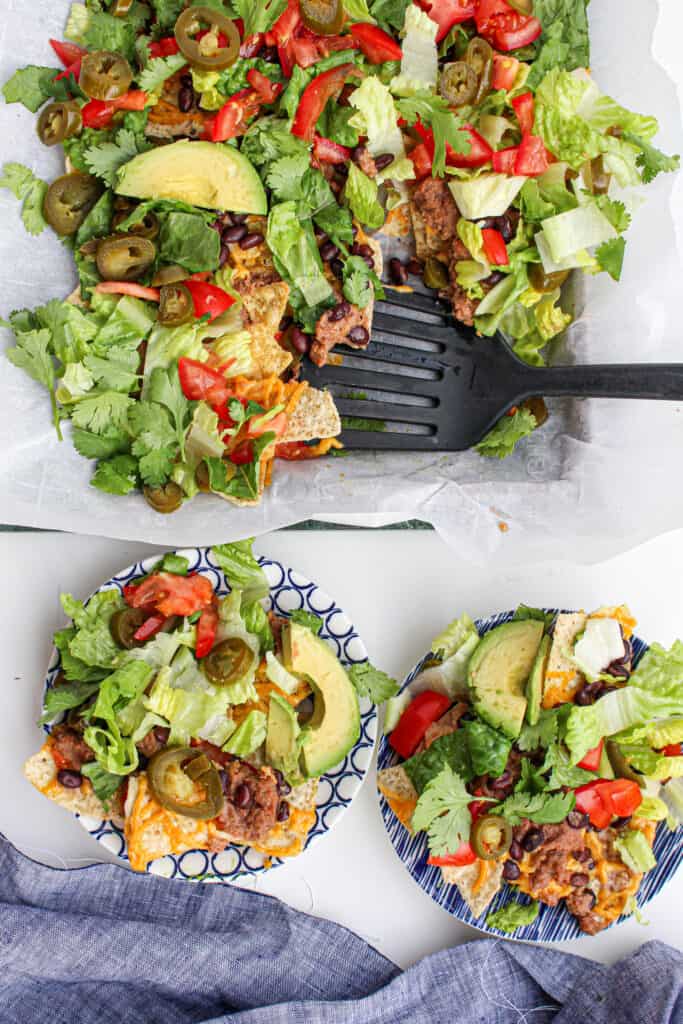 Prior to going vegan, nachos were something I would enjoy ordering at various restaurants. While it is quite easy to veganize a meal at most Mexican restaurants, nachos have been the exception. For example, tacos and burritos can easily withstand being made without cheese and meat and still be amazing. Just load up on beans, avocado, lettuce, tomato and hot sauce. Chips, salsa, and guac – yes please. Vegetable fajitas – delicious. Additionally, mushroom, cauliflower, and potato taco and burrito options are options I've come across that satisfy both vegans and ominvores alike. But unless a restaurant carries a vegan cheese option, nachos will not be happening. Can you imagine enjoying nachos, sans the cheese? Yeah, I didn't think so. So that brings us to making easy vegan nachos at home.
Nachos are:
Super easy to make, simply layer on the toppings and serve
Fully customizable to suit a solo diner or a group gathering
A crowd pleaser
Perfect food for game day (or a night of Netflix)
Great for when you want a satisfying meal but don't really feel like cooking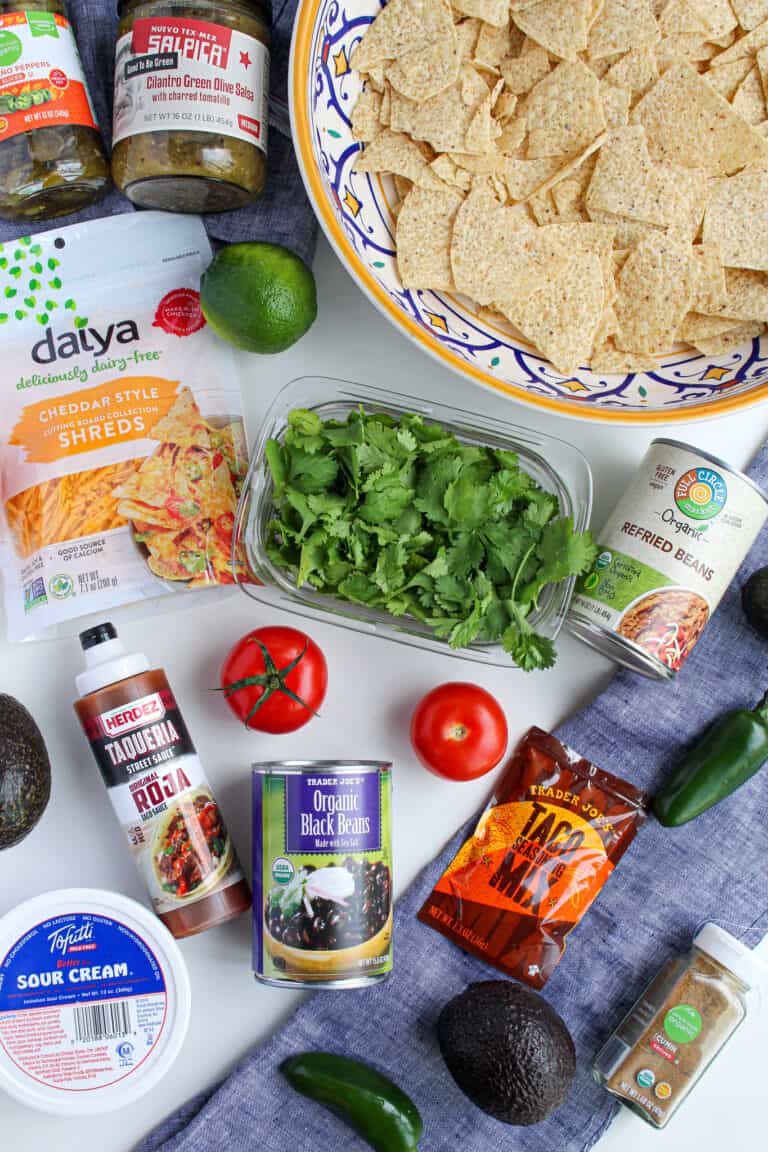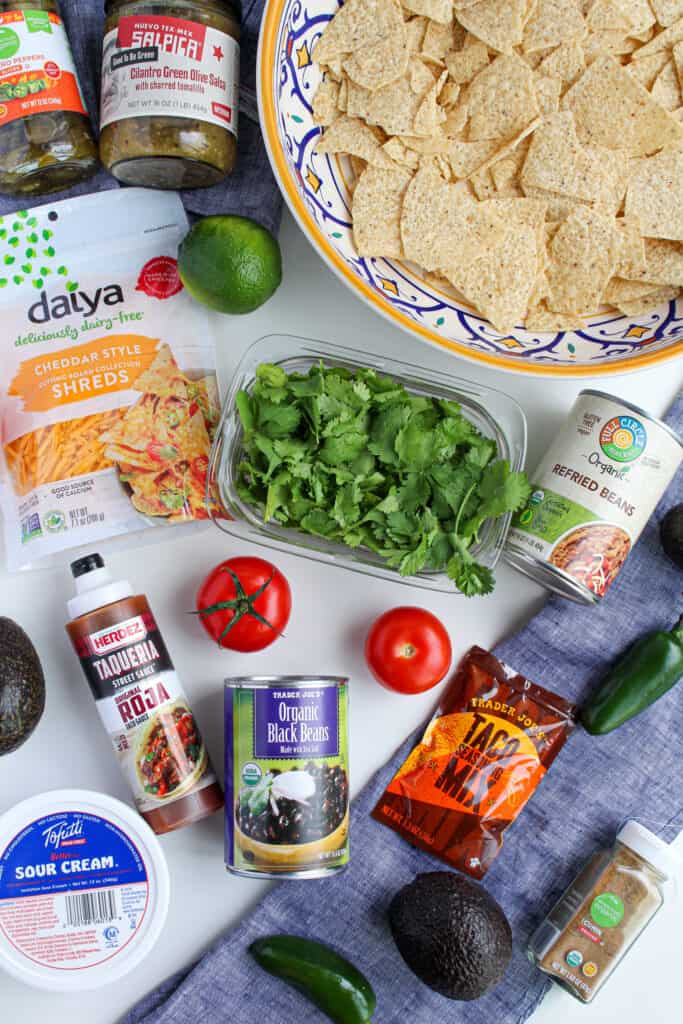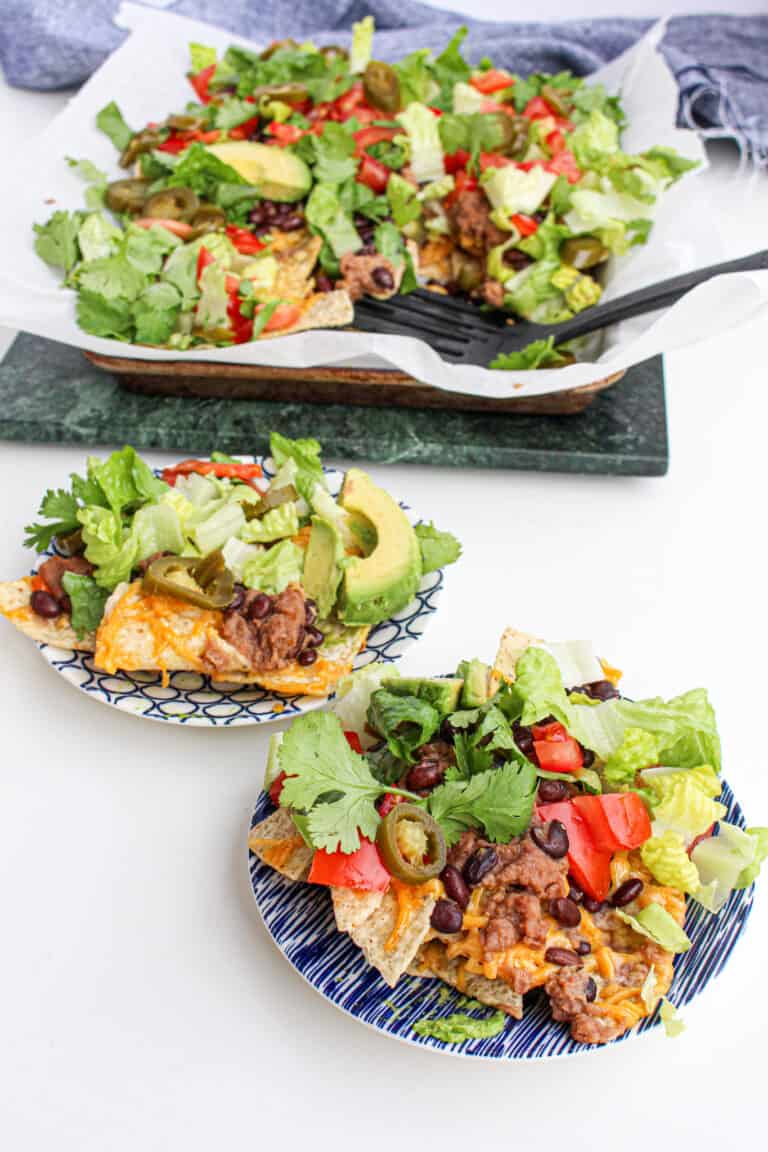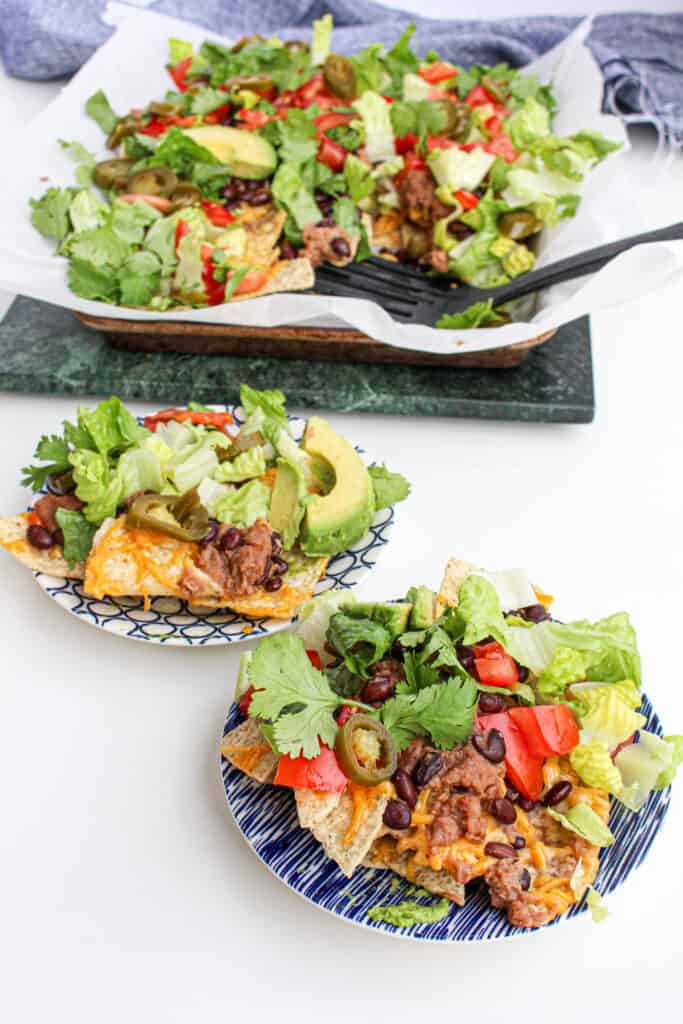 Nacho prep tips:
To make clean up a breeze line your sheet pan with parchment paper.
Layering ingredients when assembling your nachos is key to getting the right ratio of cheese and beans on all of the chips. You will start by covering sheet pan with a layer of chips, the sprinkle a layer of cheese over all of the chips, next comes the beans. You will then repeat by adding another layer of chips, cheese and beans.
If serving a group, have all of your topping set out in bowls to allow everyone to customize their own plate of nachos.
If you're craving variety in your nachos or don't have all the toppings listed below, try swapping out some of the ingredients.
If you are serving more than 4 people, double the below ingredients. The recipe was made on a 9.5-inch x 13-inch sheet pan with the below ingredient quantities. I have also doubled these easy vegan nachos and used a 12-3/4 inch x 17-3/4 inch sheet pan and they turned out fabulous. When in doubt, go big.
If you don't want to turn the oven on and heat up the house – just fire up the grill! Place sheet pan on a hot grill, close lid and cook until cheese starts to melt.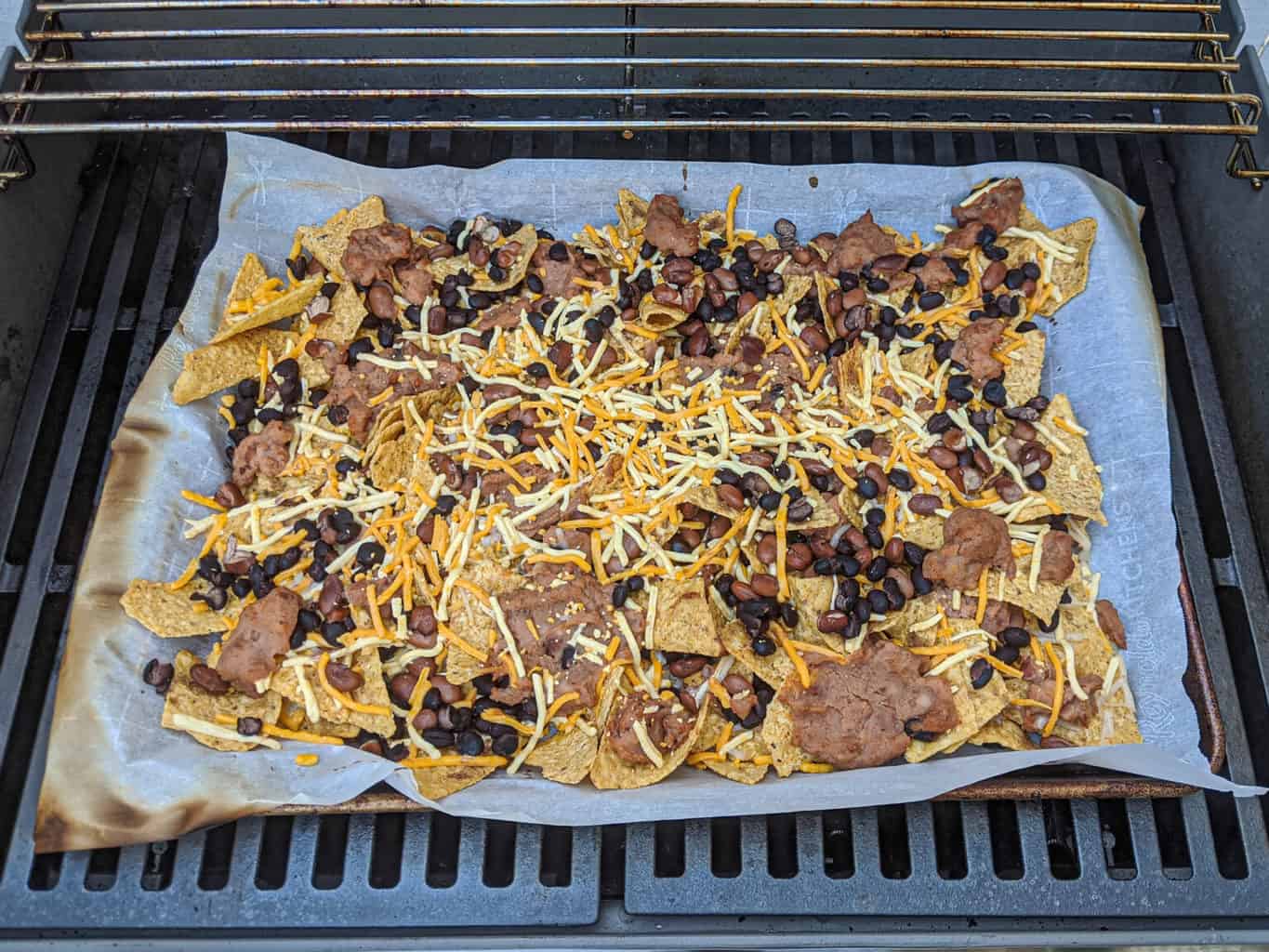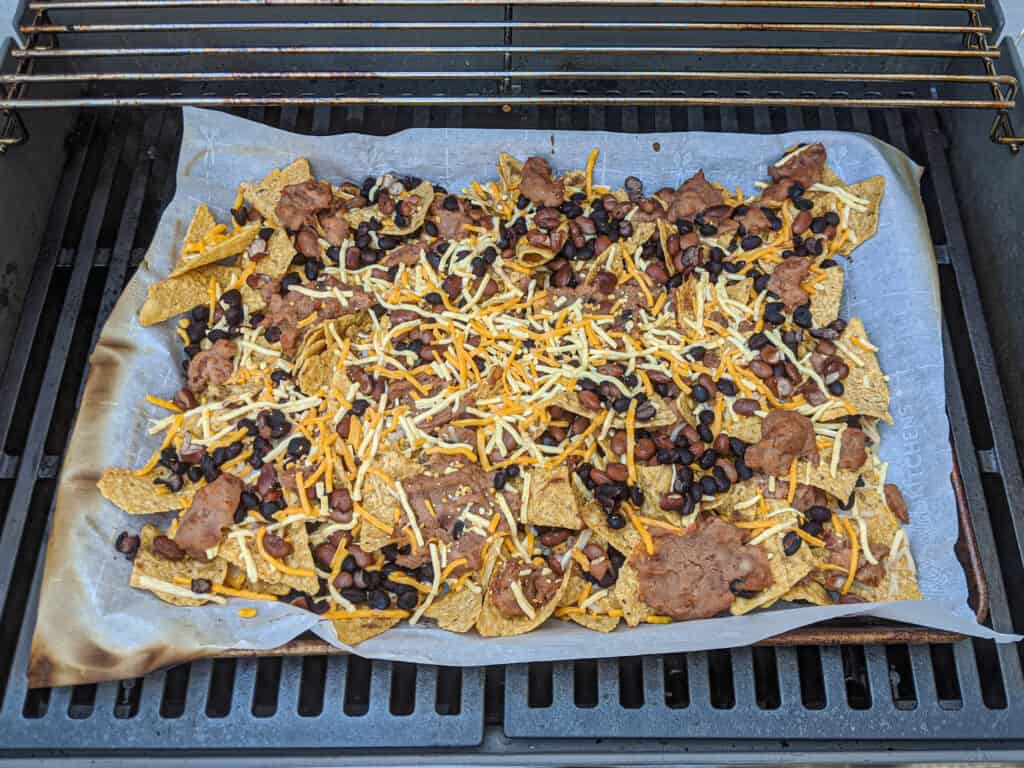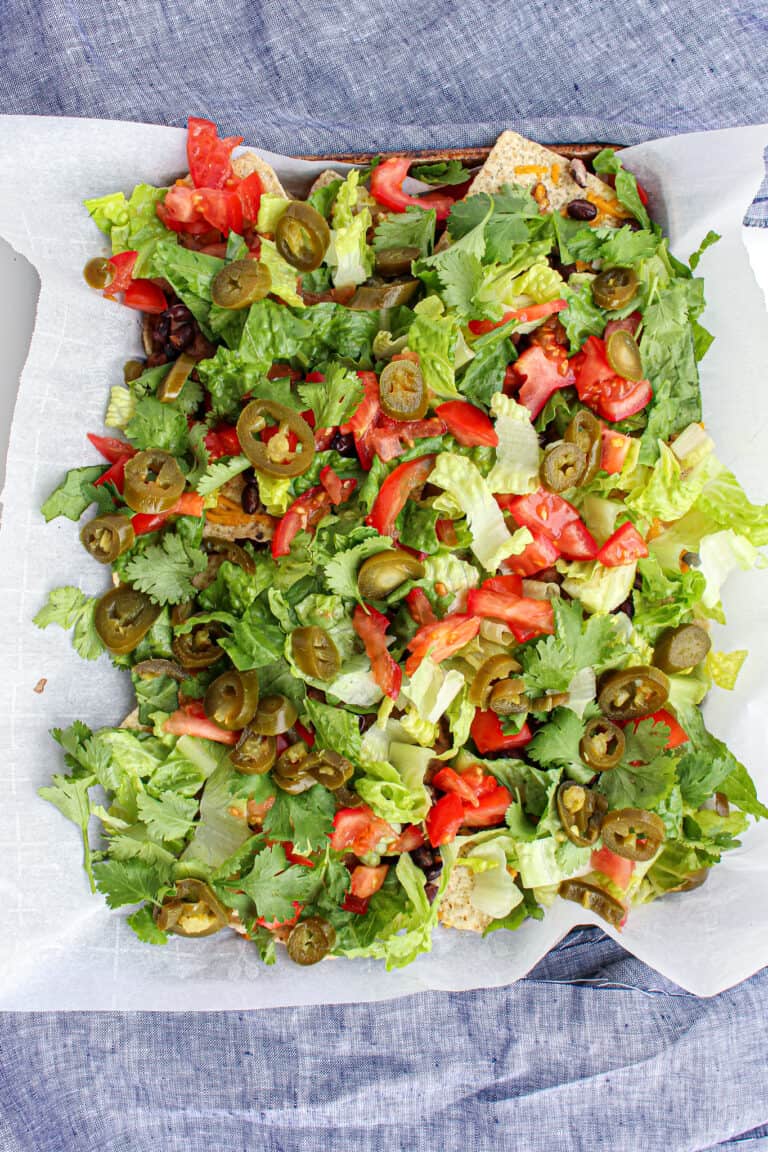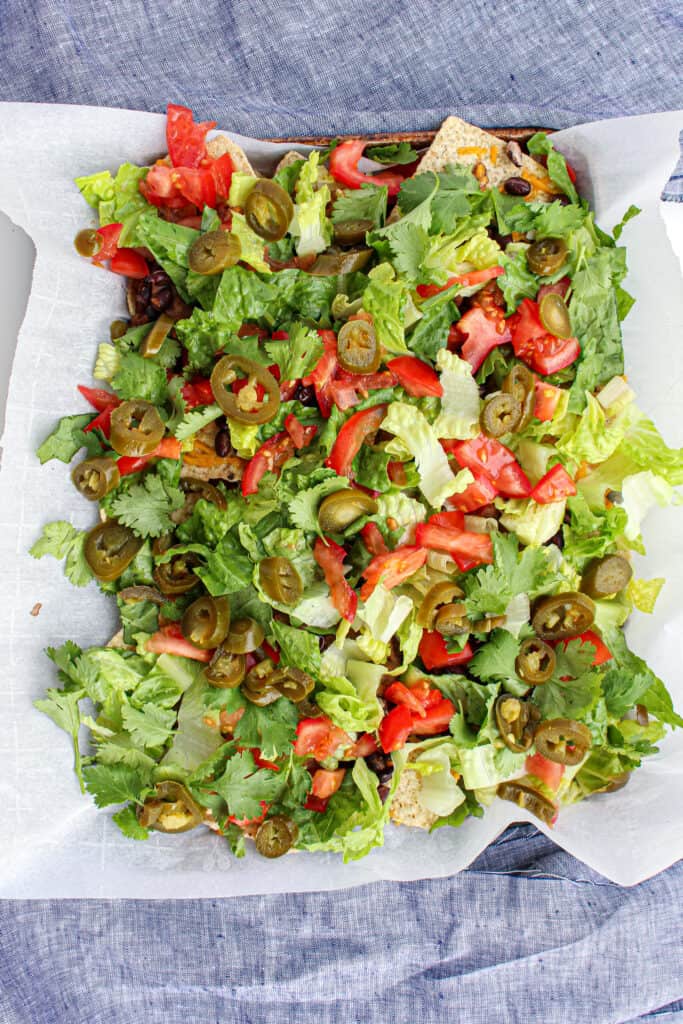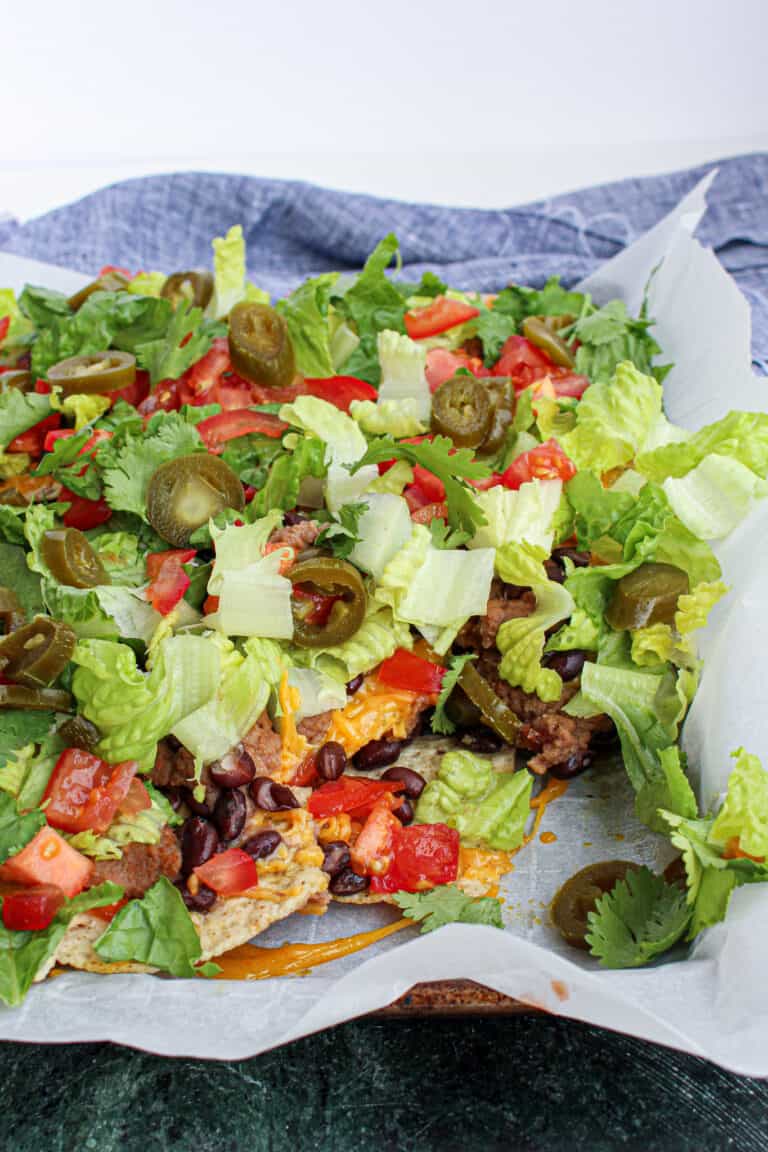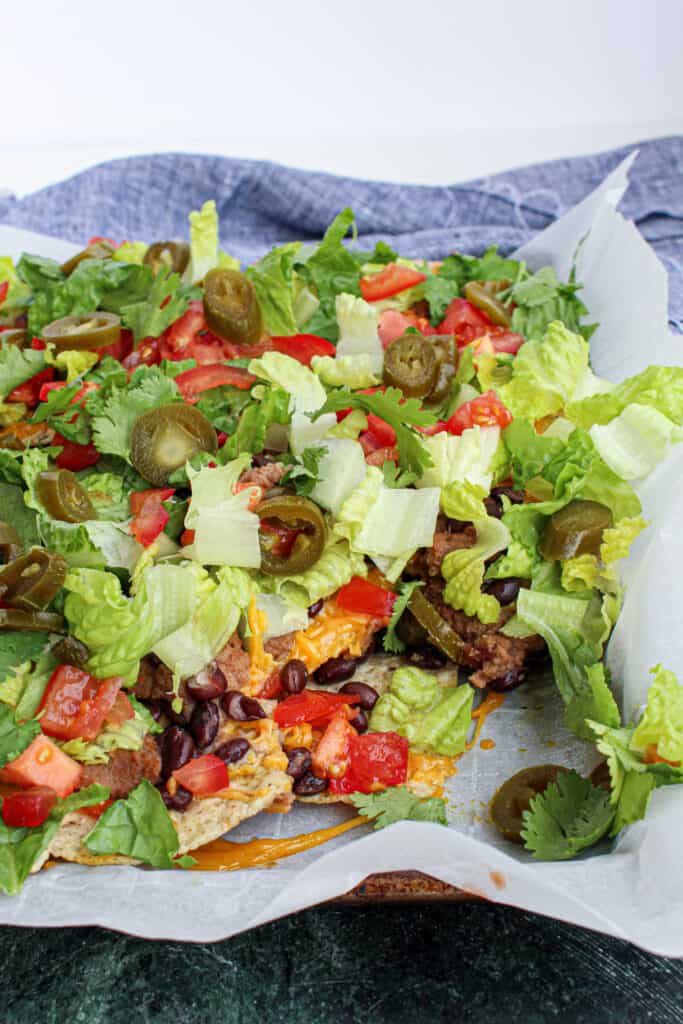 Easy Vegan Nachos Recipe
Print
Ingredients
1, 13-16 ounce bag of tortilla chips

1 bag vegan shredded cheddar cheese, like Daiya

1 can of black beans

1 can refried vegetarian beans

1/2 tsp taco seasoning mix

Optional toppings, pick and choose what you like:

1-2 small to medium tomatoes, diced

1 heart of romaine lettuce, chopped

1 jar of pickled jalapenos

1 Bell pepper, chopped

Avocado

Cilantro

Diced red onion

Green onion

Guacamole

Hot sauce

Salsa

Vegan sour cream
Print
Directions
Preheat oven to 350 degrees F (177 Celsius) and line a baking sheet with parchment paper
Heat refried beans and black beans separately on the stove
Add 2-3 tablespoons water and 1/2 tsp of taco seasoning mix to refried beans, stir
Add half the tortilla chips and top with half the cheese, half the black beans (use a slated spoon with the black beans to prevent adding too much liquid and making your chips soggy), and half the refried beans
Repeat one more layer with chips, cheese, and beans
Bake for ~15 minutes (or until cheese looks melted)
Top with all the toppings: lettuce, tomato, avocado, pickled jalapenos, cilantro, etc.
Serve with salsa, hot sauce, and vegan sour cream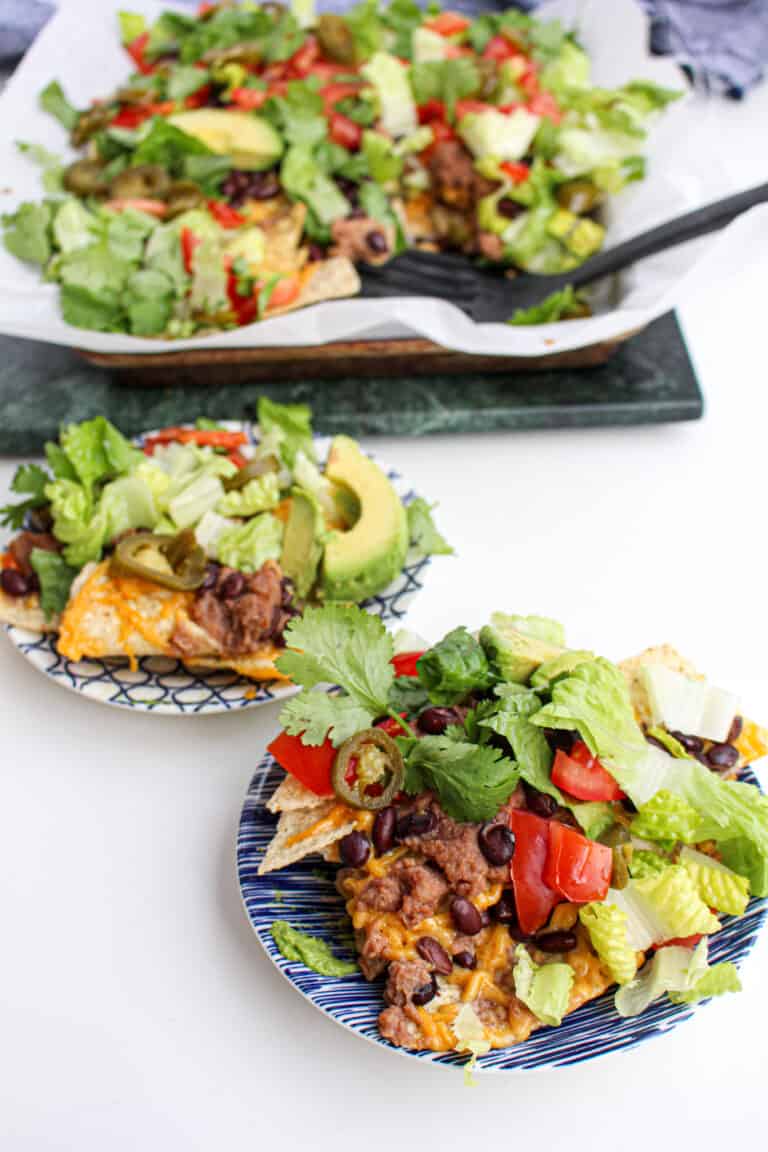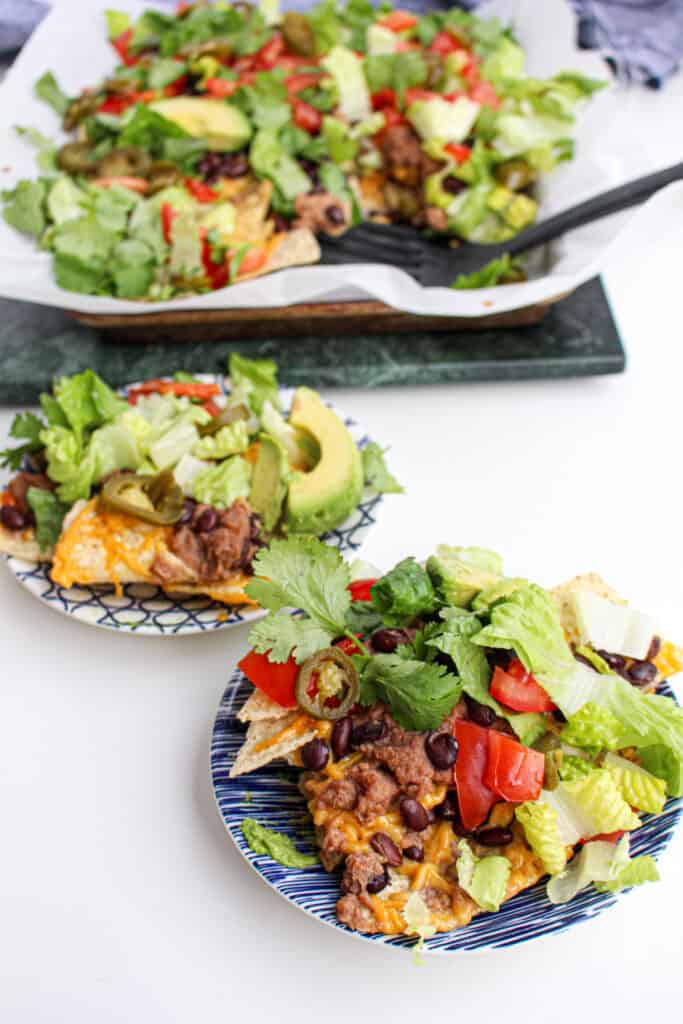 Enjoy!