This vegan low FODMAP fried rice is a delicious, healthy alternative to take-out and is suitable for the elimination phase of the low FODMAP diet.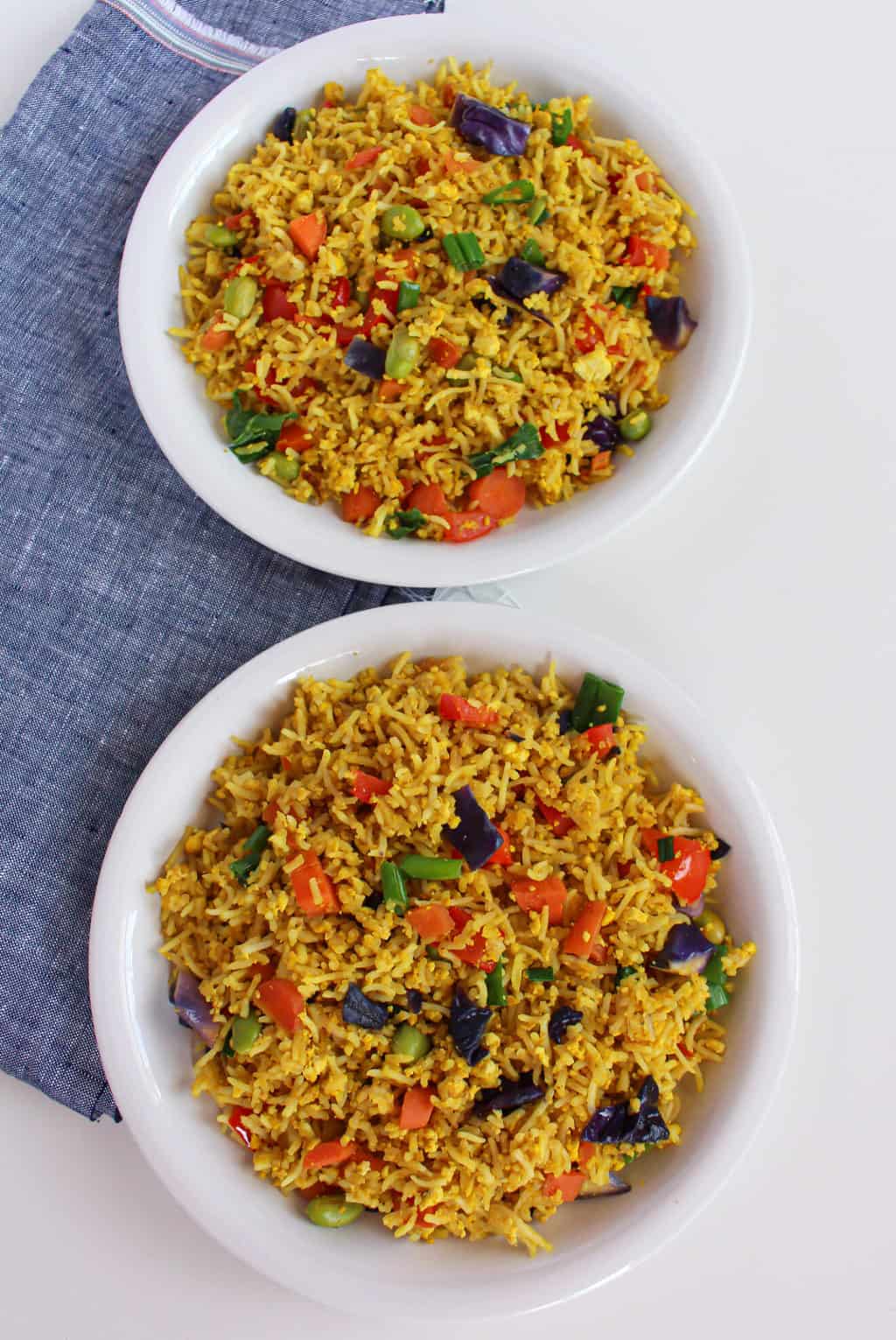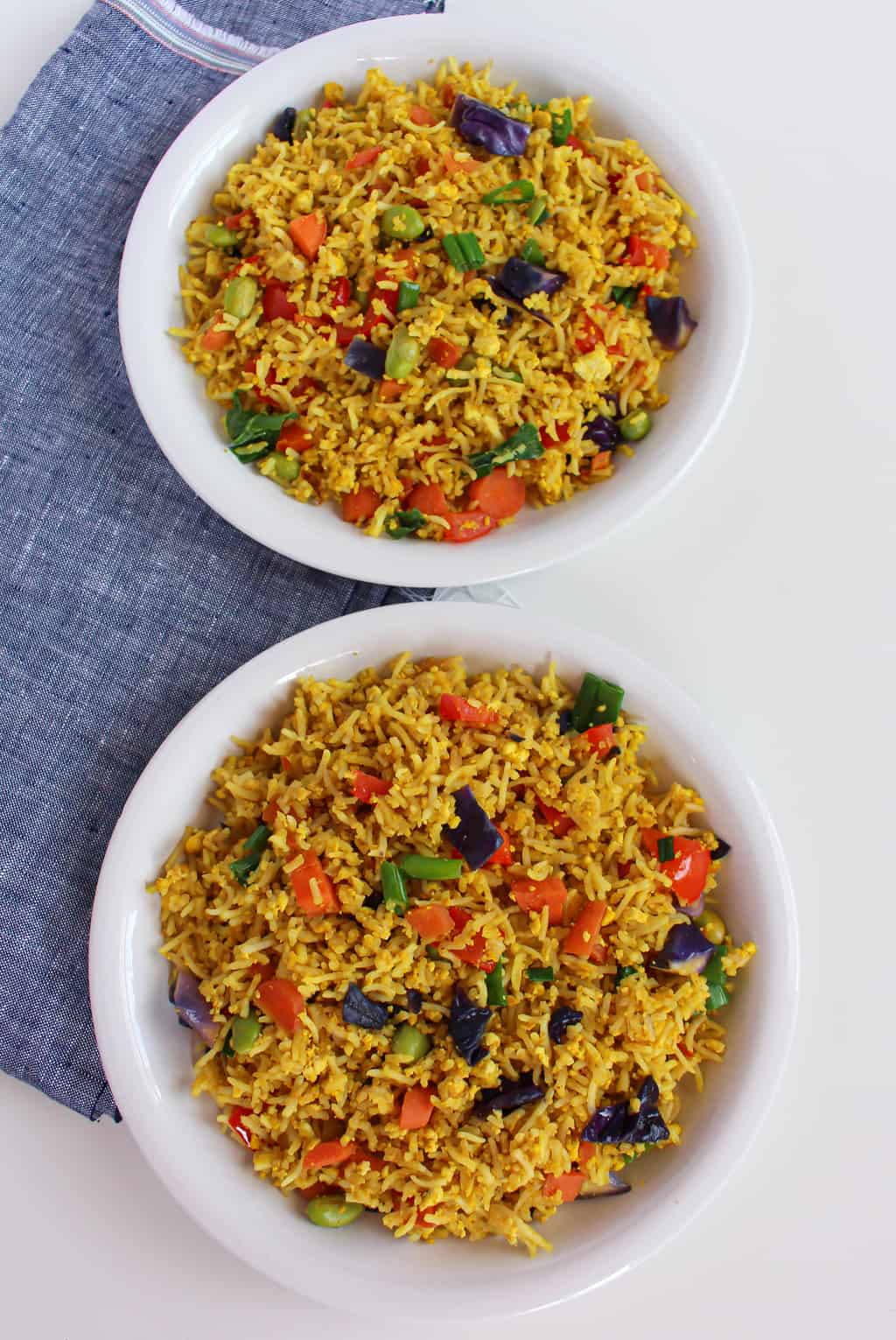 This post was originally published on April 29th 2016 and updated on April 20th, 2020.
This recipe was originally posted 4 years ago and has undergone a much needed update. The original recipe used a bag of frozen carrots and green peas however, we now know thawed green peas are high in FODMAP when consuming more than 1 tablespoon per sitting. A simple swap of edamame for green peas will keep this recipe suitable for anyone who is undergoing the elimination phase. Shelled edamame can be found in the freezer section at the grocery store. Of course, if you have completed the challenge phase and are not sensitive to green peas then feel free to go ahead and add those.
Additionally, more vegetables have been incorporated into this vegan low-FODMAP fried rice recipe. This not only creates a more beautiful dish, but also provides you with more vitamins, minerals, phytochemicals (antioxidants), and fiber which supports good health, specifically good gut health. Remember, you always have the option to omit vegetables you don't like or don't have on hand. Whatever vegetables you use, be sure to chop them all into similar-sized, smaller pieces as this ensure they cook evenly when stir-frying.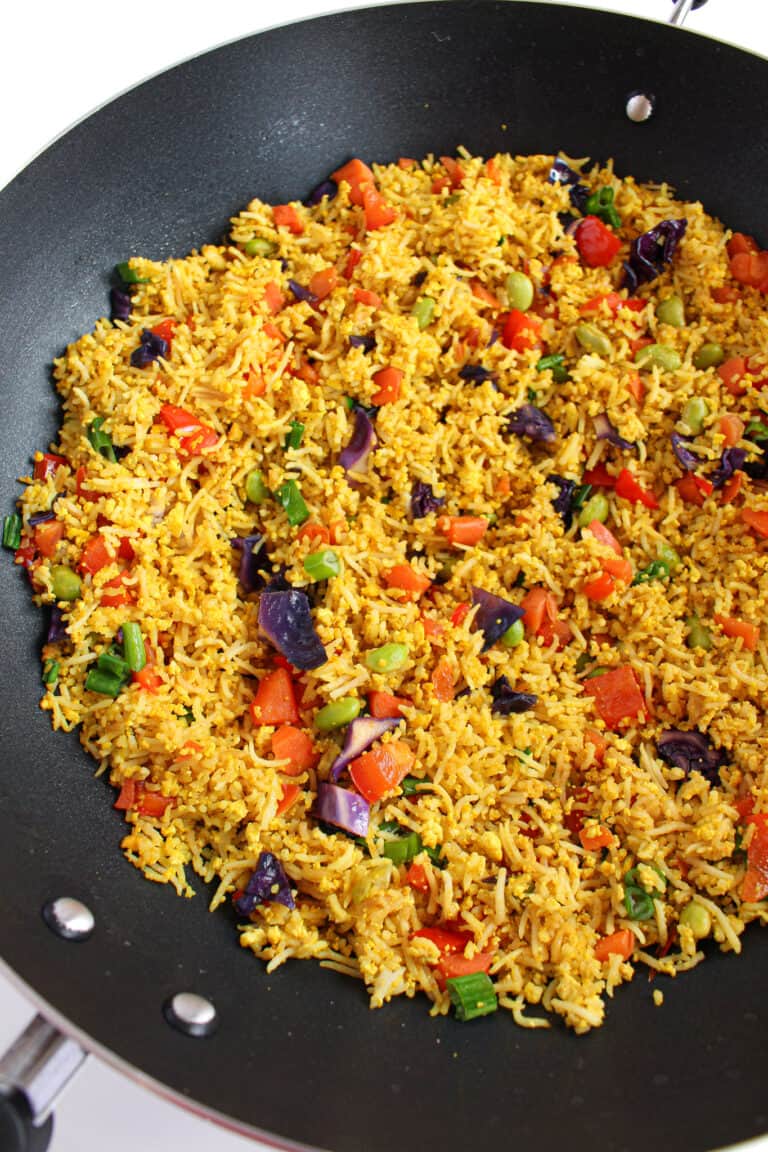 Low FODMAP soy
To veganize this low-FODMAP fried rice recipe, firm tofu is used in place of an egg. Firm tofu is made from soybeans and edamame is an immature soybean. The low FODMAP diet is not an intuitive diet and the FODMAP content of soy can be a bit confusing. While soybeans are naturally high in the FODMAP Galacto-oligiosaccharides (GOS), both firm tofu and edamame have been tested by Monash University and are low in GOS/ low in FODMAP. Various methods of processing a food can remove or lower FODMAP content. Tofu is a curd made from soybeans, and during the production of firm tofu, the product is pressed, and the liquid along with the GOS is drained off, thus making the final product low FODMAP. You will also press and drain your firm-tofu block at home prior to cooking with it.
Silken tofu is not pressed the same way and has a higher water content which contains more GOS than firm tofu and is therefore higher in FODMAP. Monash has a blog post on about tofu and FODMAPs should you be interested in reading more.
To make this recipe gluten free:
Use gluten free tamari. Both soy sauce and gluten free tamari are suitable for the low FODMAP diet.
How to press firm tofu:
Wrap the block of tofu in a clean kitchen towel or paper towels. Place on a plate or cutting board and place another plate or a cutting board on top of the tofu. Then weigh it down with a heavy book, cast iron skillet, or a couple canned goods. Press tofu for ~20-30 minutes, drain off excess liquid.
For this recipe you will be crumbling your tofu which is easily done by hand or with a fork.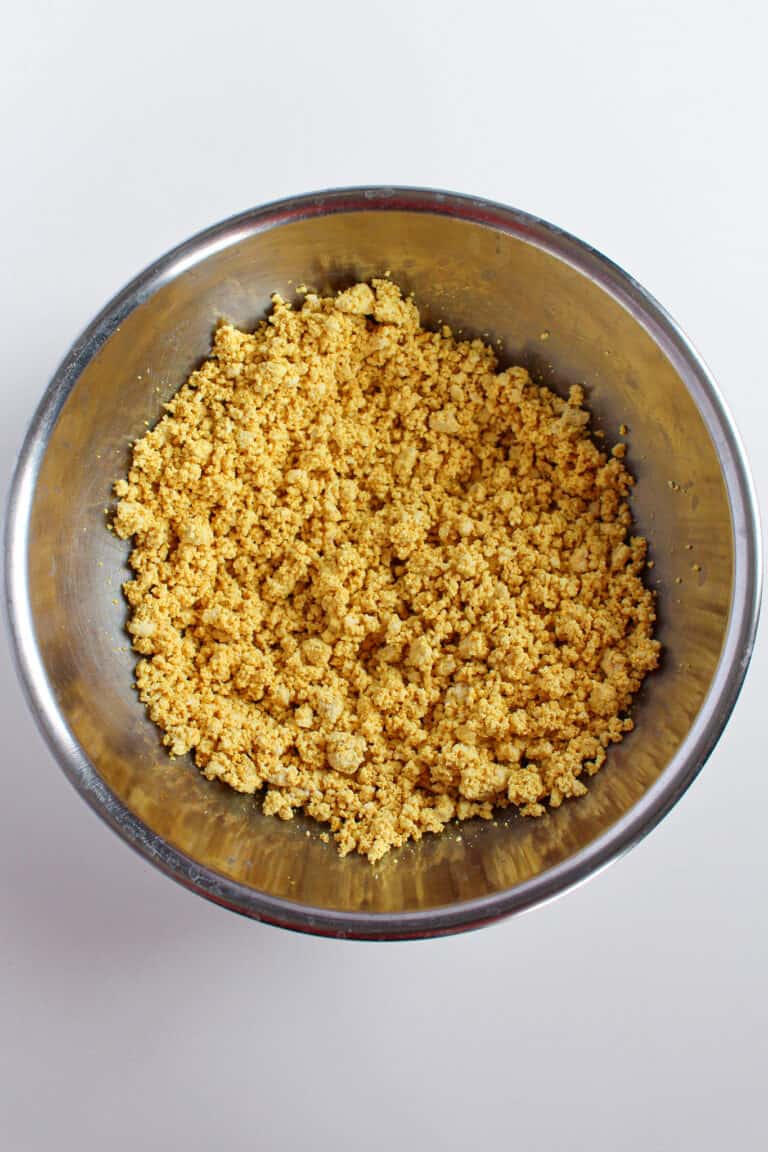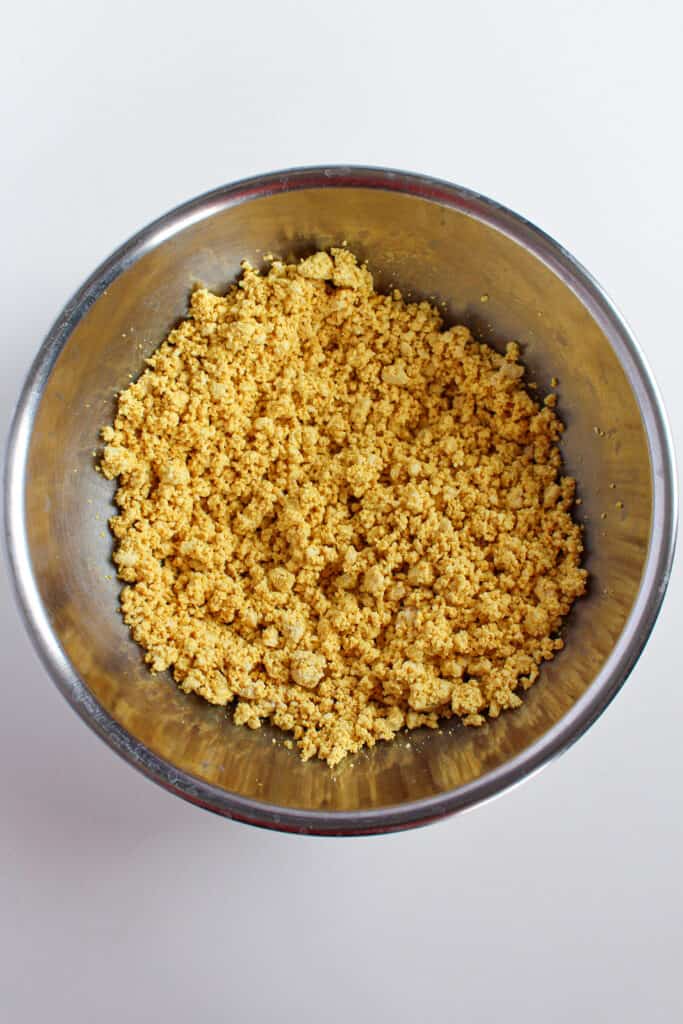 This vegan low FODMAP fried rice makes great leftovers and will keep in the fridge for ~4 days.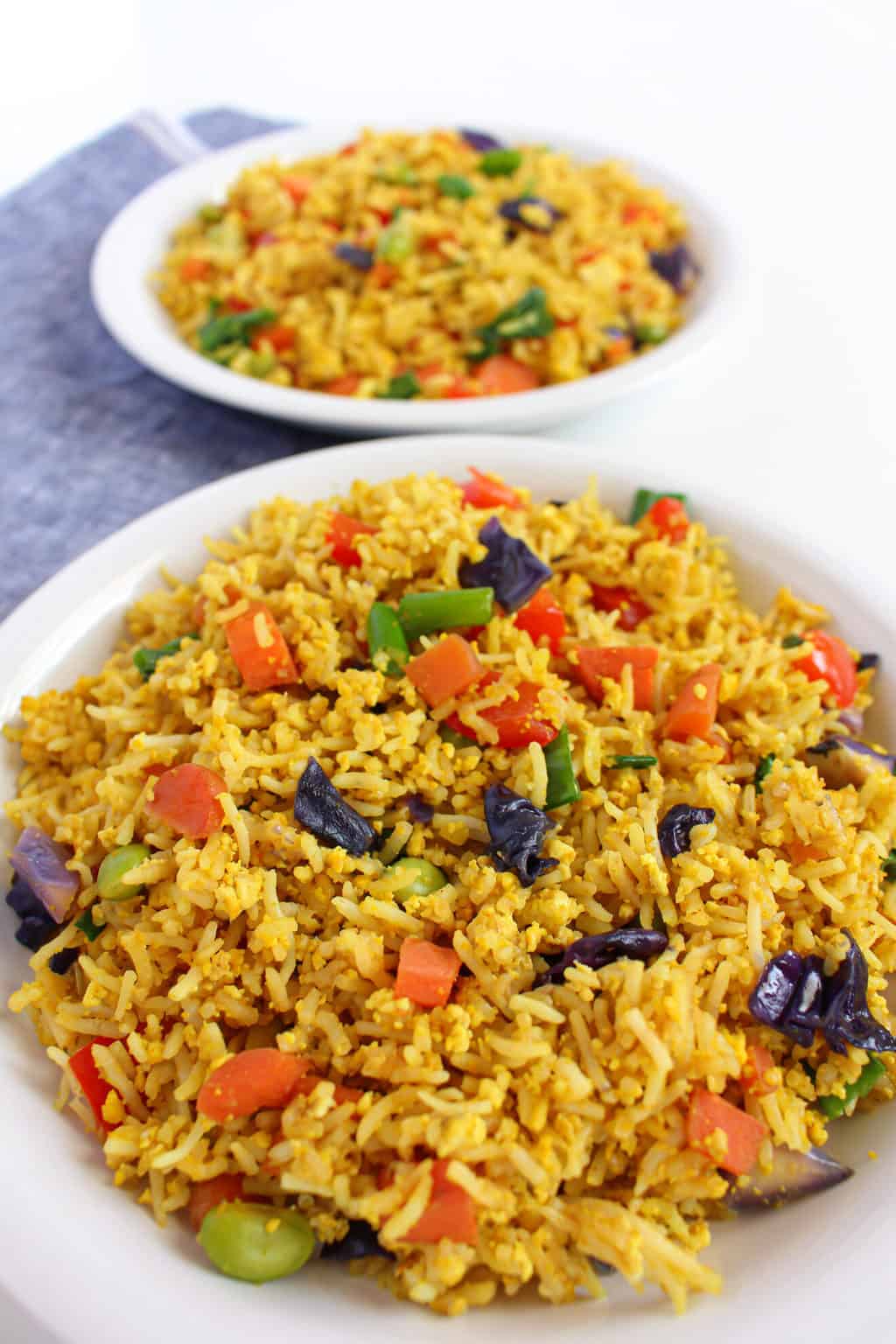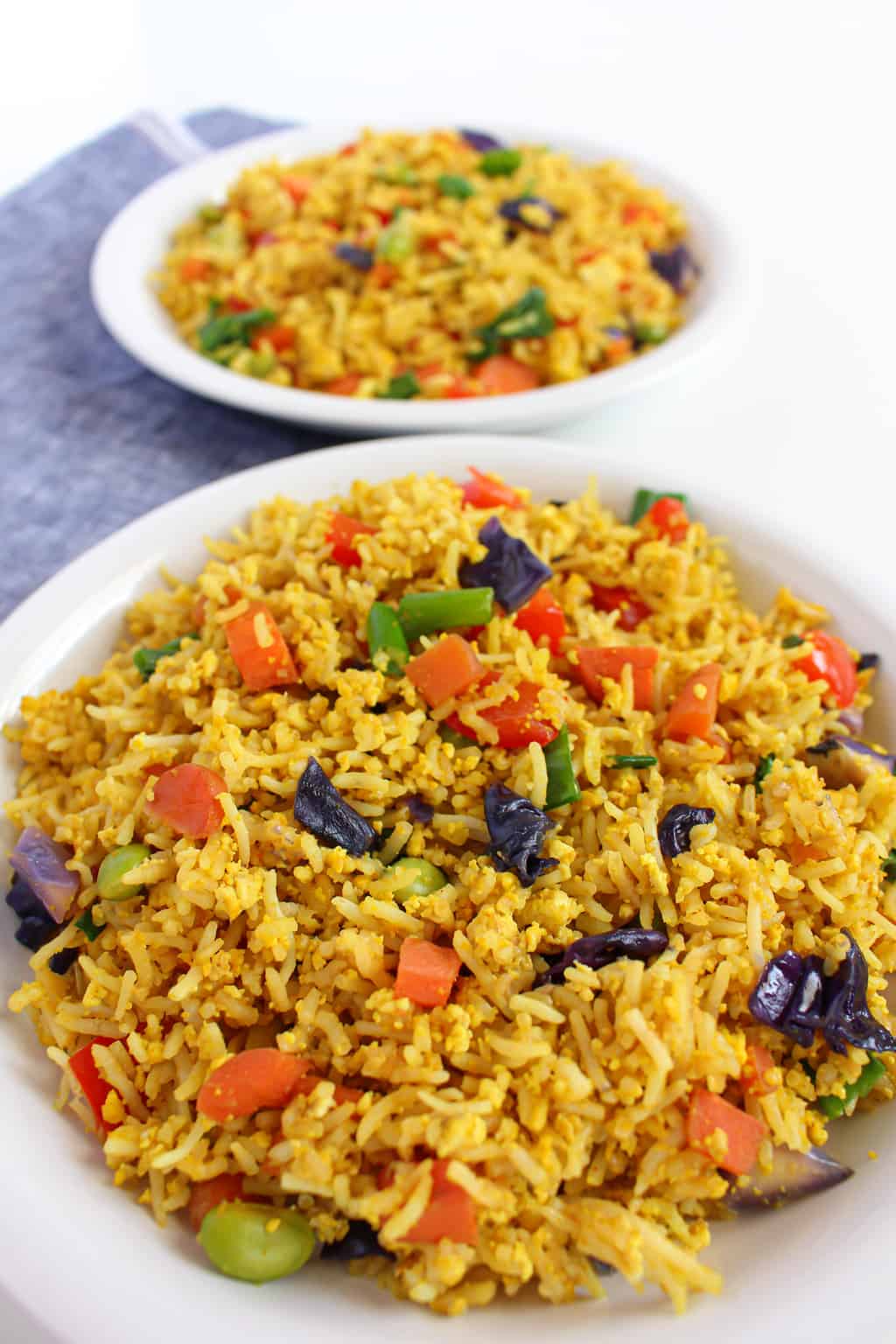 Makes ~6-7 servings
Print
Ingredients
5 cups cooked Jasmine rice, recommend cooking ahead of time 

1, 14 ounce block of firm tofu, pressed and liquid drained

1 cup frozen shelled edamame

1 cup carrots, chopped (~2 large carrots)

1 red bell pepper, chopped (~1 1/4 cup)

3/4 cup red cabbage, chopped

1/2 cup green onion tops, chopped

3-4 Tablespoons soy sauce or gluten free tamari

2 tablespoons toasted sesame oil

1 teaspoon turmeric

1/4 teaspoon iodized salt

**Additional options: 2 tablespoons fresh minced or grated ginger, 1/4 -1/2 teaspoon red pepper flakes, drizzle of garlic-infused olive oil
Additional green onion tops for garnishing
Print
Directions
Cook rice according to package directions. Rice can be cooked the day before and chilled in the refrigerator.  *2 cups dried rice white will yield enough rice for you to use with in this recipe and will leave you with a little extra that can be used in another meal.
Crumble tofu in a bowl with hands or fork. Mix in turmeric and salt
Heat a large wok or skillet over medium-high heat. Once hot, add 1 tablespoon sesame oil and add carrots and saute for ~ 5 minutes.
Add all other veggies, continue to stir on occasion,  cook for ~5 minutes, carrots should be tender at this time.
Set veggies aside in a separate bowl.
Return the pan to heat and the remaining 1 tablespoon sesame seed oil, add in rice, and cook for 3-5 minutes.
Add the tofu, tops of green onion, and soy sauce to the rice, combine and cook for ~2 minutes, stirring occasionally.
*If using red pepper flakes and/or ginger add these here as well.
Add the stir fried vegetable mix back to the pan with the rice and tofu. Stir and fry the rice and veggie mixture until heated and thoroughly combined.
Garnish with green onion tops and add additional soy sauce and/or drizzle of sesame seed oil or garlic-infused olive oil to taste.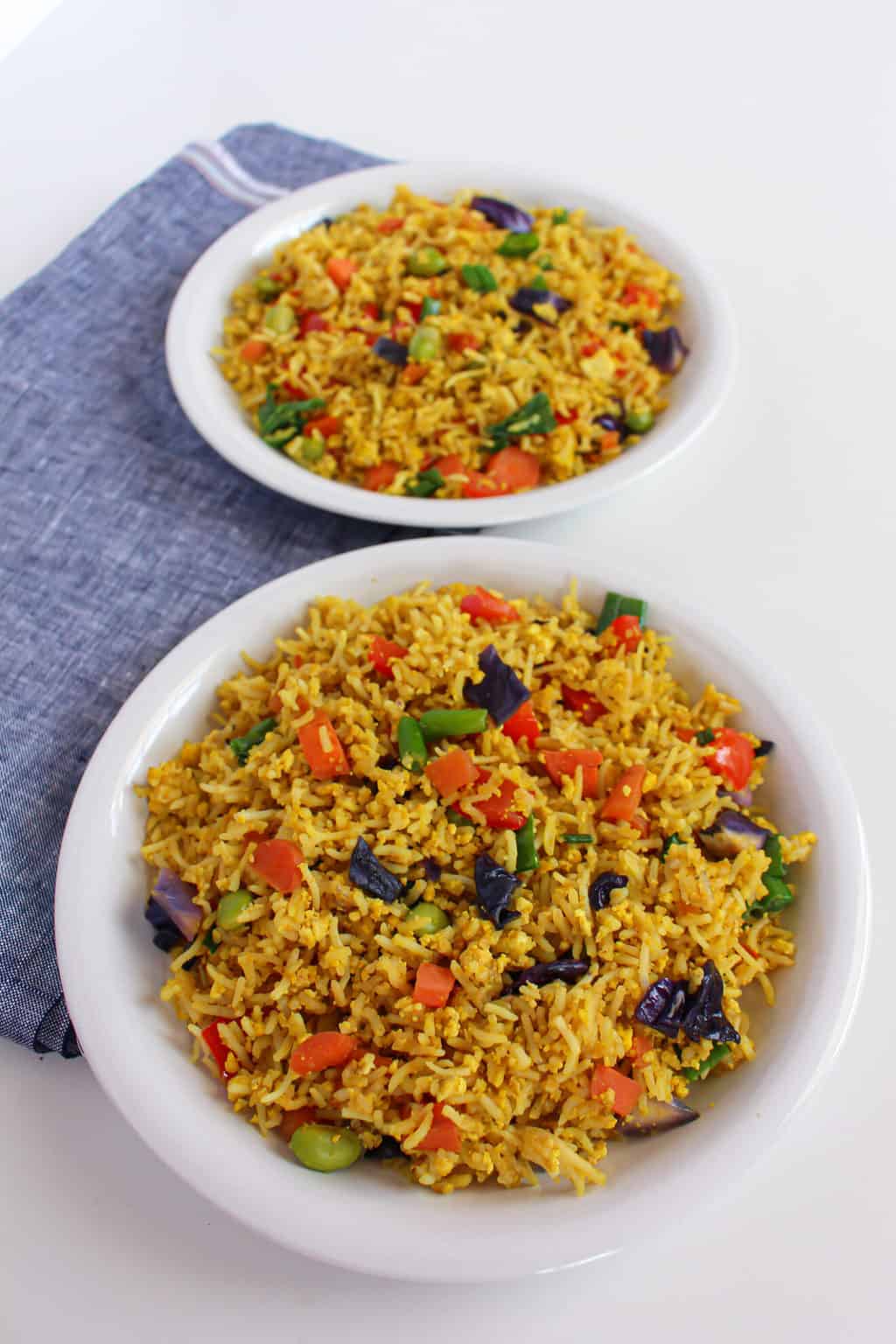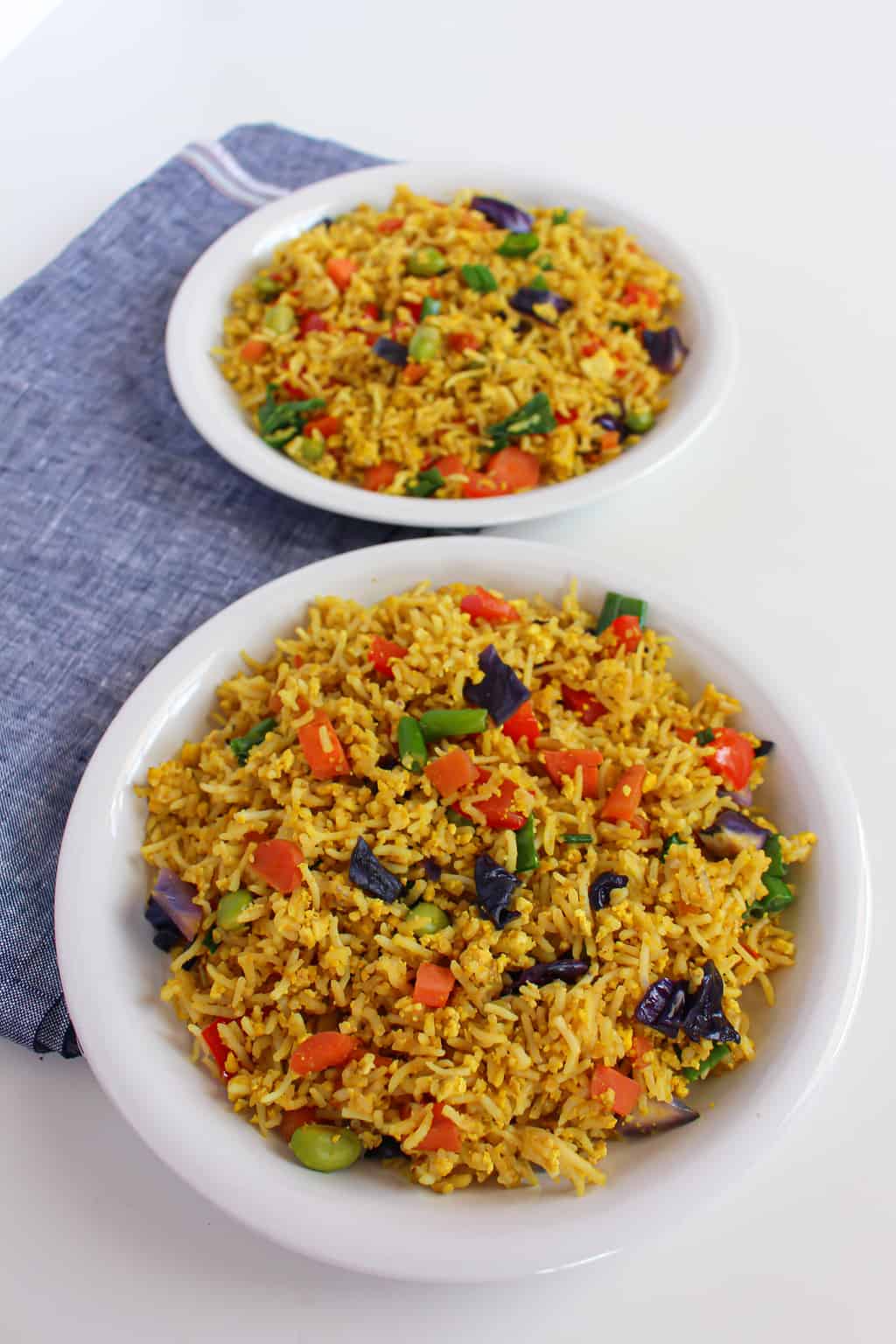 Enjoy!
Check out my other Low FODMAP recipes: