This 2 bean chili is everything you want a recipe to be: simple, delicious, and packed full of good-for-you ingredients. While popularity peaks in fall and winter, chili is a meal that's satisfying all 12 months of the year.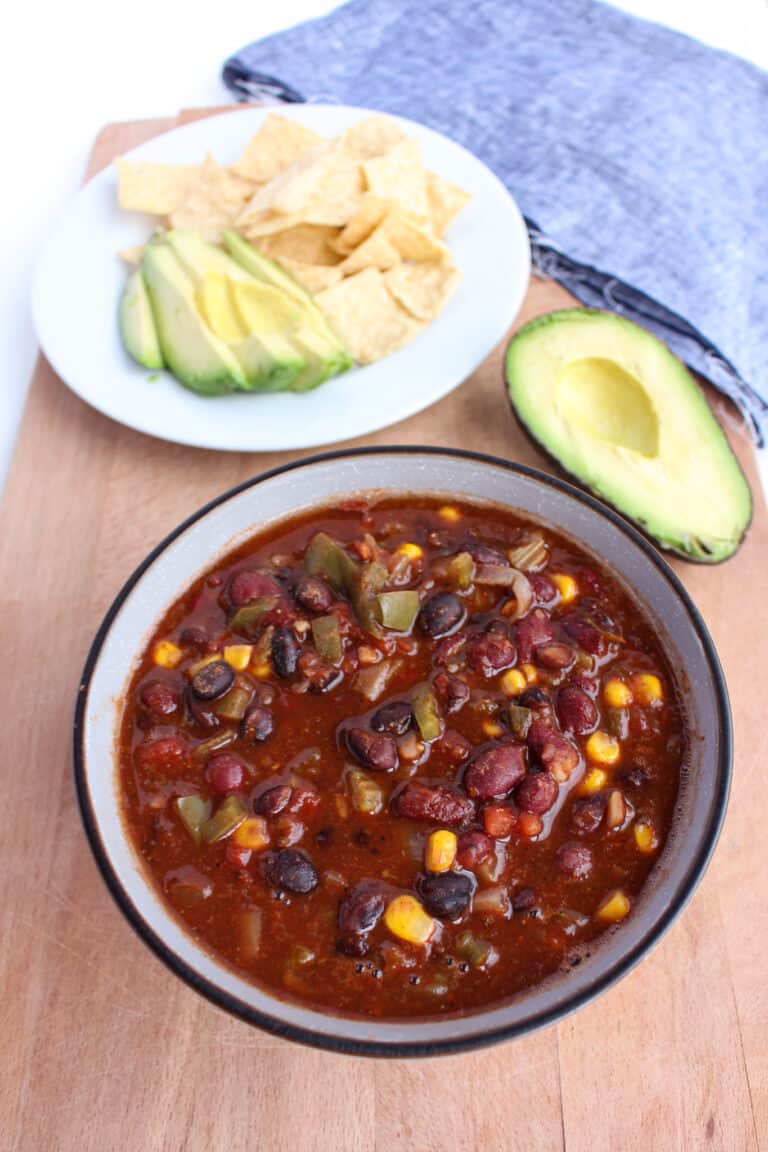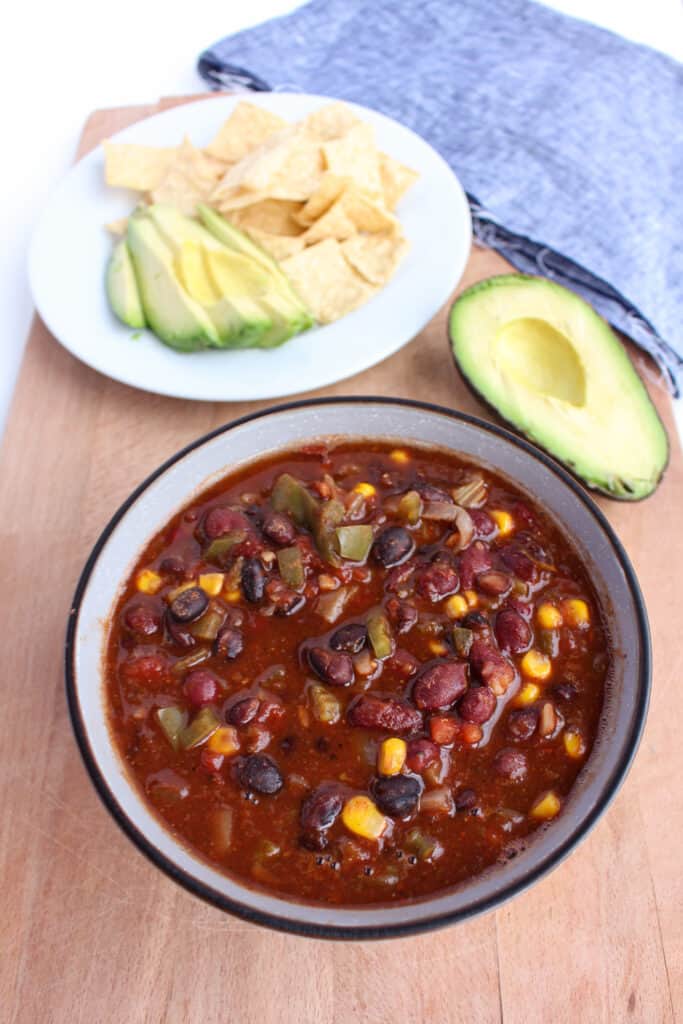 The use of a slow cooker makes for an easy day in the kitchen and is ideal ideal for days when you want to "set and and forget it". Is there anything better than returning to the kitchen after a day of work or play and having a warm meal ready for you? Another great thing about chili is that it becomes even more flavorful over time as the ingredients meld together, making this 2 bean chili great for weekly prep meals and leftovers.
Why you should be eating more beans:
Did you know that bean consumption is associated with reduced risk of various chronic diseases such as cardiovascular diseases, diabetes, and cancer?! Beans provide important nutrient's like fiber and potassium that many people in the US fall short on. Additionally, beans are rich in polyphenolic compounds and resistant starch which come with potential health benefits and anti-inflammatory properties. For those consuming a plant-based diet, beans are an important source of protein, particularly providing a significant amounts of the essential amino acid lysine (1). Other good plant-sources of lysine include lentils, tempeh, and tofu.
A serving of beans (~1/2 cup) provides (1):
5.2 and 7.8 g of total fiber
7–8 g protein
300 and 400 mg potassium
473-538 mg lysine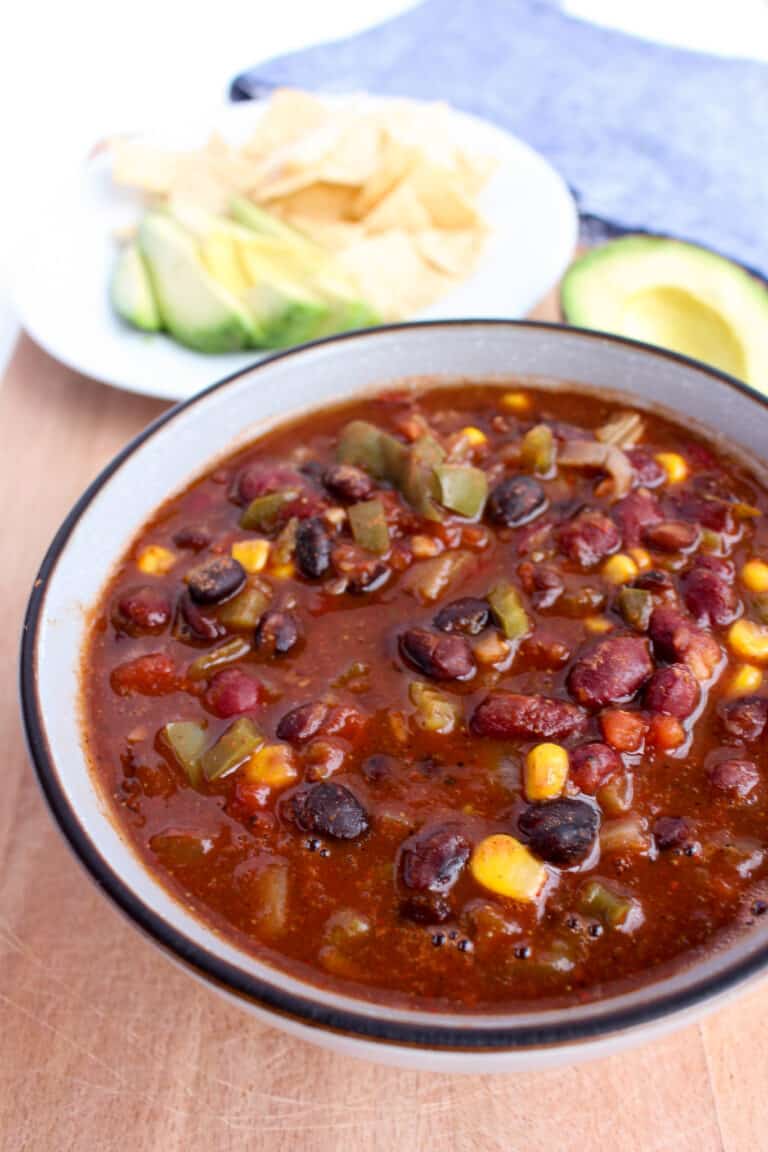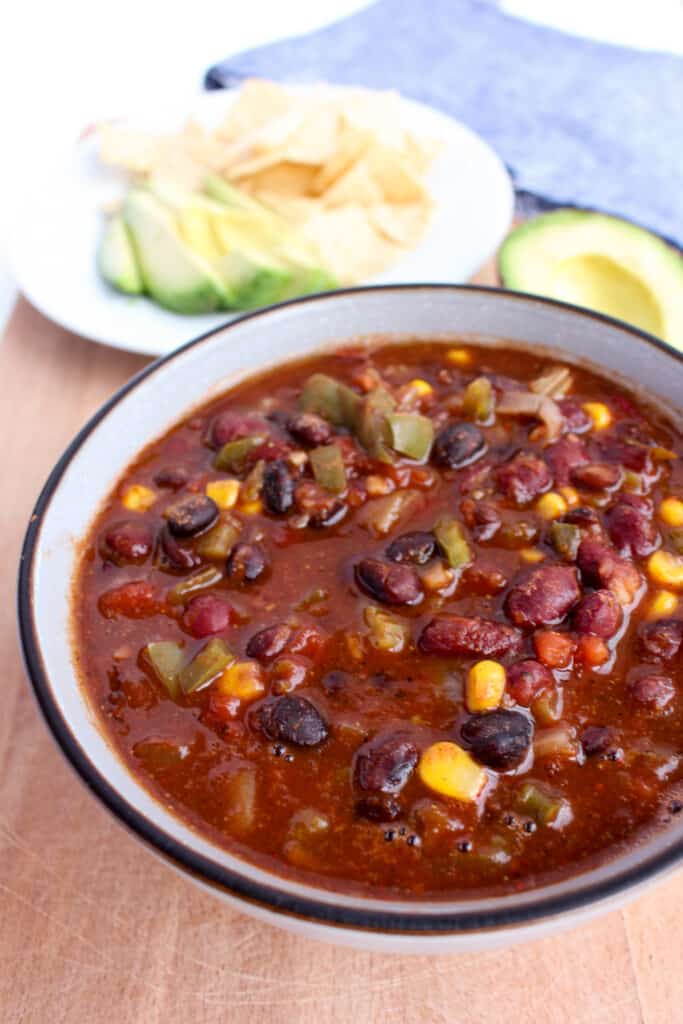 Digestive concerns with beans:
Some people avoid beans because they are worried about the digestive side-effects. Just about everyone can finish the lyric to beans, beans, the magical fruit …. However it's important to recognize most people can tolerate beans just fine. All bodies produce gas, that's a normal part of human physiology. If you experience a small increase in gas with eating beans, that doesn't mean something is wrong with you, nor do you need to avoid beans because of it.
Galacto-oligosaccharides (GOSs) are prebiotic fibers that naturally occur in legumes such as lentils, chickpeas, and beans. While human digestive enzymes do not have the ability to break them down, the bacteria in the large intestine are able to digest them. The fermentation of these fibers in the large intestine is the basis for increased gas that occurs after eating these foods. An important byproduct of the fermentation of GOSs are Short Chain Fatty Acids (SCFAs), these are fuel for cells in the large intention and are associated with good for gut health. Yet, another reason to add more beans to your diet.
With that said, of course tolerance level is individualized and there is even individual variation in response to different bean types – meaning if one bean causes you some issues like increased gas, it doesn't mean every single bean will do the same. There was actually a study done back in 2011 that highlights this. So, experiment with various kinds of beans if you find one bean doesn't sit well with you. It's likely there are other beans you can better tolerate.
Some people may experience more noticeable or severe GI symptoms like excessive gas, bloating, or discomfort with consumption of beans. Specifically, people with Irritable Bowel Syndrome (IBS) may experience increased GI symptoms with eating beans. If you happen to find beans do cause you more digestive distress, there are several strategies you can implore to improve digestibility such as:
Use canned, rinsed and drained beans
Soak beans in water overnight and then discard soaking water the next day, then cook beans in fresh water
Sprout beans prior to cooking
Take a digestive enzyme, alpha-galactosidase, when consuming beans
Again, this is very individualized: the type of bean and portion size can make a difference to tolerance and impact symptoms.
Alright, hopefully you are feeling motivated at this point to incorporate some more beans into your diet. Below is a delicious recipe to get you started.
Time saving hacks for making chili in a slow cooker:
If this 2 bean chili recipe is something you want to get going in the morning and don't wan't to mess with prep, here are a few step you can do the day/night before:
Chop up all the vegetables (onion, bell pepper, jalapeno, celery) and place in a container
Measure out all spice in a container
If using dried beans, cook the day before*
Put out all canned goods, broth, can open, and slow cooker on the counter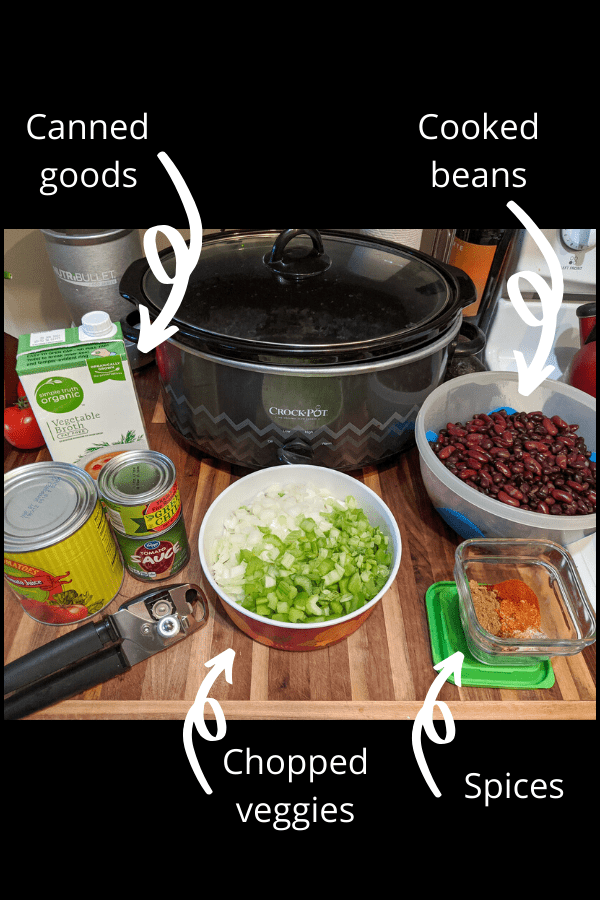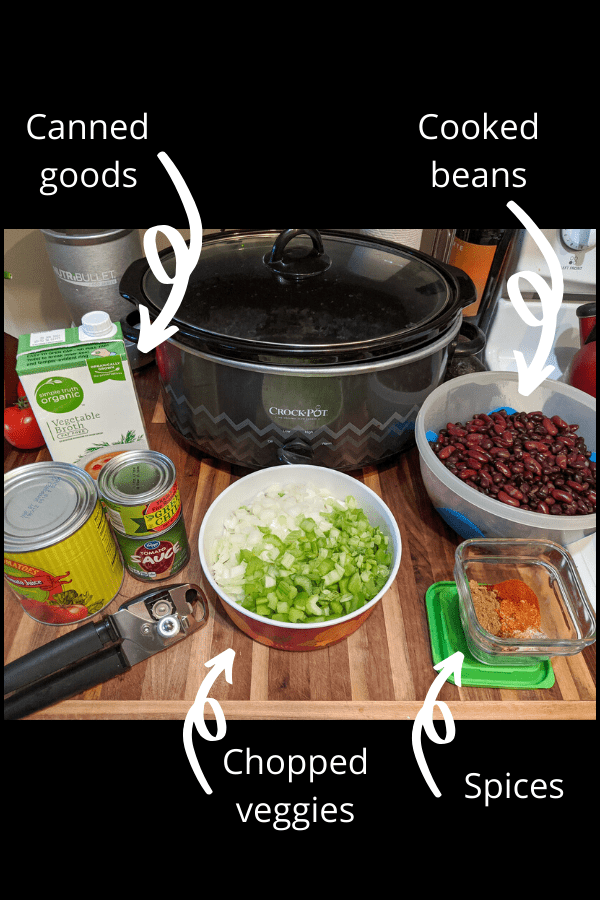 *NOTE on beans: If cooking with dried beans: Measure out 1.5 cups black beans and 1.5 cups kidney beans and cook according to your preference. I soak them together overnight, discard the water in the morning, add fresh water and cook in an instapot.
To cook in the instapot: Cook black and kidney beans together on high pressure for 8 minutes. Allow to naturally release until pressure subsides.
If cooking beans on the stove – cooking until tender. Beans are then ready to be added to the above recipe.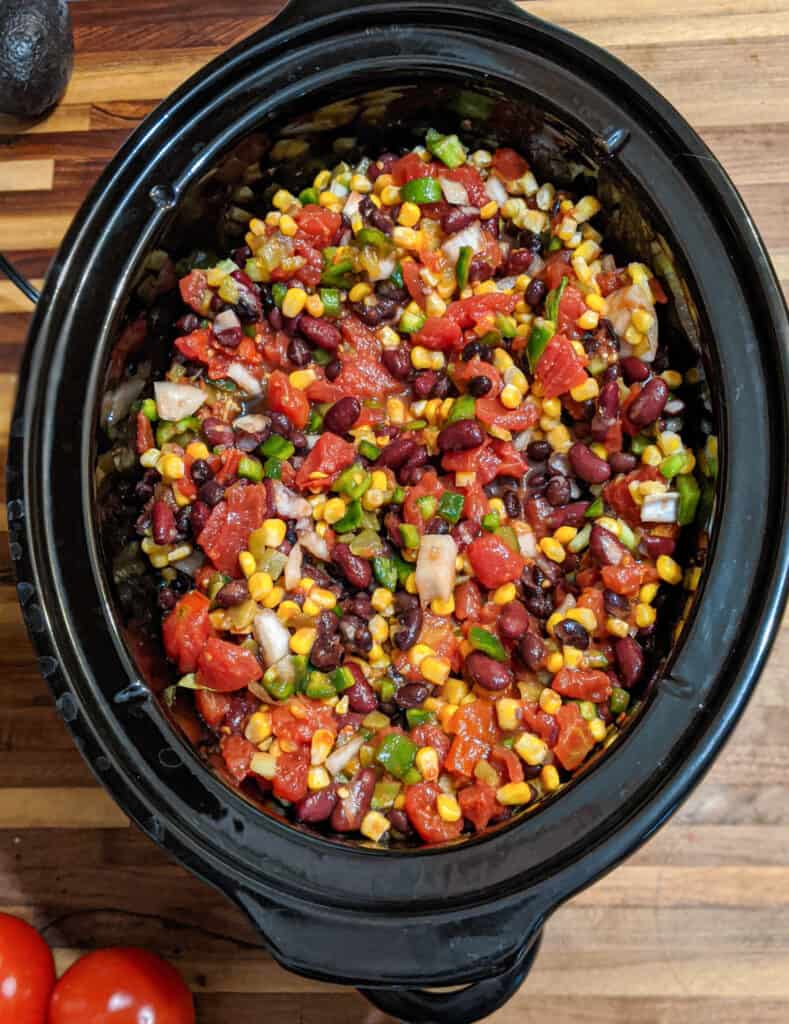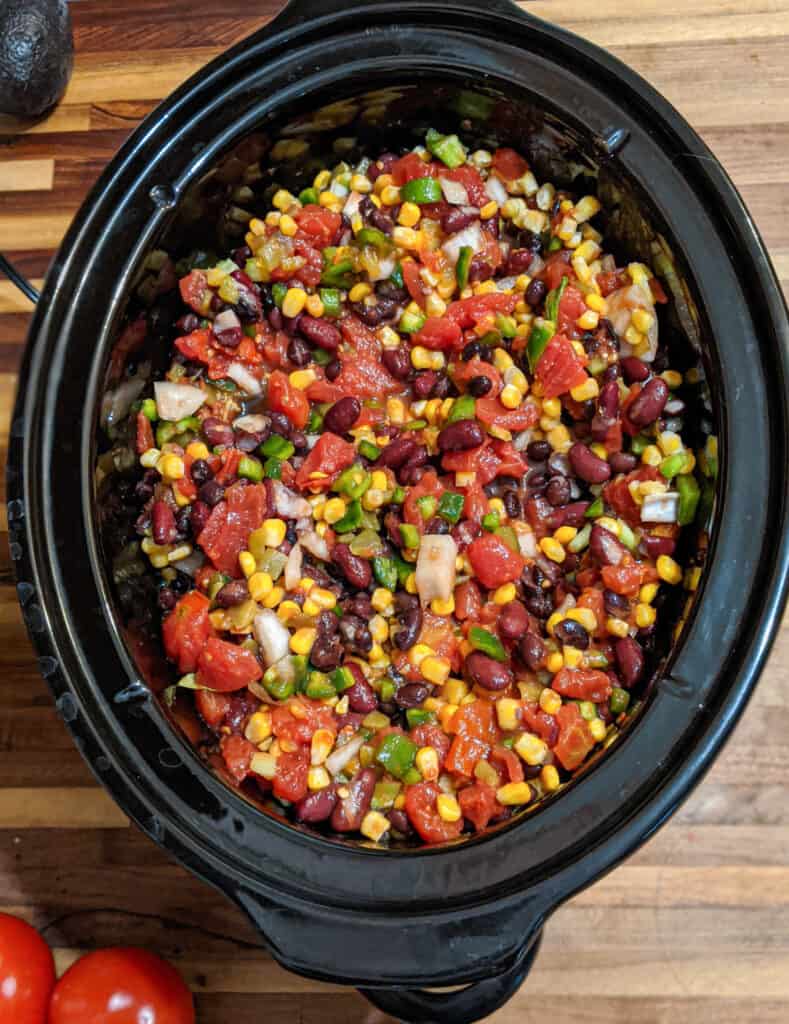 2 Bean Chili Recipe:
Print
Ingredients
4 cups black beans (or 2-15 ounce cans) * see note above

4 cups kidney beams (or 2-15 ounce cans) * see note above

2 cups vegetable broth
(Choose a gluten free broth if needed/desired)

2 jalapeno peppers, diced

1.5 cups celery, chopped

1.5 cups frozen corn

1 bell pepper, chopped

1 red or white onion, chopped

1-4 ounce can green chilis

1-28 ounce can diced tomatoes

3 and 1/2 tablespoons chili powder

2 teaspoons taco seasoning mix

2 teaspoons minced garlic

2 teaspoons cumin

1/2 teaspoon smoked paprika

1/2 teaspoon Italian seasoning

1/2 teaspoon crushed red pepper flakes

1/4 teaspoon black pepper

1/4 tsp Salt, OR Salt to taste
Print
Directions
Add all ingredients to slow cooker
Cook on low for at least 5 hours
Serve with toppings of choice such as tortilla chips, sliced avocado, cilantro, vegan sour cream, etc.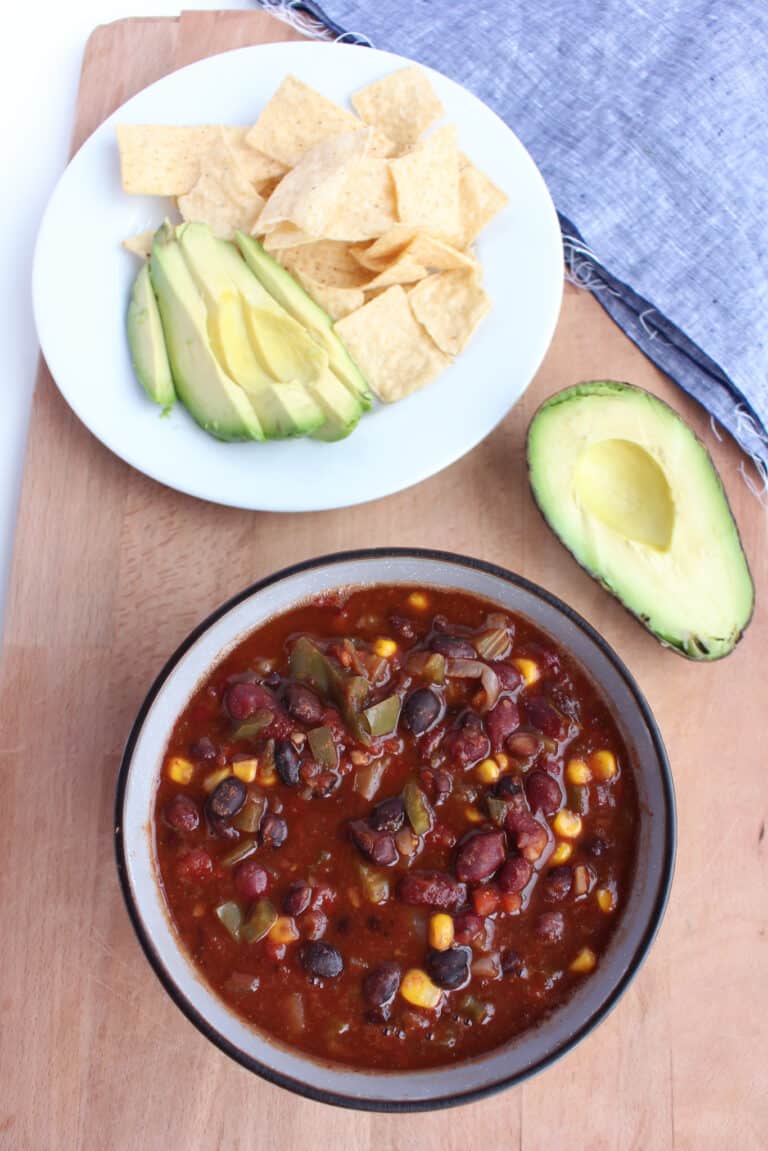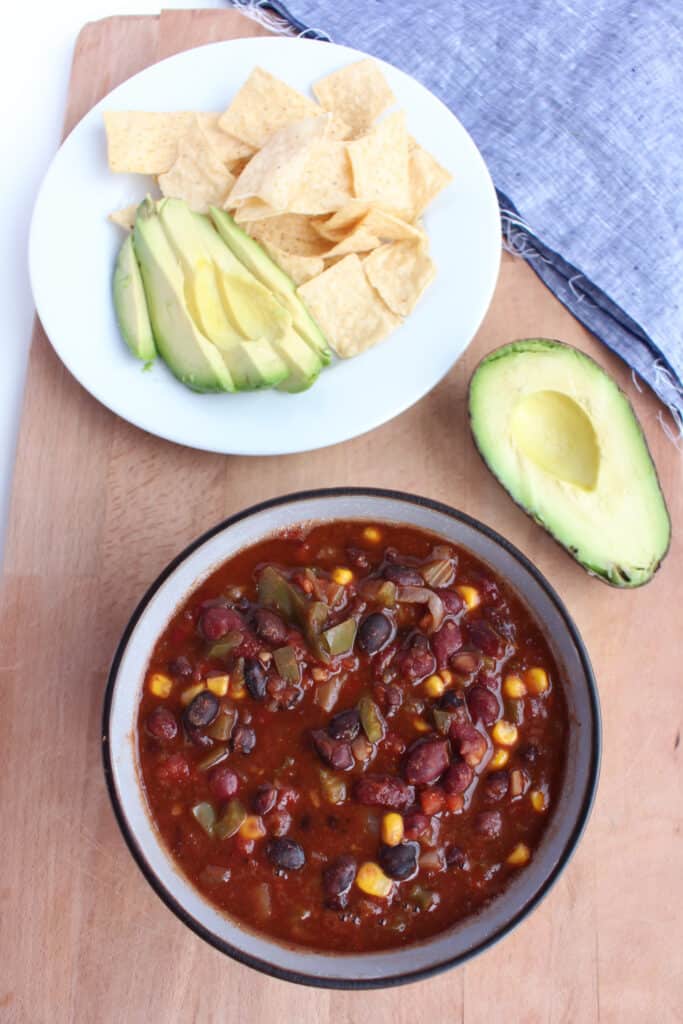 For more vegan chili recipes, check out: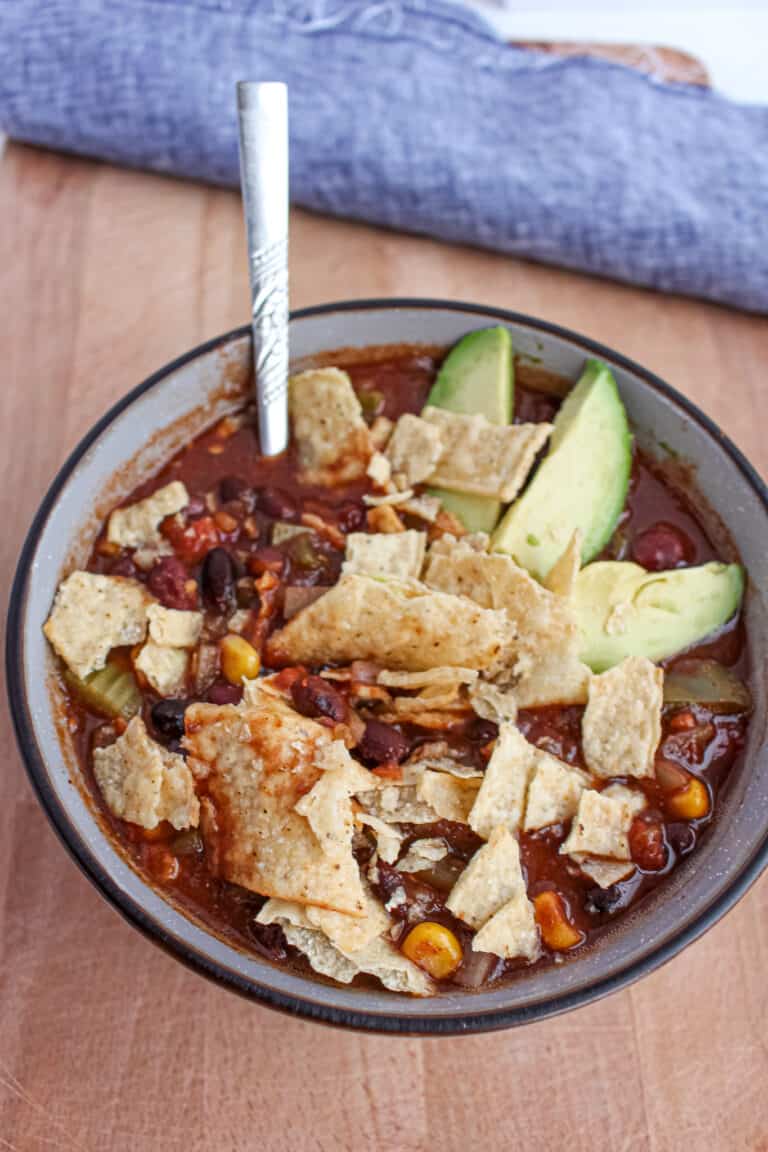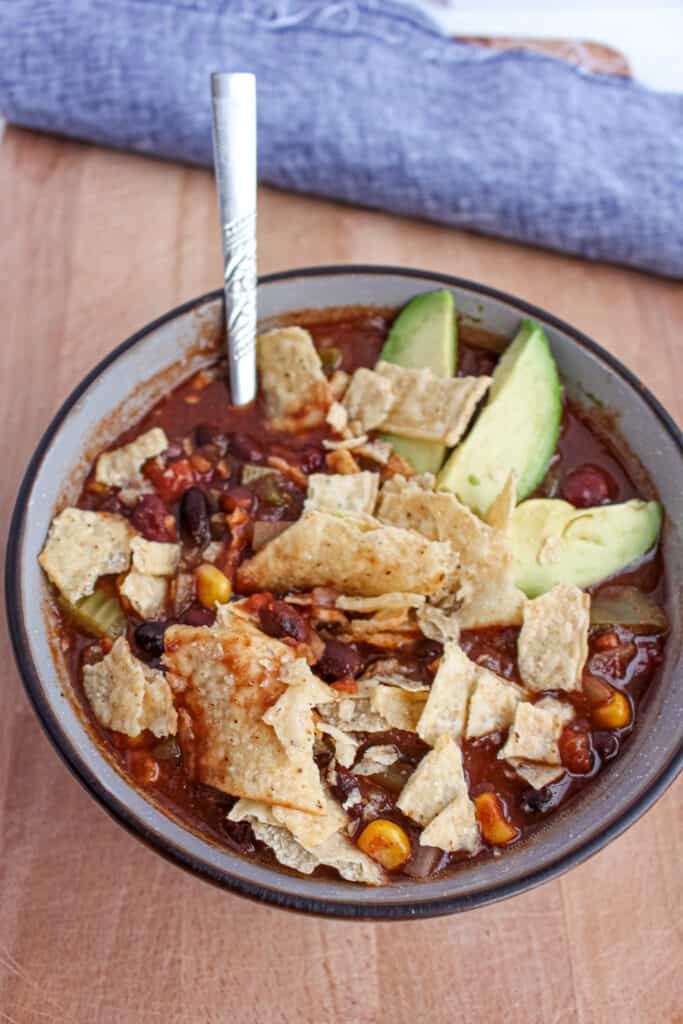 References:
Virginia Messina, Nutritional and health benefits of dried beans, The American Journal of Clinical Nutrition, Volume 100, Issue suppl_1, July 2014, Pages 437S–442S, https://doi-org.proxy.lib.umich.edu/10.3945/ajcn.113.071472